Nothing could be cuter than a baby with food smeared all over her, but the mouth! Weaning a baby is an important milestone and indicates that your little pumpkin is growing. When it comes to introducing solids to your munchkin, you should be ready to have more food on you and her than inside her mouth!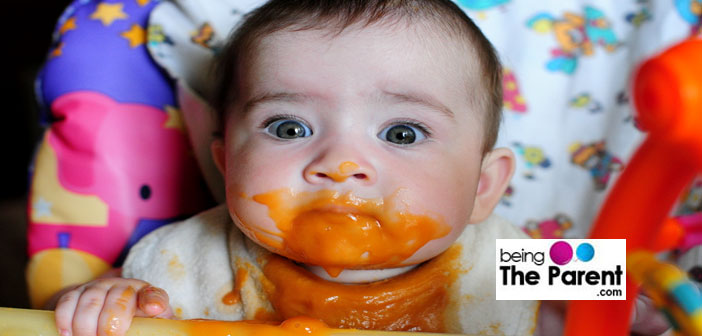 The baby is so small and cute, imagine how big would the stomach be? And with the still-developing digestive system, you need to ensure that her first foods are unlikely to be allergens and are easy to digest. it is definitely an important responsibility of the parent to start solids safe and right. You cannot afford to make trial and error in this process. So first check for symptoms that your baby is ready for solids.
How Will I Know That My Baby Is Ready For Solids?
Baby should have completed 6 months, some babies do sprout teeth in their 4 months, which again is a right time to introduce solids
Baby should be able to sit straight upright
Baby should be able to notice and react when she sees the family members eat
Baby should have developed the habit of chewing or keeping things in mouth
Once your baby reaches above milestones, she can join you at dinner table. However, start with one meal per day concept for first few weeks and slowly increase numbers, along with new item. Refrain from adding salt and sugar to your baby's food thinking her food would be bland. Remember, the baby does not know sweet and salt, so she does not miss it.
What Can Be The Best First Foods For My Baby?
Below are few highly recommended and healthy baby foods that are best while you start solids. (Given in order).
Apple: The best choice is to start with apple. Make sure you boil apple in filtered water and peel off, smash the boiled fruit and feed your baby
Ragi: The other best choice to start with is ragi. Though you get readymade ragi powders in shops, we suggest you buy whole ragi, soak it for two hours and blend it with water. Take this filtered ragi puree and boil it in low flame, bring it to a creamy layer and feed your baby
Potato: Once your baby is settled with one of the above mentioned food, smashed boiled potatoes can be given
Daal pani: Protein rich food and first liquid food. Boil the daal and give the water to the baby
Carrot: Can be given boiled and smashed. Remove the centre hard part
Rice pani: Fibre rich liquid food
Banana: Centre part with seeds can be avoided during initial days. Smash banana well before feeding
Pear: Same as apple, to be boiled and smashed
Rice: Now your baby is ready for water boiled, smashed rice. You can mix little daal pani to the rice and slowly increase dal quantity
Soups: Potato, carrot, dal pani are already introduced, add little beans, turmeric powder, one bell pepper. Boil well in cooker, remove jeera and pepper. Give veg soup to your baby. Healthy habit that can be followed throughout
Idli: A very safe and healthy recipe that can be given to babies easily. You can smash idlis in milk (if your baby is introduced to cow milk already) or water. If your baby enjoys sour taste, idli can be smashed with curd also
Orange juice: Make sure the juice is filtered well before fed
Beetroot: Same as carrot, can be used for making soups as well
Oats: Soak oats, wash well and boil in water or add milk (if your baby is introduced to cow milk already). Add jaggery while cooking or honey after cooking
Boiled egg: Boil egg for min 10 mins, start with only white of the egg. After a week, introduce egg yolk. It is better to start egg once your baby has turned eight months as eggs can be potentially allergenic. Read more on introducing eggs to baby here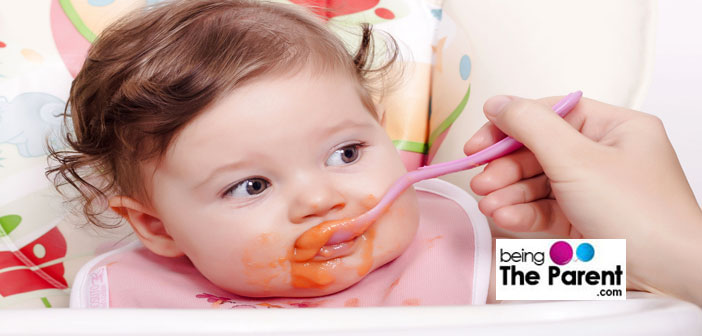 The first few weeks do not give your baby mixed foods, except for rice and dal water. Try a given food for atleast 3 days before starting a new food. Notice closely how your baby reacts after a particular food to get cues on what she likes and dislikes.
Tips To Introduce Solids To Baby
The above are few foods that are highly baby safe and easy to digest. Few tips below can help to make eating habits easier and healthier.
Tip #1: Always start one spoon first day, observe reactions , few spoons second day and only when your instinct gives a green signal that baby is comfortable digesting the food, start it as a meal
Tip #2: Continue one food per week once introduced, then start the next item. Do not allow excitement to rule the decision here
Tip #3: Salt and sugar need not be added till your baby's first birthday. You can add little jaggery if you feel the baby expects the food to be tasty
Tip #4: Wash the vessels and the food items thrice before use. Sterilize the dishes if required
Tip #5: To encourage your baby to self-feed when she grows, start by giving one spoon in her hand, where she learns to take the food, play with it and try to feed herself. You can meanwhile feed her with another spoon
Tip #6: A strict no to TV cartoons or ipads while feeding as your baby doesn't realize the importance of eating
All the best to start solids to your little Angel ! Happy Parenting !