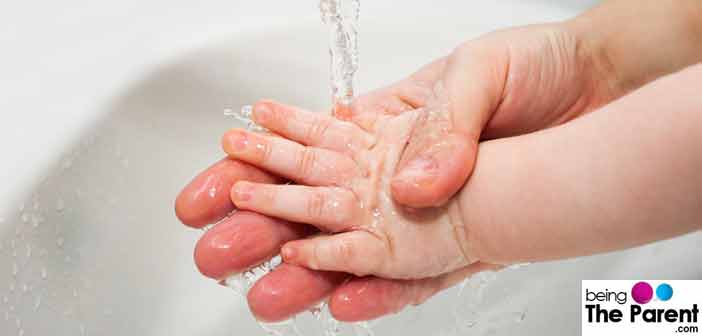 About 1.5 million children die in developing countries due to diseases that are rooted in hygiene and sanitation. Kids are vulnerable to infections, and hygiene plays a vital role when it comes to good health. But this is kids we are talking about! Always on the go, because all kids have a Dennis (as in Dennis the Menace) or a Shinchan in them! They just love to play with ash and mud and go exploring reaching and touching everything and anything. They are totally confident about picking up a ball from a dirty drain or rolling in the dirt, whenever they have the chance. Cute, isn't it? Yes, but these little palms and tiny fingers carry numerous germs that can spread and take away the gleeful smile of your little one.
Washing Hands Is The First Line Of Defense Against Germs
Importance Of Washing Hands
10 Ways To Teach Kids The Importance Of Washing Hands
Do Not Scare Your Child With Germs
Be Patient
Washing Hands Is The First Line Of Defense Against Germs
Kids love to loiter around in mud and places that are dirty. They also bring back germs and diseases. Washing hands regularly and properly is essentially the first line of defense against illnesses and infections. Germs mainly spread through:
Touching dirty hands or surfaces
Through contaminated food and water
Through being in contact with someone who has an infection
Via contact with a sick person's bodily fluids
When kids come in contact with germs, they can easily get sick if they touch their eyes, nose, or mouth. Once a child gets infected, it is just a matter of time before the whole family gets infected. And to avoid this, inculcating the habit of hand washing is can prevent many diseases from common cold to serious infections like flu, hepatitis, and diarrhea.
Importance Of Washing Hands
The importance of washing hands cannot be stressed enough. And washing hands is not limited to adults alone, children, preschoolers, toddlers, everyone should wash their hands before and after eating, post using the toilet, when they come home. And keeping the germs from spreading, washing hands become quintessential if one is sick.
Make your child learn the importance of hygiene – explain why is it important to wash after using the potty
When the child sits down to eat, explain to him that cleaning the hands thoroughly before dining is very important because that's how germs mostly go inside
When your child touches a soiled diaper or anything like that, teach the need to clean the hands
10 Ways To Teach Kids The Importance Of Washing Hands
You might say, enough has been stressed out on the importance of hand washing, but how do I teach my preschooler to wash his hands? No, you do not need to overdo on the germs, else your kids will grow up to be paranoid about them. The deal here is to find the balance, teach them the good, but do not scare them to the point of being paranoid! That said, though toddlers are impressionable, they are also strongly opinionated. You cannot force, but can make him enjoy the process of learning.
Below 10 tips will help you teach your toddler how to wash hands
Lead and be a role model: Kids don't understand that it is dirty because they have no idea what are germs. You will have to be patient, smiling, and caring to show by example. At first, they just learn from your feedback, and later on they can always learn about germs in school. So, make sure that you are washing your hands thoroughly after coming out of the washroom, before and after finishing your meals
Make it a fun activity: Putting your hand under the tap may be a normal experience for you, but for the child it is something new and amazing. In fact, it is amazing to watch a little one having fun with the flow of water. Garden pipes and water guns are among the favorite toys of childhood
Make it an attractive experience: Present a special towel to your child, which has his favorite cartoon character. This can be a great reward when your child washes his hands by himself for the first time during potty training. Opt for colorful soaps (you do not have to stress on antibacterial properties), go for foams that makes your toddler feel like washing often
Make it convenient: Understandably, kids are small and the sink is often high. So, you need to arrange a safe footstool or a wooden stair set to help your child. Everything, from towels to the soap should be accessible
Sing on the go: Decide on A song that your child loves and ask him to sing it out loud when using the sink. This will ensure the time to scrub and clean up
Make it a routine: Before mealtimes, announce that the kid needs to wash his hands. Do so yourself also. Similarly after ending a meal or a snack, head for the basin again. This will make hand washing a routine experience and the child will imbibe it from an early age
Make it authoritative: Recognize whom the child really idolizes. A grandparent, an elder cousin- ask them to stress on hand washing when the child is around. Get the doctor speak about it the next time you visit the clinic
Tell the important things: Tell them the important things like closing the tap after washing the hands or not trying to see how the soap tastes. They understand by stories. There is no need to scare them away, but weave in something that they will understand
Make use of other resources: Use books, stories, and other creative and interactive media to make your child understand the basics and importance of hand washing:
Keep sanitizes: Yes, at all times the sink cannot be there. Always carry some sanitizes, wipes, etc., in your handbag so that germs get not even a minuscule chance to get inside the kids' body.
Last but not least, the following aspects are also important
Do Not Scare Your Child With Germs
Do note that science actually confirms that playing in the dirt is not bad! Besides helping your child to grow hardy and enjoy life to its full frivolous fun. Three years ago, in 2011, a researcher from the Oregon State University, Sharyn Clough proved that women who grew up playing in the dirt were healthier than the ones who grew up too 'clean' playing Barbie dolls and dollhouses. Besides, common sense also says that the earth has mineral nutrients. After all, the trees grow on earth and from the ground!
All you have to do is to see that the play ground is safe and clean, preferably with a grass bed. And, keep a fast aid kit handy in case you need to attend to a cut. Also, arrange safety gear such as helmets, knee guards, and elbow guards if your child is just learning how to bicycle. Obviously, this also does not mean you will be neglecting your child. Not at all! Just learn to keep a balance in everything. Do not be too strict with washing hands. Neither should you be too strict or negligent about playing.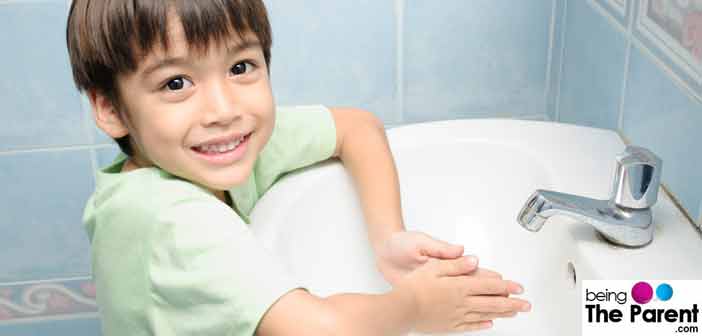 Be Patient
Well, of course, some children are very quiet even from their childhood. Girls usually learn to be a stickler for good habits, while boys like it most to play in mud. This is again not a norm ever, as boys can be reserved, and girls can be playful also.
Anyways, teaching them to wash hands is important. They find it fun that you think it is important. You will also have to appreciate that. Just don't be too overt and strict with your need of hygiene. Staying hygienic is important of course! Nevertheless, your strictness should not subdue their happiness of playing in the mud. Just keep everything in balance.