As on date, we do not have a dengue fever vaccine, though there are some in the development phase. Dengue fever incidents in kids has been rising steadily these days and every parent is extra careful to ensure their home is free of mosquitoes. Being a tropical country, and given the monsoons that have been riding high on, it is only imperative to be cautious and take necessary steps to prevent dengue fever in children.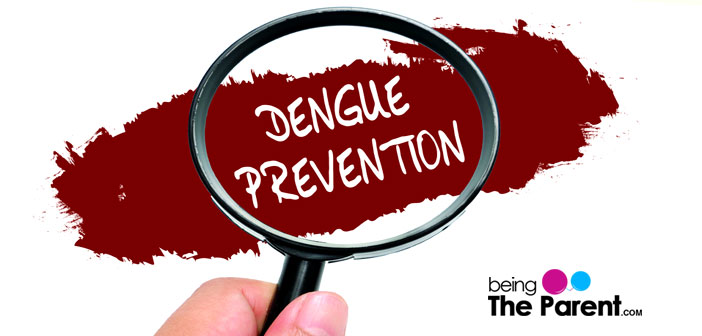 What Is Dengue Fever?
Dengue, also known as 'break bone fever' (rightly so), is a kind of viral fever triggered by Aedes mosquitoes that transmit this virus. This fever, if left unattended can even turn out to be fatal and life threatening. So it is absolutely necessary that you take adequate precautions to ensure that your precious darlings do not fall a victim to this virus. Since a vaccine to prevent this disease is yet to be found you need to take necessary steps on your own to make sure your children or family do not fall prey to this.
12 Tips To Prevent Dengue Fever In Kids
Read ahead to find out some of the best guidelines to be adhered to in order to prevent dengue in your children-
Keep your surroundings clean: It has been found that mosquitoes thrive in unhygienic or dirty surroundings especially stagnating water. Refrain from keeping buckets of water uncovered. You also need to make sure you change the water in your fountain, flower vases or bird baths everyday which will not give a chance for mosquitoes to breed in. Make sure to dispose garbage properly and never pile it. Keep your kitchen free of vegetable wastes and ensure proper cooking hygiene too
Always keep your dustbin covered: Make sure that your waste bin is covered when not in use. Empty the bin daily and do not let the kitchen waste rot in your house. Make sure the dustbin is properly cleaned every week and the garbage does not deposit in the bottom. Keep your kids away from touching the bin
Adequate clothing: The best option would be to make sure your child is always covered well; if possible in full sleeves and pants and socks while playing outside. Encourage them to wear shoes rather than slipper or sandals. Avoid dark colored clothing as mosquitoes are attracted to dark shades. So it would be best to dress them in lighter shades of clothing. However ensure the clothes you choose are cotton and allows easy air passage for your child's skin to breathe
Mosquito repellents: You will find umpteen brands of mosquito repellents in the market now-a-days to choose from. The best course would be to ask your pediatrician's advice about what would be absolutely safe and effective for your kid and then ensure you apply the recommended repellent on exposed areas of your child before he or she goes out to play and also when they go to school. There are some good repellent sprays that can be used just outside windows and doors to keep mosquitoes away. You can also avail of colorful wrist bands which are in the market now and have been proven quite effective to avert mosquito bites
House protection: It would be a good move to get all your doors and windows fixed with screens or wire mesh in order to prevent mosquitoes from entering your abode. Using mosquito net while sleeping is also advised, especially if you have an infant. However you need to get them cleaned regularly and also check for holes regularly. And also remember to keep doors and window closed during peak periods because the dengue mosquitoes are usually rampant during day time

Ensure your child is dry and clean: Sweat and humidity draws mosquitoes. So it is important that your child's skin is kept clean and dry all the time which will help to a great extent in preventing mosquitoes from biting them
Natural methods: Lighting camphor, using neem oil and planting Tulsi near your window or using the leaves are all quite effective to ward off mosquitoes inside your home naturally. Garlic, lavender, mixture of eucalyptus and lemon oil and tea tree oil have also been found to be effective in keeping mosquitoes away
Empty water collecting trays of ACs: It is very important that you take care to ensure your water collecting trays of the air coolers and air conditioners are emptied regularly
Use mosquito wipes: Using mosquito wipes on little kids have been found to be quite effective in warding off mosquito bites in children. There are various brands available in the market these days
Avoid letting your children out during dawn and dusk: Mosquitoes are most active during dawn and dusk. So it is best to avoid sending your children out during these hours
Refrain from using strong fragrances: It is advisable to avoid using very strong scented lotions or soaps which have been proven to attract insects like mosquitoes
Treat clothes with permethrin: Treating your clothes with mosquito repellent that contains permethrin is an excellent way adding an additional layer of protection for your child against mosquito bites. There are also treated clothes now available in some sports stores that you can purchase directly for the same. However, bear in mind the fact repellents with permethrin should never be applied directly onto the skin
These simple but effective tips are surely useful in helping you to ensure your child is prevented from being bitten by a mosquito carrying dengue virus. As everyone know , prevention is always better than cure and what more excuse do you need to begin following the above mentioned precautions in order to make your child safe from those dangerous mosquito bites that not only spread dengue but so many other viral diseases too.