Of all the joys and challenges that life has to offer, the first pregnancy is an extraordinary one. Most new moms-to-be dreams about having an easy pregnancy and an equally smooth vaginal child birth although this may be easier said than done. Once you become pregnant, you will find umpteen advices pouring in from loved ones and even strangers who want to help you have a normal pregnancy to the very end. While most of these tips are just myths, some of them are really valuable which can help you to ensure you have a safe pregnancy and a safe pregnancy and normal delivery. So you need to filter all the advice you receive and make sure you follow valuable tips which will help you finally have a safe and normal vaginal delivery.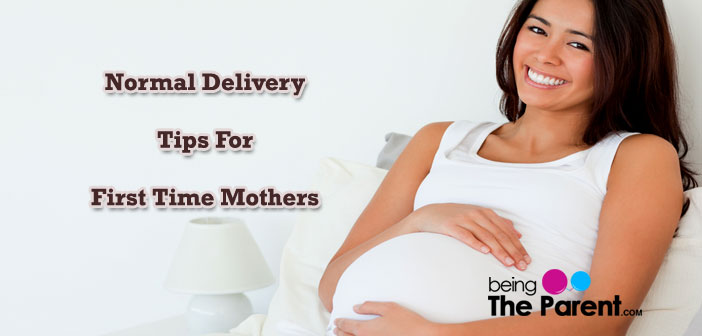 12 Tips For First Time Mothers To Have A Normal Delivery
Given below are some simple and important guidelines that are sure to help you in this long journey and deliver normally in the end.
Educate yourself: If you happen to be pregnant for the first time, it is absolutely necessary that you really educate yourself about what exactly happens at each and every stage of pregnancy till you finally deliver. Make sure you clear all your doubts with your doctor at every appointment so that you are totally prepared for what comes in the end. Read as much as you can about pregnancy and child birth that will help you prepare mentally for the big event. Look for the best books by Indian authors and some bestselling international books on pregnancy and childbirth
Exercise on a regular basis: It has been proven that women who exercise on a daily basis find it much easier to deliver normally rather than those who did not. It is best if you adopt some kind of exercise like walking, swimming, Kegel exercises or prenatal yoga from your very first phase of pregnancy itself in order to ensure you have a normal delivery. However, there are conditions when you should not exercise and you must discuss this with your doctor
Get enrolled for a prenatal class: You will be pleasantly surprised to find umpteen prenatal classes conducted for moms to be to help them deliver a healthy baby normally. Make sure you get enrolled for a class that described how labor and giving birth progresses and also teaches you techniques of "natural labor pain management". This includes breathing techniques, relaxation and self hypnosis
Choose your doctor carefully: When opting for a gynecologist, choose a health care professional who specializes in natural delivery: There are greater chances of you delivering normally if your care giver also has the same concepts. Request for a nurse who specializes in normal deliveries which will surely to an extent help you in your goal to deliver normally without any complications
Take care not to gain too much weight: There is no doubt about the fact that normal delivery is so much easier for people who are not obese or overweight. So it is important that you follow a healthy diet that provides you and the life growing inside you with all the necessary nutrients without gaining too much weight. If you end up putting on more weight than necessary, the chances of your pregnancy and delivery running into complications also rise
Opt for a "low intervention pregnancy": Most women have no main issues during their conception period and if you happen to be one among those lucky few, it is advisable to opt for lesser tests, interventions and treatments during your pregnancy period. Only go for the really necessary tests and treatments your gynecologist recommends as this will surely help a long way in ensuring you deliver normally

Do not rush to the hospital at the very onset of early labor: Early symptoms of labor are best spent at home itself walking or immersing yourself in a tub or even eating. But make sure you begin timing your contractions and only when they begin occurring more frequently do you need to set out to your hospital
Make use of your prenatal education: It is imperative that you really put to use what you have learnt in those prenatal classes that you attended so meticulously. Make sure you practice all those relaxation and breathing exercises when the time comes rather than panicking and getting tensed unnecessarily. Even listening to music and or getting a massage would be advisable to unwind yourself
Make use of water: It is a known fact that a bathtub, hot compress or a birthing pool are all Mother Nature's special tools that can be utilized in order to ease birthing pain and help to make your birthing process less painful and normal. So it is best to spend as much as time in water as possible
Remain stress free: Experiencing any kind of stress during your pregnancy or labor period can lower oxytocin production in your system which is actually a hormone that triggers contractions during labor. This makes it necessary for you to remain stress free and not lose your clam during labor
Take perineal massage: Make sure you do perineal massage everyday after your seventh month. This is another tip that will help to ensure normal delivery and ease muscle and joint pains during your labor. Just look up how this is done exactly in order to practice this regularly once your seventh month begins
Make sure you have a wonderful team for support: it is absolutely necessary that you have your mom, husband or immediate family with you for support during those last stages to provide you with all the help and support needed for you to be relaxed and deliver normally
The above mentioned tips are sure to help you achieve your goal of having a healthy and normal delivery and so make sure you follow these tips for the same.