Motherhood is an important phase that every woman dreams to have in her life. But often due to certain underlying health conditions, conceiving becomes a difficult task. In this difficult time, IVF and Fertility centres come into play. When conceiving normally becomes difficult, IVF becomes the second-best option. The concept of IVF or In-Vitro Fertilization was introduced by Patrick Steptoe and Sir Robert Edwards in 1978. Numerous medical conditions like blocked tubes, male infertility, PCOS, Endometriosis etc hinder the normal conceiving process.
However, using the IVF method, the chances of becoming parents have likewise increased over the years. With medical and technological advancement, IVF has an average success rate of 80% depending on the existing medical condition and technology used. Choosing the best IVF clinic is often a difficult choice to make. Certain factors are a must that one should look for before moving ahead with the IVF journey. We have listed out the top IVF Fertility centres in Bangalore, so if you are residing in Bangalore and planning to put IVF as one of your pregnancy options, then read the article in detail.
Let us consider the most important parameters that as a parent you should look for:
The clinic's history and the different services it provides. These details would help you know the range of diagnosis they can avail. Most of these details, you can easily get by visiting their official website.
The number of successful deliveries of the IVF centre is also equally important. It would help you have confidence in your doctors and caregivers, and, as a result, your chances would be higher than normal.
IVF is a costly procedure and before proceeding, you must be aware of the total cost that they offer. Many clinics nowadays provide no interest EMIs, so look for these added benefits if you are looking for low-cost options.
If you have health insurance that covers IVF treatment, then have a word with your insurance provider and get details about the diagnostic procedures and their payment options.
Along with the list, we have also listed the Top 10 IVF centres in Bangalore, their facilities, branches and contact details.
List of 10 Best Fertility Centers in Bangalore for 2021 – 2022
1. Milann (A Unit Of Bacc Healthcare Pvt Ltd.)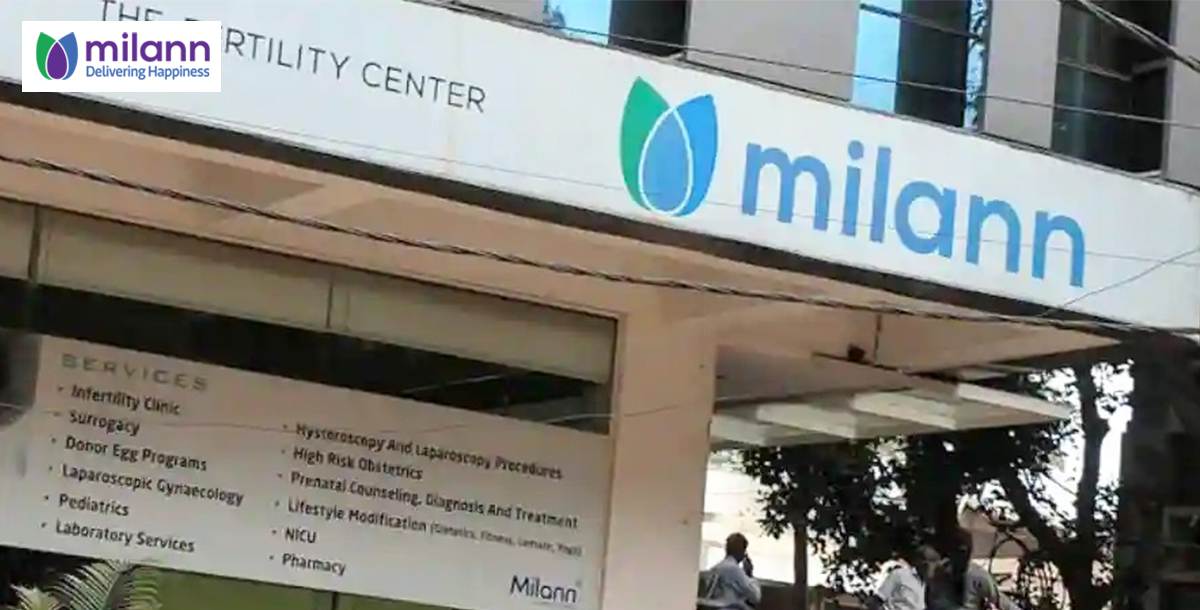 In 1990 Dr Kamini A Rao, a Padma Shri Awardee established the Milann Fertility Centre in Bangalore. It is one of the largest service chains in India, with over 5 centres in Bangalore. Milann wants to ensure that every woman can enjoy their motherhood phase. And their hard work and dedication have led it to become one of the best fertility centres in Bangalore. Apart from providing a homely, comfortable atmosphere for its patients, the centre also pays attention to parents' every need and helps them build confidence. It provides services related to gynaecology, infertility and obstetrics. The experts and professionals are highly trained in assisted reproduction, including reproductive immunology, reproductive endocrinology, genetics of fertility and ovarian biology.
Details
Kumara Park
J P Nagar
Indiranagar
Whitefield
MSR
Establishment Year
1990
2007
2012
2018
2015
Contact Details
80220 11333
80220 11340
80220 11341
80220 11342
80220 11343
Open Hours
8 AM – 8 PM
8 AM – 8 PM
8 AM – 7.30 PM
8 AM – 5 PM
8.30 AM – 6 PM
Address
7, East Park Road, Kumara Park East
Bengaluru – 560 001
1109, 24th Main Road, J. P. Nagar 1st Phase,
Bengaluru – 560 078
82, Chinmaya Mission Hospital Rd, Indiranagar, Bengaluru, Karnataka 560038
Plot No. 7G, 4th Floor, Opp. Graphite India, Whitefield,
Bengaluru – 560 048

Ramaiah Hospital, M S R Nagar

Bengaluru – 560 054
Milann Fertility Services
Infertility Services

IUI (Intrauterine Insemination)
IVF (In-Vitro fertilization)
ICSI (Intracytoplasmic Sperm Injection)
Surrogacy
Third-Party Reproduction
Egg Freezing
Andrology
Fresh Embryo Transfer
Frozen Embryo Transfer
Preimplantation Genetic Testing
Preimplantation Genetic Diagnosis

Gynaecology & Endoscopy

Hysteroscopy
Laparoscopy
Hysterectomy
Hysteroscopic or Laparoscopic sterilisation
Endometriosis
Ovary Cyst Removal
2. Momsoon Fertility & IVF Centre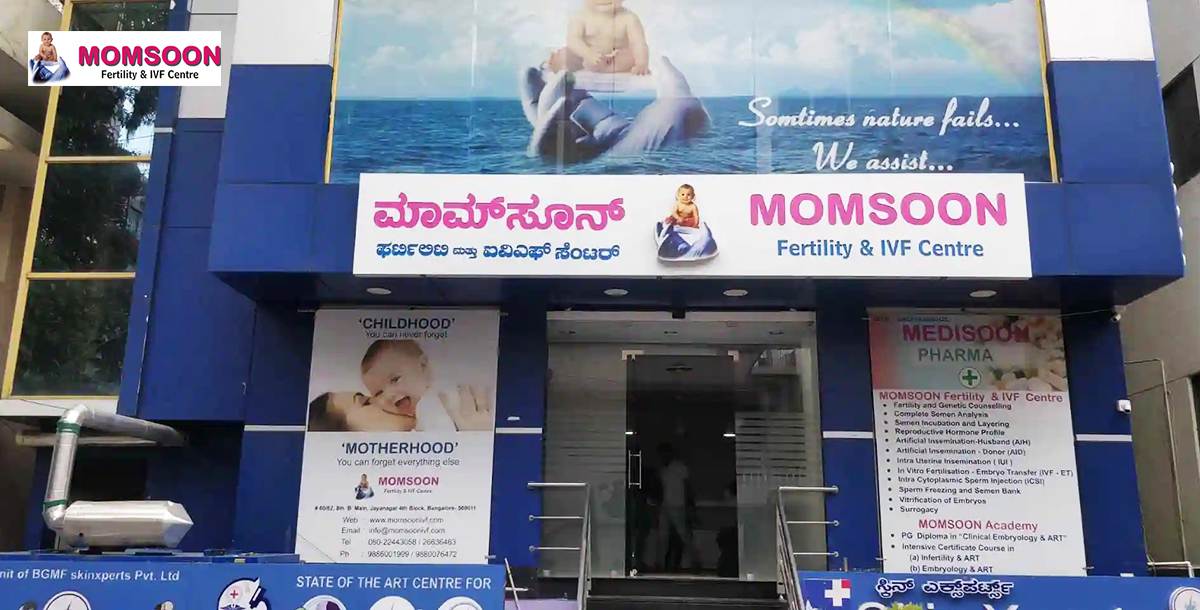 Run by RR Medicare Services, Momsoon Fertility and IVF Centre provides state of the art fertility services to couples. It is counted among the best IVF centres in Bangalore. Their experienced embryologist offers specialised treatment in infertility treatment. They have an advanced infrastructure and follow international standards in providing the best to their patients. From IVF, Surrogacy to Failed IVF, Momsoon have gained massive experience in providing the best fertility treatment. They follow a simple procedure for fertility treatment. It starts from understanding the problem and then providing the necessary solution, and accordingly, assistance is provided. It also has facilities for sperm banking and freezing.
| | | | |
| --- | --- | --- | --- |
| Establishment Year | Contact Details | Open Hours | Address |
| 2010 | 098864 47093 | 10am – 5:30pm | # 60, 62, 8th B Main Rd, 4th Block, Jayanagar, Bengaluru, 560041 |
Services Provided:
AID (Artificial Insemination Donor)
AIH (Artificial Insemination Husband)
Complete Semen Analysis
Infertility & Genetic Counselling
Reproductive Hormone Profile
Sperm Incubation & Layering
Vitrification of Embryos
3. Nova IVI Fertility Clinic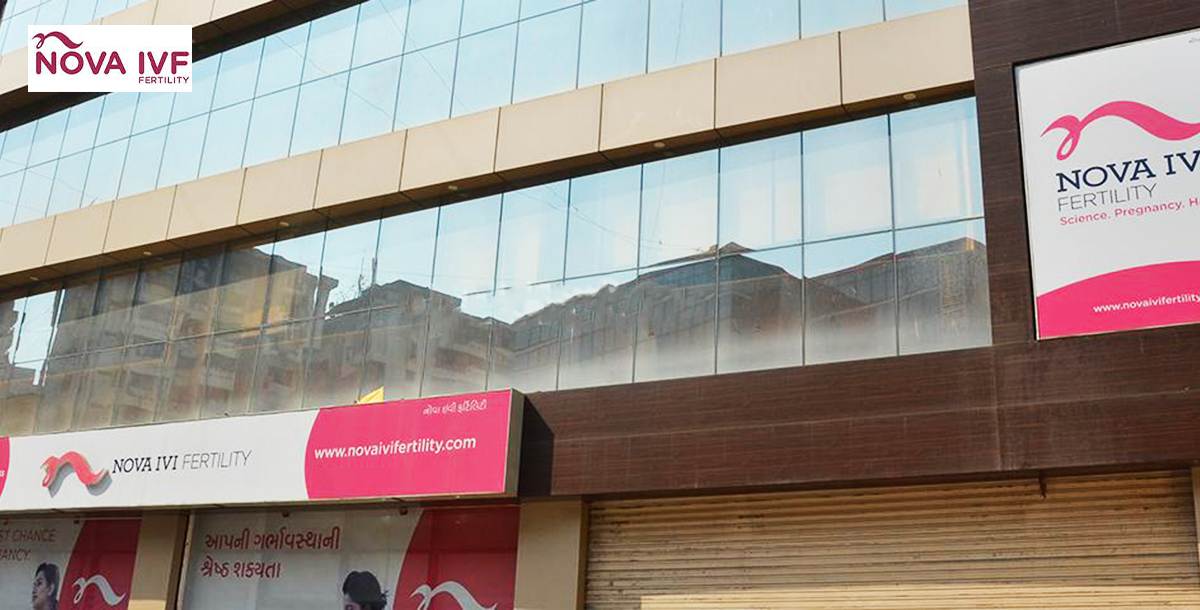 Nova IVI Fertility clinic is one of the largest IVF chains worldwide. In Bangalore, it has 3 centres providing the best fertility treatment to its patients. It is committed to providing basic and advanced level treatment options to patients in India and abroad. They have state of the art equipment in dealing with various fertility-related treatments like IVF, IUI and Andrology. They use specialised technologies in preserving the eggs and embryos. Timing plays a key role in determining the success rate of embryo transfer and Nova uses ERA (Endometrial receptivity array) technology to determine the exact timing. The ERA increases the success rate of the IVF procedure. Other Advanced level treatments in Nova include PGT (Preimplantation Genetic Testing), Cryopreservation, MACs(Magnetic Activated Cell Sorting), ICSI etc.
| | | | |
| --- | --- | --- | --- |
| Details | Basaveshwaranagar | Kammanahalli | Koramangala |
| Establishment Year | 2012 | 2015 | 2012 |
| Contact Details | 1800 103 2229 | 1800 103 2229 | 1800 103 2229 |
| Open Hours | 8 AM – 6 PM | 8 AM – 6 PM | 8 AM – 6 PM |
| Address | No. 869, Kade Complex, Dr M.C. Modi Eye Hospital Road, Basaveshwara Nagar, Bengaluru – 560 086 | Nova Pulse IVF Clinic, 2nd Floor, Sunshine Complex, Kalyan Nagar, Bengaluru – 560 043 | Opus, 143, 1st Cross, 5th Block, Koramangala, Bengaluru – 560 034 |
Services Provided
IVF
ERA
TESA (Testicular sperm aspiration)
PESA (Percutaneous Epididymal Sperm Aspiration)
ICSI
IUI
Cryopreservation: Egg, Sperm, Oocyte
Donor Program : Sperm / Egg / Embryo
Laparoscopy & Hysteroscopy Surgeries
Pre-implantation Genetic Screening & Diagnosis
Fertility Preservation
Beta HCG (Human Chorionic Gonadotropin)
4. Mannat Fertility Clinic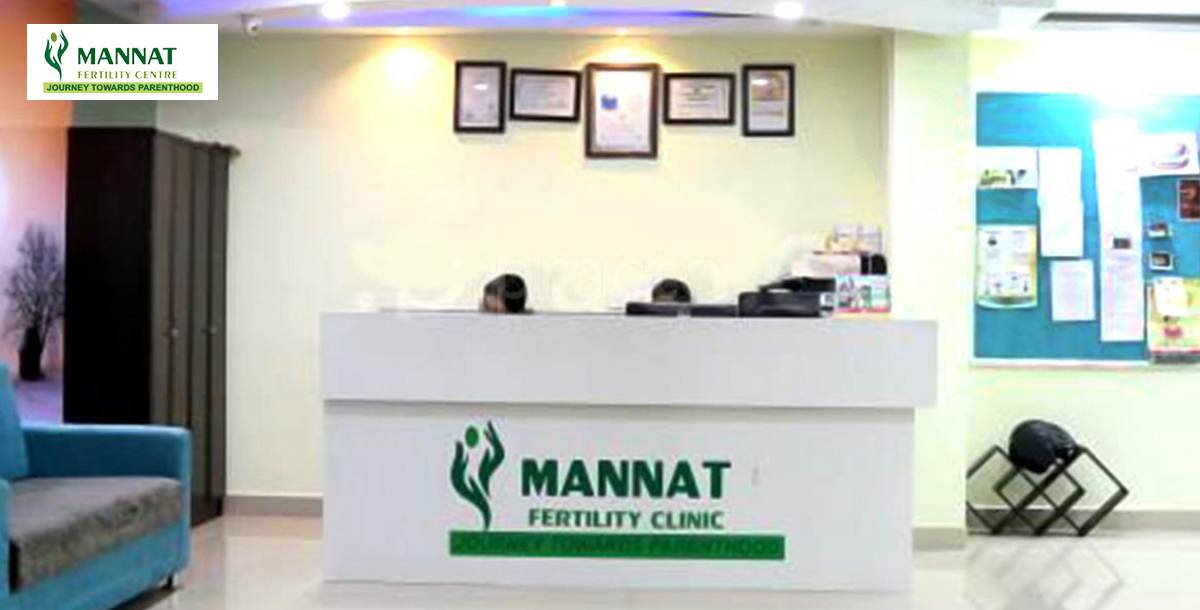 Problems relating to infertility can be stressful. Mannat Fertility Clinic understands this emotion and is dedicated to providing the best unique treatment solutions for its patients. An excellent and vastly experienced team of doctors are the reason for this clinic's success. Their success has given them recognition as one of the best IVF centres in Bangalore. Mannat offers a research-based approach to offer personalised solutions to all their patients.
Establishment Year
Contact Details
Open Hours
Address
87629 25555

Mon-Fri: 08:00 AM – 08:00 PM

Sat: 10:00 AM – 05:00 PM

Kishan Icon 90/2, 2nd Floor, Outer Ring Road Marathahalli Bangalore- 560037
Mannat Fertility Clinic Services:
Female Infertility
IVF
ICSI
IUI
Surrogacy
Oocyte Donation
Oocyte Freezing
Male Infertility
Azoospermia
MESA
PESA
Semen Processing
TESA
Others
PGS/PGD
Obstetrics & Gynecology
Abortion
5. GarbhaGudi IVF centre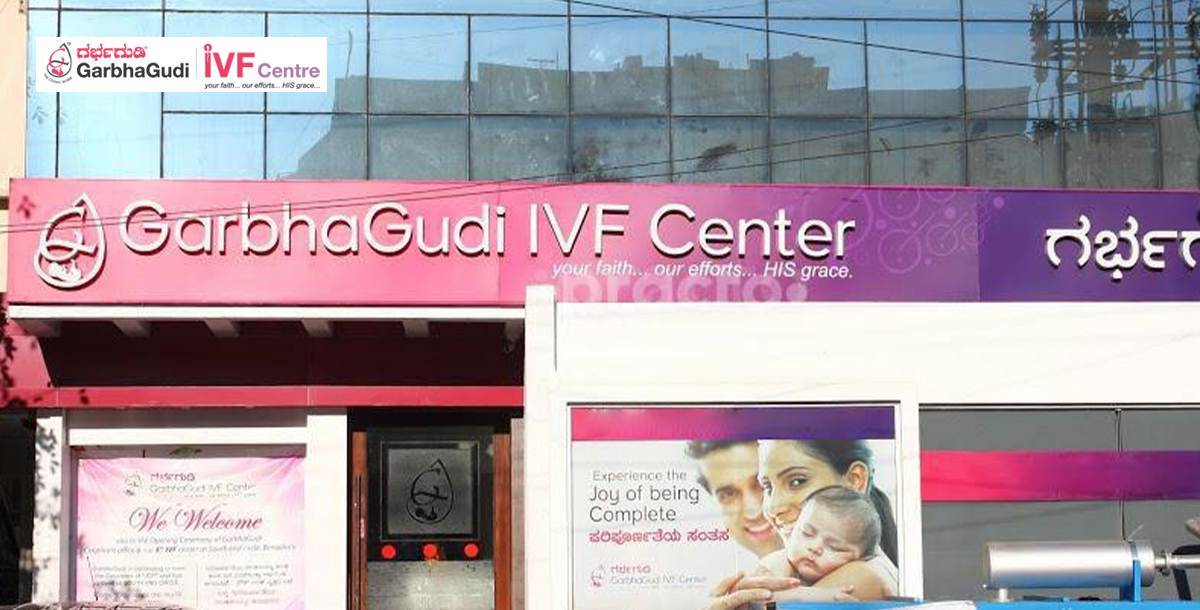 GarbhaGudi IVF Center is a well known IVF clinic in Bangalore. Its experience and success have led it in becoming one of the best IVF centres in Bangalore. It is best known for providing the best infertility treatments at an affordable cost. With multiple clinics and branches in Bangalore, it has an unparalleled success rate. Its highly qualified team specializes in dealing with advanced scientific treatments that increase its success rate. From surrogacy, IUI to MESA (Microsurgical Epididymal Sperm Aspiration), TESA, all different types of infertility related solutions are provided here.
| | | | | | |
| --- | --- | --- | --- | --- | --- |
| Details | Hanumanthanagar | South End Circle | Kalyan Nagar | Electronic City | Marathahalli |
| Contact Details | 88800 00909 | 88800 00909 | 88800 00909 | 88800 00909 | 88800 00909 |
| Open Hours | 9 AM – 8 PM | 9 AM – 8 PM | 9 AM – 7.30 PM | 9 AM – 7 PM | 9 AM – 7 PM |
| Address | Subhasri Complex, 210/A, Kumaraswamy Temple Rd, Banashankari, Bengaluru, 560050 | South End Circle, 26, Pattalamma Temple Rd, Basavanagudi, Bengaluru 560004 | Park Landing, 5AC-709, Outer Ring Rd, HRBR Layout, Bengaluru, 560043 | Ganesh Towers,3rd Floor, 60/5 and 60/6, NH 44, Konappana Agrahara, Electronic City, Bengaluru, 560100 | 4TH Floorbest personalized, Chirag Towers, Born Babies Building, 24 & 64, Service Rd, Marathahalli, Bengaluru, 560037 |
GarbhaGudi IVF Center Services
Blood Investigations
Semen Analysis
Ultrasound scan
PGS Testing
PGD Testing
ERA Testing
Diagnosing POF
HSG
6. Morpheus Ayaansh Fertility Centre
Morpheus Ayaansh Fertility Centre is operated with a vision to provide best-personalized infertility related treatments for women. Their core focus is to understand the problems of different women and come up with unique solutions to treat them as required. Their team of well-recognized professionals have led them to become one of the best IVF centres in Bangalore.
| | | | |
| --- | --- | --- | --- |
| Establishment Year | Contact Details | Open Hours | Address |
| 2010 | 098806 95003 | 9am – 5pm | #352, 2nd Floor, 14th Cross, CMH Road, Indiranagar,, Bengaluru, 560038 |
Morpheus Ayaansh Fertility centre Services:
IUI
IVF
ICSI
Egg Freezing
Cryopreservation
Donor Programs
LAH
Blastocyst Culture
IMSI (Intracytoplasmic morphologically selected sperm injection)
Confidential Counseling
Male Infertility Services
7. Smile Baby IVF:
Smile Baby IVF is known for providing affordable costs for its treatments. Many renowned and well-experienced doctors consult for Smile Baby IVF, and their immense contribution has made the centre one of the best IVF centres in Bangalore. Smile Baby IVF has the vision to create and maintain global standards for its treatments and services. The centre attracts international patients as well. They have dedicated teams of well-trained professionals for various treatments that they offer.
| | | | |
| --- | --- | --- | --- |
| Establishment Year | Contact Details | Open Hours | Address |
| 2010 | 098806 95003 | 9 AM – 9 PM | 4th Cross Road, CMR Lane, Landmark: Below Lingarajapuram Flyover, Bangalore |
Smile Baby IVF Services:
Selective Multifetal Reduction
In Vitro Fertilization (IVF)
7 IntraCytoplasmic Sperm Injection(ICS])
(MESA)
(PESA)
IMSI (Advanced Sperm Selection Technique)
Embryo Adoption/Embryo Donation
Embryo Freezing
Secondary Infertility
Tubal Recanalization
Cryopreservation
Egg Donation
Fertility Assessment
Frozen Embryo Transfer (FET)
Failed IVF
Frozen Embryo Replacement Cycle(FERC)
Testicular sperm Aspiration (TESA/TESE)
IntraUterine Insemination(IUl) (both AIH & AID)
Recurrent Pregnancy Loss Evaluation
Blastocyst Culture
Surgical Sperm Retrieval(SSR)
Vitrification
Tubular Surgery
Surrogacy
Laser-Assisted Hatching (LAH)
Ectopic Pregnancy
8. Dr Rama's Test Tube Baby Centre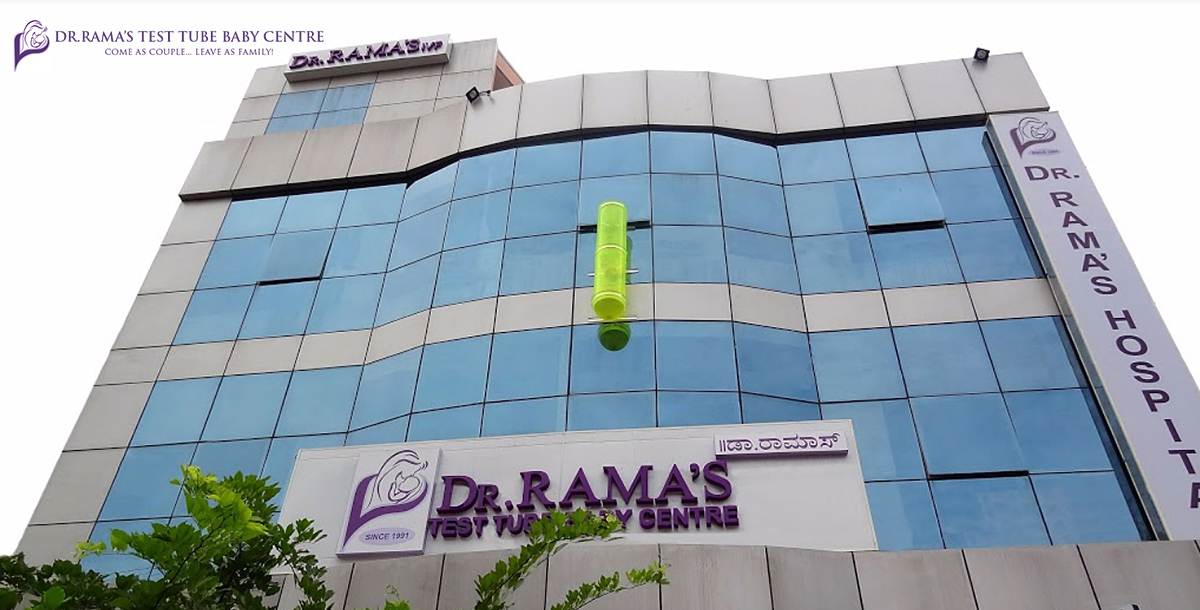 One of the best IVF centres in Bangalore, Dr Rama's test tube baby centre has received excellent recommendations from experts. This IVF centre has received accreditation not just from India but from abroad as well. They have been operating and expanding its operation at a very successful rate across India. With their advanced treatment options, they have been successfully coming up with impressive results for their patients.
Establishment Year
Contact Details
Open Hours
Address
9886044425

Mon-Sun

10:00 am to 7:00 pm

DC Chamber,
#421/M Krishna Temple Road,
Indiranagar 1st stage, Bangalore-560 038.
Dr Rama's Test Tube Baby Centre Services
IVF
Assisted Embryo Hatching
Implantation Failure
Donation
PCOS
IUI
Reproductive Surgery
Fertility Acupuncture
Fertility Ozone Therapy
Semen Cryopreservation
9. Gunasheela Ivf Centre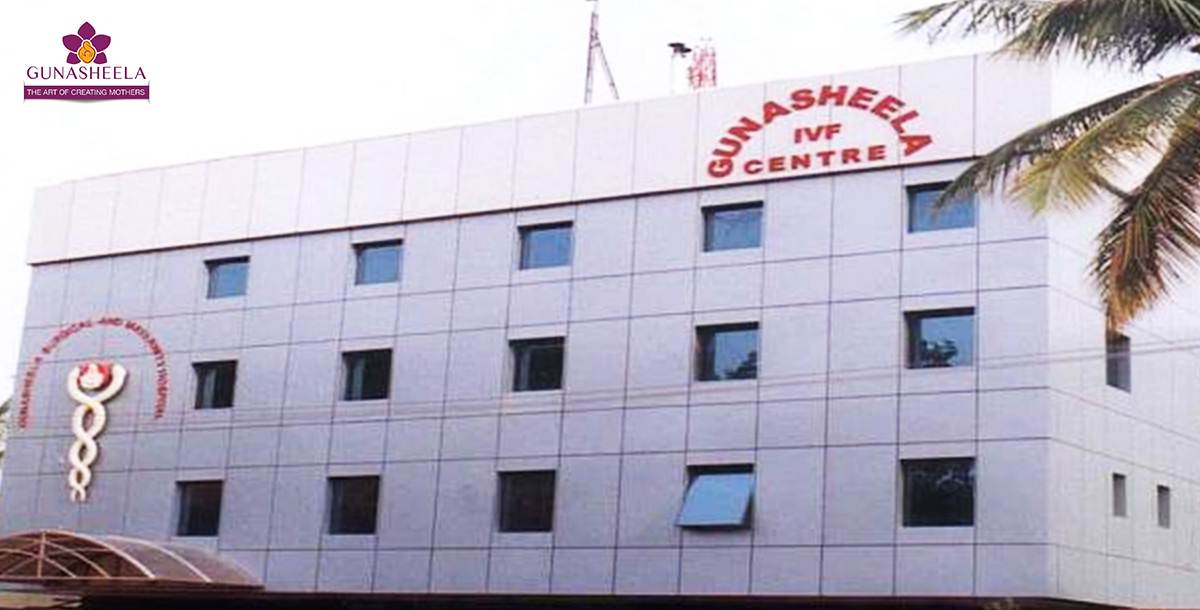 Gunasheela IVF Centre was founded in 1988. It is a Maternity and Surgical Hospital that specialises in treating infertility related issues. Using sophisticated technology, their IVF treatment has a success rate of 52% and has successfully delivered more than 6000 babies to date. It also provides accessible IVF treatment at a subsidized rate to employees of the government. The first IVF baby in South India was born with the help of Gunasheela IVF Centre. With its 2 centres in Bangalore, it is dedicated to providing the highest standards of infertility treatment.
Details
Basavanagudi
Koramangala
Contact Details
80 46462600
Open Hours
24X7
8.30 AM -6.30 AM
Address
No. 1, Dewan Madhava Rao Road, Opp. M. N. Krishna Rao Park, Basavanagudi, Bangalore – 560004
No.365, Sulochana Building, 1st Cross Rd, 3rd Block, Sarjapura Main Road, Koramangala, Bangalore – 560 034
Gunasheela IVF Centre Services
IUI (Intra Uterine Insemination)
IVF-ET (Test Tube Baby)
ICSI (Micromanipulation)
In Vitro Maturation of Oocytes
Oocyte Vitrification
Blastocyst Transfer
Frozen Embryo Transfer
Surgery for Male Infertility
Semen Analysis & Processing
Hormonal Assays
Fertility Preservation
10. Tamara Hospital & IVF Centre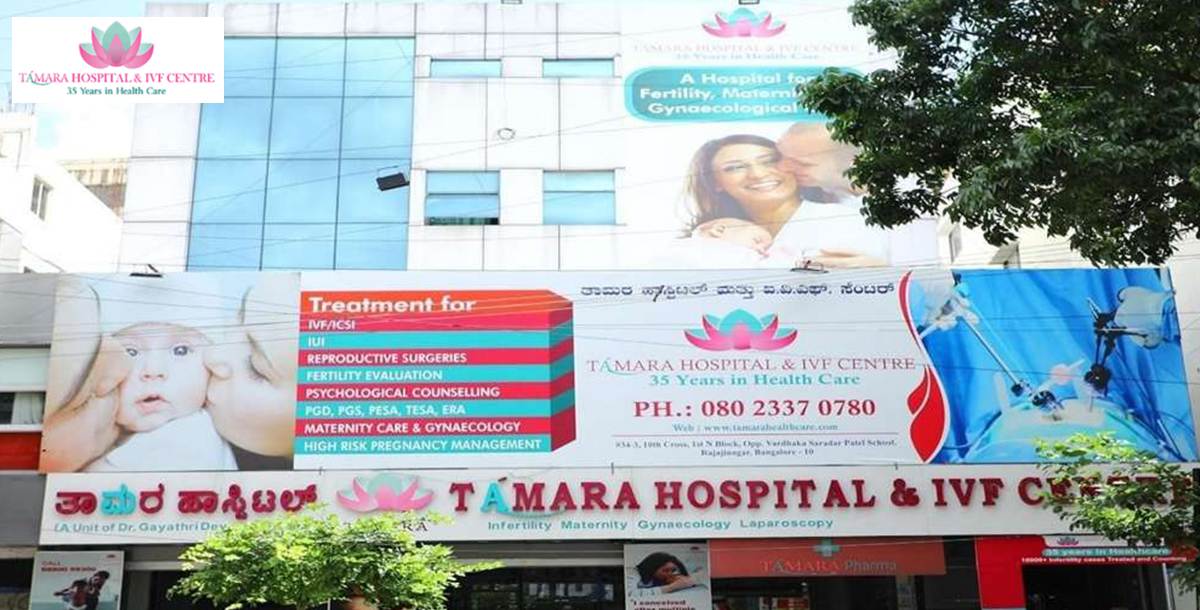 Tamara Hospital & IVF Centre is a speciality hospital that offers multiple fertility treatments to its patients. The well-developed infrastructure allows them to provide excellent services and, at the same time, create a friendly environment to make them feel safe throughout the process. Tamara is a safe option for many as they have become one of the best IVF centres in Bangalore with their vast experience of 35+ years and successful treatments.
| | | | |
| --- | --- | --- | --- |
| Establishment Year | Contact Details | Open Hours | Address |
| 1985 | 8023370780/81 | 24X7 | #34-3, 10th Cross, 1st N Block, Opp. Vardhaka Saradar Patel School, Rajajinagar, Bangalore – 560 010 |
Tamara Hospital & IVF Centre Services:
IVF
IUI
ICSI
Male Infertility Treatment
Gynaecology
FAQ'S
1. How much does an IVF treatment generally cost?
The IVF treatment would generally range from ₹70,000 to ₹300,000 depending on the treatment and the location.
2. Which months are best for IVF treatments in India?
According to multiple research, IVF cycles from March to September have shown the highest success rate.
3. Is IVF treatment successful the first time?
There are a total of 8 cycles, among which 33% conceive in the first and the chances go up to 77% in the eighth cycle.
4. What food to eat during IVF treatment to increase its success rate?
Fresh fruits, legumes, whole grains, and low-fat dairy products have shown an increase in the success rate of IVF treatment.
5. How many times can you try IVF?
Depending on the health condition, one can easily try IVF 3-4 times.