One of the things new parents and even soon to be parents especially enjoy are shopping for their baby and assembling the baby's wardrobe. Shopping for your baby is very different than shopping for yourself. While it is very likely that you might get carried away by fancy baby clothes and accessories it is important that you keep certain things in mind while shopping for your baby.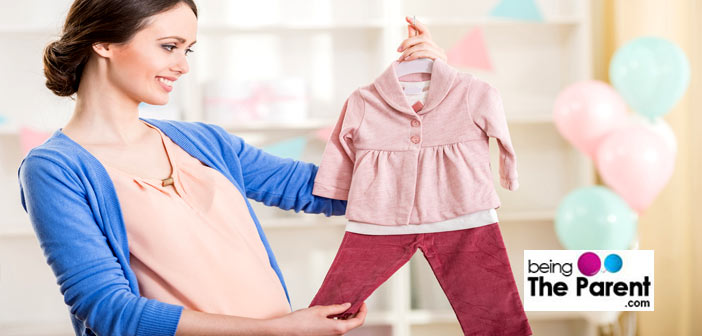 10 Tips To Shop For Your Newborn Baby's Clothes
Here we have listed top 10 things you need pay heed to before shopping for your baby.
Comfort is the key: The most important thing to keep in mind while shopping for infants is comfort. Newborns have extremely sensitive skin and that might react to rough fabric. Make sure you buy clothes that are soft and breezy. If your baby is born during the colder months, opt for warmer clothes but don't bundle them up with wool, since wool can be a little rough, instead layer them with a couple of warm clothes. When it comes to fabric go for cottons, fleece or blended fabrics that are absorbent and gentle on the skin
Keep it simple: Don't get carried away by the variety of clothes and dresses in children's boutiques and stores. Rather opt for simple and comfortable clothes. Frills, ribbons and other decoration can irritate the child and cause rashes. Keep the clothes as simple and fuss free as possible. You will need to change your baby's clothes several times during the course of the day, hence opt for clothes that are easy to take off and on. Avoid clothes with too many buttons and zips; opt for onesies and jumpers instead
Keep the temperature in mind: Babies tend to feel cold easily. Even during monsoon or summer make sure your baby is wearing slightly warm yet comfortable clothes. If the weather is quite hot your best bet is cotton. During winters layer your baby in slightly warm clothes but not too many layers as it can cause overheating. The best thing to do is keep checking your baby at regular intervals. If your baby seems warm enough you could remove a layer or two
The essentials: While assembling your newborn's wardrobe make sure you stock up on several singlets. Singlets come in handy since kids tend to spit, barf and drool often. Buy some jumpsuits or onesies next since they are easier to slip on and off and also keep the baby warm. Stock up on some comfortable tops to slip on during the night. A couple of tops in blended fabric are perfect to primp up your tiny one for day outs and strolls. Invest in some cardigans and coats for colder days as well
Quantity and size: Kids grow up fast so stocking up on many clothes is not a very good idea. You child will outgrow the clothes quickly and you might end up with a pile. It is better to stock up a few items and keep repurchasing as the child grows. Most shopkeepers will help you out while shopping when it comes to size. Even while shopping online there is an option where in you can select the appropriate age of the baby and they will show you clothes accordingly. Most newborns fit into size 00 clothes. A good practice is to buy clothes that are slightly bigger so that your baby is comfortable and relaxed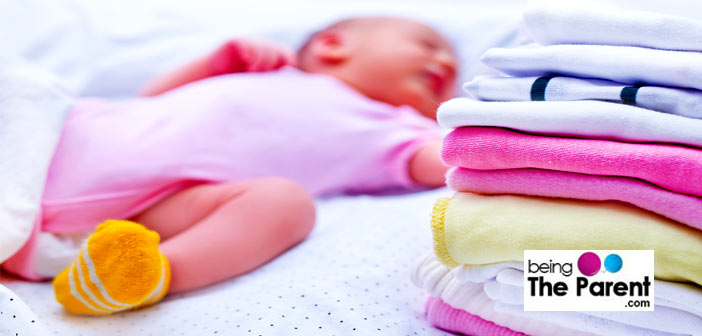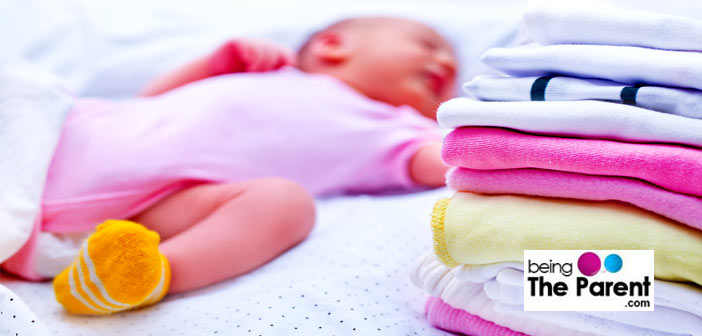 Handle with care: Babies are delicate and you have to be extra gentle while handling them. While changing your baby's clothes make sure you don't tug and pullover clothes through their head. Instead pull the neck of the cloth and gently put it through. Make sure their ears and fingers don't get caught in the clothes while changing. Similarly, while undressing your baby support your baby's head and remove the clothes gently
The dressing area: Dressing up newborns can be very tricky, at least in the first few weeks. Reserve a corner for changing. There are changing tables and mats easily available in the market. Invest in a good mat if not a table, this will be helpful in the long run.Arrange your baby's clothes and necessary things neatly in a corner, so that you don't scramble for anything last minute. Keep baby lotion and power as well, those always come in handy
Other knick knacks: Other accessories you will need are some bibs and burp cloths so that you don't ruin your baby's clothes while feeding. Stock up on some diaper wipes as well, they are multi-purpose and you will find yourself reaching for them often. Also buy some wearable blankets since they are way better to swaddle your baby in than regular blankets. Other must have items are socks, booties, monkey caps, tiny hats and caps
Swaddle them right: Swaddling is very important when it comes to infants.Not only does swaddling keep them warm and cosy but it also keeps the baby from being startled by his own reflexes. Use soft blankets to wrap your baby in, make sure the fabric is smooth yet warm. Do not swaddle the baby too tightly just make sure the baby is secure yet comfortable. Read more about swaddling here
Use easy to clean fabrics: Your baby will burp, spit-out and poop often. Make sure you use clothes that are easy to clean. Use fabric that don't leave a stain and wash off the grim easily. For washing your baby's clothes opt for antibacterial detergent made especially for baby clothes. They will clean the clothes thoroughly without making them rough and will also keep the clothes germ free. Read more about burping and spitting in babies here
Shopping for a newborn is an altogether new experience and you will be startled to see the range in baby clothes. Plenty of colors and varied fabrics will steal your heart, but remember that babies grow very fast and mostly do not need everything in the store. Make wise choices, though we'd say indulge in baby shopping once in a while.
Should you use a disinfectant to wash baby clothes? Find out here.