You might have thought that persistent pain and stiffness in your back, which bothered you too much during the pregnancy period, would go away immediately after delivery. But, sadly, more often this backache is found to return during the postpartum period as well. In case you are suffering from back pain after giving birth to the little one, you are not alone. Nearly 50% of women will suffer from lower backache in the first few months after delivering a baby.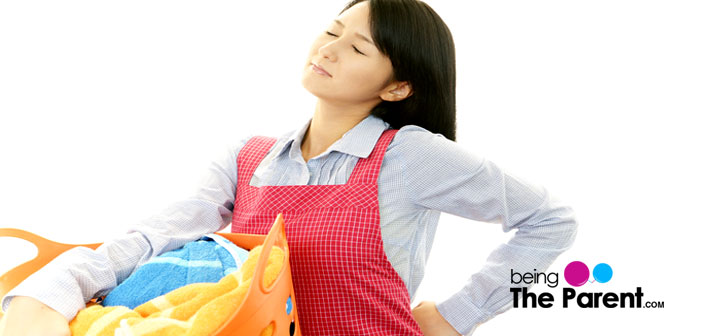 What Causes Postpartum Back Pain?
There are several reasons that can cause postpartum back pain:
Hormonal changes: In the course of pregnancy, besides the stomach, your hips, and pelvic bones will also expand for accommodating the growing baby. This is possible because, in the course of pregnancy, the body releases a hormone called relaxin which loosens the joints and ligaments (including those in the back) that connect the pelvic bone with the spine. Even after delivery the amount of the relaxin in the blood will remain high for a little while longer (approximately three months). This will result in a backache as the joints and ligaments are still not stronger and tighter enough to support the back properly
Long / difficult labor: A sore back can also happen as the result of a long or difficult labor. When you are in labor, in the course of pushing, you may have used muscles you don't normally use and some positions which you have never used before. This exertion of muscles can result in back pain
Bad postures: Unawareness of good postures and taking the bad posture, especially when feeding (which is around twelve times per day each around 15 minutes duration for newborns!) the baby is another reason behind the postpartum back pain. Holding and rocking the baby in a wrong way can also give rise to back pain
Overweight: If a mother is overweight, the chances of a postpartum backache will be more due to increased pressure on the back
Weakened abdominal muscle: During pregnancy, the growing uterus will weaken the abdominal muscle, resulting in a change in posture. This will put an additional load on the back muscle. This back pain that starts during the pregnancy can return any time during the postpartum period
The constant bending: You have to bend and lift the baby frequently during the postpartum period for feeding and changing nappies. This can result in back pain and as you have to pay attention 24/7 it can worsen the pain and increase the recovery time
Can Epidural Cause Postpartum Back Pain?
So far, there is no proof that the epidural/spinal anesthesia, which is administered in the course of delivery brings out a postpartum backache. Though many people attribute back pain after delivery to the use of epidural, it is not correct and the real reason needs to be ascertained. An epidural can cause some tenderness at the site, but certainly not back pain.
How Long Does Postpartum Back Pain Last?
Only after the level of relaxin in the body come back to normal, the muscles will regain its strength and tone and the joints get tightened to their normal physical state. Therefore, normally the back pain will subside around three months after delivery (as the hormone levels will be back to normal by then). But in some instances, it is found to require close to six months for complete recovery. In any case, your doctor will be your best guide.
Why Does My Back Ache More At Night?
Whatever you have done wrong with your back in the day time, whether it be a bad posture or lifted more weight or bend more frequently, the joints will turn out to be progressively swollen and exasperate. It will result in more pain during the night when you are totally exhausted physically and mentally after a day's hectic chore.
When Should I Worry About My Postpartum Back Pain?
Normally the post-partum back pain will resolve itself. But immediate medical attention should be taken if:
The back pain is severe, and gradually getting worse
Back pain occurs with a fever
Back pain caused by trauma
Lost feeling in both or one leg
You suddenly feel uncoordinated
Also, if the backache does not subside even after six months, it's time for you to consult a back specialist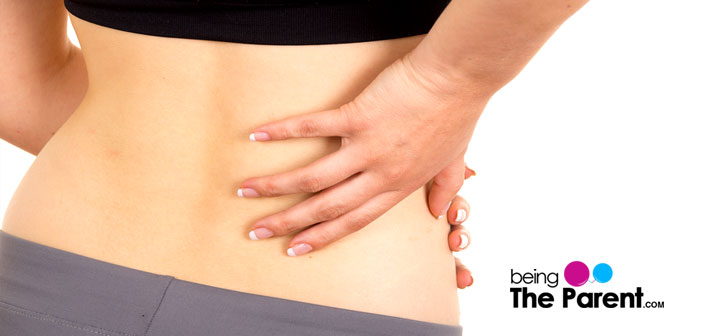 How Can I Manage Postpartum Back Pain?
It is simpler to manage the postpartum back pain than you imagine if you sustain in mind certain rules and pay additional attention while using the back.
Stay aware of how much you bend. Always bend at the knees (squat down), rather than the back when you lift the baby, stroller, clothing so on. This simple rule will help you contain back pain
Start practicing exercise as soon as possible after delivery to re-establish stomach and back muscle tone. Ten minutes of extending activities on the floor every day will re-establish hip and back adaptability. Never say "no time" as this should be possible even when the child is sleeping. If you have undergone a C-section never start (even simple) floor exercises before 6 weeks. Instead, go for walking which is an exercise that is safe to start even if you have undergone a C-section
When you're feeding your baby, try not to sit in an arched position. Instead, bring the baby to your breast. Always keep in mind 'the straighter the spine, the lesser will be the chances of persistent back pain'. The wrong posture during breastfeeding increases upper back pain
Use an upright chair rather than a soft cushioned one while feeding the baby
Never carry your child on your hips. Carrying weight on the hips makes the back muscle strain more, thereby, increasing the backache.
A warm bath always provides immediate relief from back pain, even though it will not last longer
How Can Postpartum Back Pain Be Treated?
Here are some methods to soothe the postpartum back pain:
Applying pain relief ointments and massaging gently on the area will help to give a soothing effect if you are experiencing mild to moderate back pain
Practicing yoga is found to be very effective in eliminating the postpartum back pain. But never go for extreme positions. Seek the help of a trained trainer
Put a warm compress over the area where the pain is concentrated
Physical therapy with the help of a well-experienced therapist
In Ayurveda there are some typical procedures which helps to ease the back pain and regain its strength. Only an experienced hand can carry out this treatment
Even if after trying the tips and measures mentioned above your back pain still persists and also there are no risk factors that also we mentioned above, then you can try some medications like painkillers (acetaminophen, ibuprofen, tramadol etc.) However,it's always preferred to take medicines with the approval of your doctor as you are breast feeding your baby.
After all, your body undergoes constant changes throughout the nine months of pregnancy to gift you the baby. So give your body some time to get back to its normal physical condition. Therefore, be patient and never try to experiment with several methods at the same time, which can put additional pressure on your back and aggravate the backache.