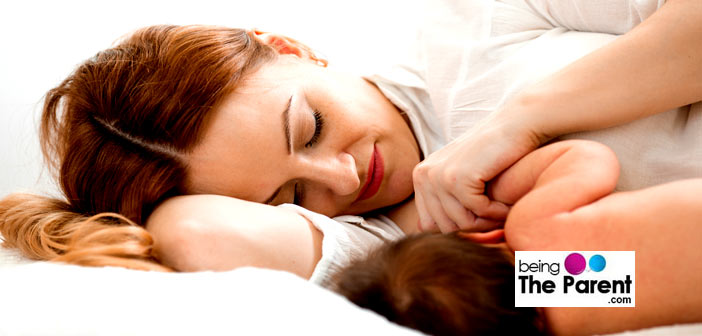 Breast feeding is the best way for a mother to provide all the nutrition a baby needs for the first six months of his life. Once older than 6 months, you can start with solids, but breast milk still remains the most important food in baby's first year. It contains infection-fighting antibodies which reduce the risk of many infections and diseases in early life. Breast milk is also a source of building blocks of protein – amino acids and cholesterol, which promote general body and brain growth. Breast feeding not only benefits the baby, but it also helps women lose pregnancy weight, improves glucose tolerance and cholesterol metabolism. It also increases levels of oxytocin, which relaxes blood vessels.
The World Health Organization recommends exclusive breastfeeding for the first 6 months of your baby's life and for breastfeeding to continue, with the addition of other foods, until 2 years or older.
5 Natural Tips To Increase Breast Milk
Occasionally, women suffer from the insufficient or low milk supply. Often mothers think that their milk supply is low when it really isn't. Read more about low breast milk supply here. If your baby is gaining proper weight then you do not have a problem with milk supply. One of the top reasons mothers give for weaning is that they feel they don't have enough milk for their baby. Here are some natural ideas and suggestions to help you make more milk-
1. Nurse frequently and properly:
The best way to increase your milk supply is feeding your baby more often than usual as more frequent feeding means more milk. Frequent sucking sessions of baby stimulate mother's body to produce more milk. Also, be sure to offer both breasts at each feeding. Make sure your baby is well positioned at the breast so that he can get the best possible latch and lastly allow the baby to decide the length of a feed. Don't be worried if he is sucking for shorter period of time. Latching properly is one of the key factors that will make breastfeeding a satisfying experience for both you and the baby
2. Massage your breast:
Giving a massage to your breast can be very beneficial to increase the volume of mother's milk. Try massaging your breast for 1 or 2 minutes in circular motions before offering it to your baby, you can also use a warm compress on your breast before the feeding session as it will increase the blood supply in the region. The simplest way to give a warm massage is to have a hot bath and during that period give your breast the required little massage
3. Check your medicine:
Avoid taking birth control (hormonal contraceptives containing estrogen) pills at least for first six months. These pills can lower your milk supply and can affect breastfeeding. Other commonly used medicines that can be a cause for decreased milk supply are antihistamines, diuretics and few weight loss medications. Consult your doctor before taking any hormonal medication and never opt for OTC drugs for even minor issues like headaches
4. Take proper diet:
If you are breast feeding your baby exclusively than it's a must for you to eat a healthy and a well balanced diet including vegetables, fruits, grains, protein and fat as well. Drink plenty of water, stay hydrated and try to eat foods that are naturally rich in water, such as fruits and vegetables. Breast milk cannot be made if you do not drink ample fluids. Baby's all water needs are met by your breast milk so maintain a good intake of water and juices. Avoid taking too much of traditional sweets, but opt for healthier and fresher options. Sync your mind into a positive note and keep away from stress. Key mantra is "stay relaxed and eat healthy"
5. Herbal help:
Certain herbs are popularly believed to increase the breast milk supply, some are even advised in Ayurveda, the ancient Indian science of healing, and are completely natural, non-invasive, and can be prepared at home. Most beneficial herbs known to increase the breast milk supply are Fenugreek seeds and 'Shatavri'. Fenugreek seeds can be added either directly to the vegetables or can be used as a crushed powder with milk. ''Shatavri" is a natural rejuvenation tonic for females and can be taken with milk or water. It is widely known for producing positive results when taken by lactating women with low breast milk supply problems. Some other herbs that can be found in your kitchen are fennel seeds and garlic, you can use them in the most traditional way as well. Read more about everyday ingredients that can help to increase breast milk here.
Most mothers panic thinking they are not producing enough milk for their little one, which is largely not the case. Stress can deplete milk supply more than anything else, so panicking and stressing out too much will only alleviate the problem. If you can follow these simple tips above, the milk supply would increase successfully without resorting to drugs or formula.