It's time to break away from the same old traditional recipes and try out something different. When kids return from school, their tummies are growling with hunger. This is the time when they can binge on unhealthy and untimely snacks, and calorie-laden and sugary foods. We have put together a list of some healthy and easy after school snack recipes, quite different from the run-of-the-mill recipes that are high in nutritional value and easy to make. Since children get bored of the same old traditional snacks, it is great to offer them these fast and simple food preparations after school, and help them enjoy a 'nutritious' snack. Enjoy these recipes with a twist and make the most of your time with your children!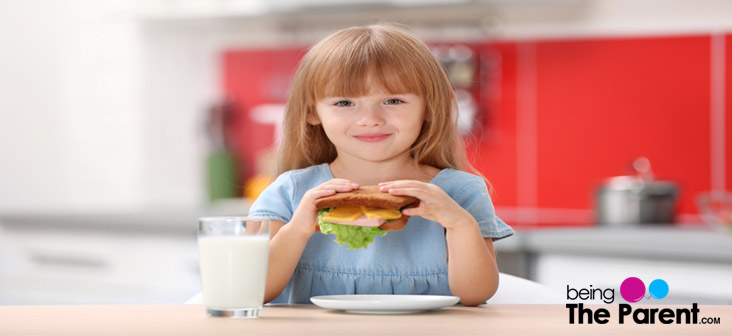 5 Healthy And Easy After School Snack Recipes For Children
Fresh Corn Cakes With Summer Salsa
Corn, an eternal favorite for children of all ages, is a certain must-have ingredient in your breakfast or lunch concoctions, especially during the summers. The fresh corn cakes are as much a treat for the stomach as they are for the eyes! The salsa that goes with these yummy and different-shaped patties is made of squash, green onions, basil, vinegar, tomatoes, pepper and salt. With all the best and peak-season produce in the recipe, this is a surely one of the simplest and easiest summer recipes that you can put together for your children during the summers!
Ingredients Required For Fresh Corn Cakes With Summer Salsa:
Whole-wheat flour – 3/4 cup
Plain yellow cornmeal – 1/2 cup
Baking powder – 2 teaspoons
Salt, divided – 3/4 teaspoon
Freshly ground black pepper – 1/2 teaspoon
Light sour cream – 1 cup
Eggs – 2 large
Olive oil, divided – 2 tablespoons
Fresh corn kernels – 1 1/4 cups
Minced jalapeño- 2 tablespoons
Diced yellow squash – 1/2 cup
Chopped green onions – 1/4 cup
Chopped fresh basil – 1/4 cup
Vinegar – 1 1/2 teaspoons
Chopped tomato – 1 medium
Method:
Mix together all the dry ingredients namely flour, cornmeal, baking powder, salt and pepper in a large bowl
Combine sour cream, eggs, and a teaspoon of olive oil in a bowl
Add the sour cream mixture, jalapeno and corn to the flour mixture
Mix everything together and divide and shape the mixture into equal parts and make patties out of it
Heat oil in a pan and cook the patties on each side
For the salsa combine together green onions, basil, tomato, squash, oil, vinegar, salt and pepper in a bowl. Mix well
Plate the corn cakes on a plate and top it with summer salsa and serve it to your kids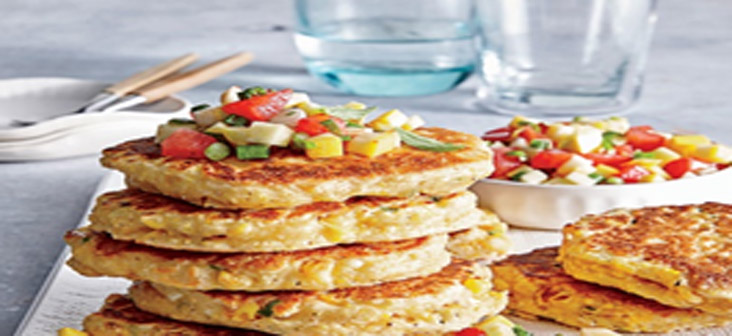 Baked Mozzarella Bites
Children easily get bored of the same food items. However, offer these very food items with a twist, or cook them with a twist to bring out a special flavor in them, and children are ecstatic about these very servings! One such food is fried cheesesticks. Healthy and easy-to-make, quick after-school alternatives to fried cheesesticks are the baked mozzarella bites. This recipe takes only about 15-20 minutes to cook. The baked mozzarella bites go best with a low sodium marinara sauce.
Ingredients Required For Baked Mozzarella Bites:
Crushed cornflakes – 1/3 cup
Low fat mozzarella string cheese – 3 sticks
Egg white from 1 egg
Cooking spray
Pasta ( marinara ) sauce – 1/4 cup
Method:
Dry roast the cornflakes and crush them nicely.
Cut the mozzarella cheese sticks into 1 inch pieces, dip each piece in egg white and coat it crushed cornflakes
Preheat the oven to 220 degree Celsius
Place each mozzarella stick on a baking tray which has been coated with cooking spray
Bake for 3 minutes or until the cheese has melted and softened
Plate the mozzarella cheese on a platter and serve it hot with pasta sauce which has also been heated in a microwave for 30 seconds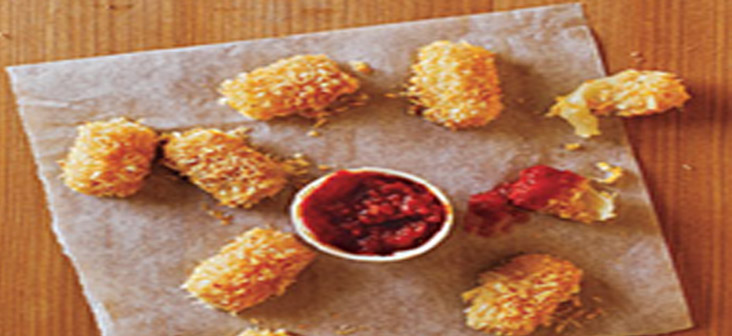 Baked Pineapple Sundaes
A soulful sundae is a great way to serve healthy food to your children!
Ingredients Required For Baked Pineapple Sundaes:
Brown sugar – 3 tablespoons
Fresh orange juice – 3 tablespoons
Honey – 1 1/2 teaspoons
Cinnamon powder- 1/2 teaspoon
Grated ginger – 1/2 teaspoon
Roughly chopped fresh pineapple – 2 cups
Almonds and walnuts, coarsely chopped – 1/4 cup
Plain Greek yogurt – 2 cups
Method:
Preheat the oven to 350 degree Celsius
Whisk together brown sugar, orange juice, honey, cinnamon, ginger
Add pineapple to the mixture
Spread this pineapple mixture on a baking sheet and it for 30 minutes
Dry roast the nuts in a pan
Place some Greek yogurt in a bowl, top it with some nuts and pineapple mixture and serve it to your kids on a hot afternoon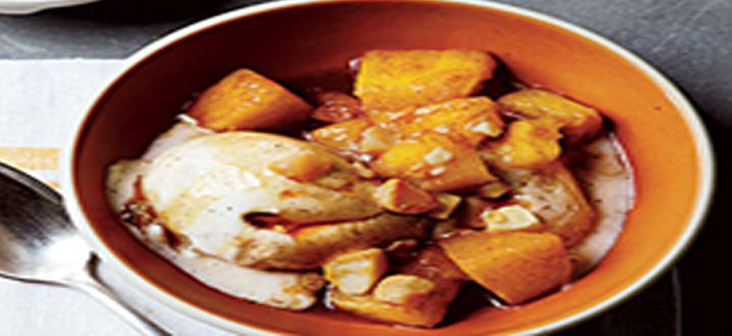 Summer Vegetable Tortillas
Tortillas can be served with a number and variety of fillings, and savored with some equally delicious sides. Summer vegetable tortillas, as the name suggests, is a tasty, easy and healthy weeknight dinner. A crème sauce with chives can be spread over the crepe roll to add to its flavor and make it more succulent. A bite of this goodness made of herbs, cereal and home-made creamy sauces is mouth-watering!
Ingredients Required For Summer Vegetable Tortillas:
Reduced-fat sour cream – 1/3 cup
Chopped fresh chives, divided, plus more for garnish – 1/2 cup
Low-fat milk – 3 tablespoons
Lemon juice – 2 teaspoons
Salt, divided – 3/4 teaspoon
Extra-virgin olive oil – 1 tablespoon
Chopped zucchini – 2 cups
Chopped green beans – 1-1/4 cups
Fresh corn kernels – 1 cup
Skimmed ricotta cheese – 1 cup
Shredded Monterey Jack cheese – 1/2 cup
Freshly ground pepper – 1/4 teaspoon
9-inch "ready-to-use" tortillas – 4
Method:
Combine sour cream, milk, ¼ cup chives, lemon juice and salt in a bowl
Heat some oil in a pan, add zucchini, green beans and corn and cook till they start turning brown
Reduce the heat and add ricotta and monetary jack cheese along with the remaining chives
Add salt and pepper and mix till the cheese starts to melt
Place a tortilla on a plate, add the vegetable – cheese on the center and roll and the crepes are ready to serve
You can top these tortillas with 2 teaspoons of crème chives sauce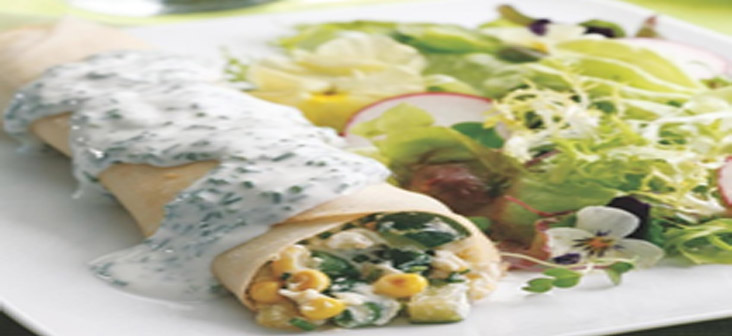 Banana-Bran Muffins With Chocolate Chips And Walnuts
A full day's worth of activities must surely drain your child out. Introduce their favorite muffins, with a fiber-rich twist, by placing before them these amazing banana-bran muffins and savor the moment as you see them ask for more! With all the bananas left out on the breakfast table at the end of the week, this recipe tells you just what you need to do! Cook up this tasty storm this summer!
Ingredients Required For Chocolate Chips And Walnuts:
Eggs – 2
Light brown sugar – 2/3 cup
Mashed ripe bananas – 1 cup
Buttermilk – 1 cup
Wheat bran – 1 cup
Oil – 1/4 cup
Vanilla extract- 1 teaspoon
Whole-wheat flour – 1 cup
All-purpose flour – 3/4 cup
Baking powder – 1 1/2 teaspoons
Baking soda – 1/2 teaspoon
Cinnamon powder- 1/2 teaspoon
Salt – 1/4 teaspoon
Chocolate chips – 1/2 cup
Chopped walnuts – 1/3 cup
Method:
In a bowl mix together the eggs and brown sugar till you get a smooth mixture
To this mixture add mashed bananas, buttermilk, wheat bran, whole wheat flour, baking powder, baking soda, cinnamon powder, all-purpose flour, salt, oil and vanilla extract. Combine together the dry ingredients with wet ingredients
If you like you can now add chocolate chips to this mixture
Put the prepared batter into the muffin pan
Top them with walnuts
Bake the muffins for around 15-25 minutes or till are golden brown on the top
Cool them and serve it to your kids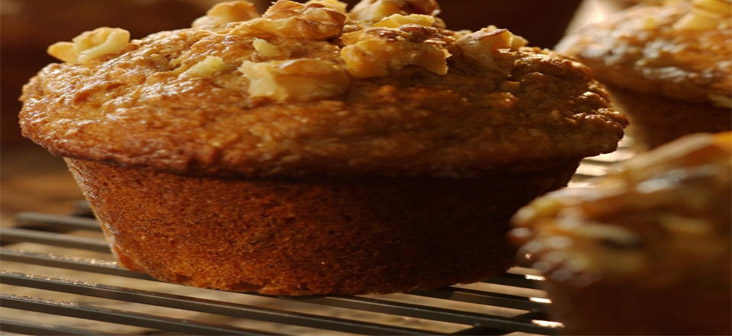 While we have mentioned complete recipes for these five tasty and different food items, there are several more simple and easy-to-make recipes that you could take your pick from. One of these is a delicious overnight oatmeal cooked in a slow cooker, replete with the goodness of finely chopped vegetables, and dry fruits and nuts. A creamy consistency helps you enjoy this meal even further.
Tortilla pizzas are also simple to cook, given that corn or flour tortillas are readily available in the market these days. The wet sides of a few tortillas pressed together will give you a thick crust of a pizza, which can be loaded with heat refried beans, onions, chili peppers. A nice topping of shredded cheese accentuates that taste of this easy pizza substitute even further.
You can also whip up a lighter version of the favorite mac and cheese by using fat-free milk and low-fat cheddar cheese that is finely shredded to make it healthy!
You can also use your imagination and make your daily after school snack a little tastier, little healthier and feather light on the stomach. Have a tasty, healthy and fun-filled time!