When you are pregnant, a well regulated and healthy diet is highly beneficial for you and your unborn baby. This is because the nutrients that you consume are primary nutrition for your baby. So it is very important that you incorporate healthy food and whole grains in your pregnancy diet and eliminate the consumption of junk food. Oats is one such healthy food item that you can include in your diet when you are pregnant. Having said that now immediately the first question that comes to your mind is whether it safe to consume oats during pregnancy? In short, yes it is safe to consumer oats during pregnancy. In fact, it is a very healthy option and even advised during pregnancy. Let us see why.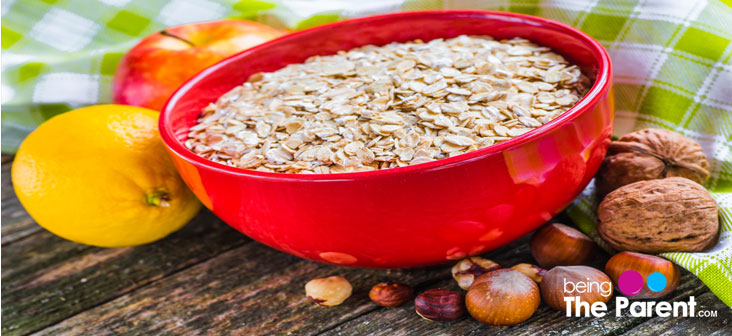 What Are The Benefits Of Having Oats During Pregnancy?
Tips To Have Oats During Pregnancy
Side Effects Of Oats Consumption When Pregnant
What Are The Benefits Of Having Oats During Pregnancy?
We all know oats is a great option with a lot of health benefits. But how is it helpful during pregnancy? Read on.
A source of energy: Half a cup of oats contains around 50 grams of carbohydrates and 300 calories. This gives an amazing energy boost to pregnant women
Complex carbohydrates: Unlike simple carbohydrates, complex carbohydrates are digested slower and hence do not spike the blood sugar level. This is great during pregnancy when the risks of gestational diabetes are higher. For this reason, oats will also ensure that the pregnant women gain weight in a healthy manner
Dietary Fiber: Half a cup of oats contain about 8 grams of dietary fiber. This helps regulate the digestive process avoiding common pregnancy problems such as constipation
Minerals: Oats contain potassium, selenium, phosphorous and calcium. These minerals have multiple benefits during pregnancy – they help boost bone health, improve immunity, strengthen tooth formation and ensure proper growth and development of the fetus
Vitamins: Oats contain vitamin B1 and E. Vitamin B1 is important for breaking down fat and protein efficiently. It also keeps mucus membranes healthy. Vitamin E is an excellent antioxidant, helps detox, reduce free radical damage – all of which helps keep the skin healthy and accentuate the pregnancy glow
Folic Acid: We all know how important folic acid is during pregnancy. It helps avoid many fetal disorders, especially the ones related to brain and nervous system
Iron: One serving of oats will take care of about 10 percent of the daily requirement of iron. Unless pregnant women meet their daily requirements of iron, there is a risk of anemia
For all these reasons, many gynecologists recommend oats as one of the top 10 foods to have during pregnancy. That said, different brands of oats have different nutrients. Make sure you read the label before buying a particular brand.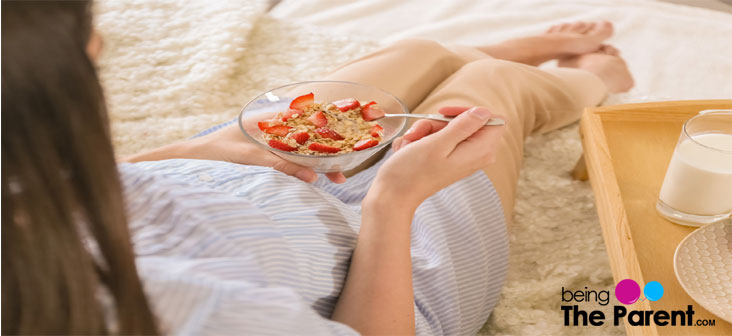 Tips To Have Oats During Pregnancy
The best kinds of oats are steel cut oats, rolled oats and whole oats. You can also opt for oat flour and instant oats. Here are some ways to incorporate oats into your daily diet.
Breakfast: You can boil with milk or water, add a teaspoon of honey, fresh cut vegetable and a bit of vanilla essence to make a yummy breakfast. You can even try making pancakes with oats
Replacement for all-purpose flour: All-purpose flour or maida is not at all a good idea during pregnancy as it can result in unhealthy weight gain and increase the chances of diabetes. The good news is oat flour can replace all-purpose flour in most of the recipes. That is right, you can use oat flour to make cookies, cakes, muffins, breads, pie crusts and even tortillas
Granola Bars: Granola bars contain oats, nuts and berries and can be a very tasty source of nutrients and energy
Flavorings: For all its benefits, many pregnant women, unfortunately, find oats very bland and distasteful. The trick is to pair oats with flavorings that goes well with it. Here are some great examples: a sprinkle of cinnamon powder, a dash of maple syrup, milk, ice-cream, whipped cream, fresh-fruits, brown sugar – all of these go very well with oats
Experiment: The biggest advantage of oats is that it can be cooked very easily. So you have the liberty to experiment with ingredients till you find a pairing your taste buds love
Side Effects Of Oats Consumption When Pregnant
Having excess of Oats can interfere with digestion and cause diarrhea in some pregnant woman
There are instances of people suffering from intestinal blockage because of excessive consumption of oats. This is highly undesirable during pregnancy
If you are pregnant and have gluten allergy, then there are high chances that you will be allergic to gluten too
Following a healthy, safe and balanced diet is very important, especially during your pregnancy. You will get to hear different pieces of advice from different people about what is good and what is bad during pregnancy. As a best practice, always discuss with your doctor before adding or eliminating a food group from your diet. Your doctor, who knows your body and pregnancy better, would be able to calculate your daily calorie requirement and suggest food items accordingly. For a generic idea about what is considered good during different stages of your pregnancy, refer to our month-wise guide on what to eat and what not to eat during First, Second, Third, Fourth, Fifth, Sixth, Seventh, Eighth and Ninth month of pregnancy.