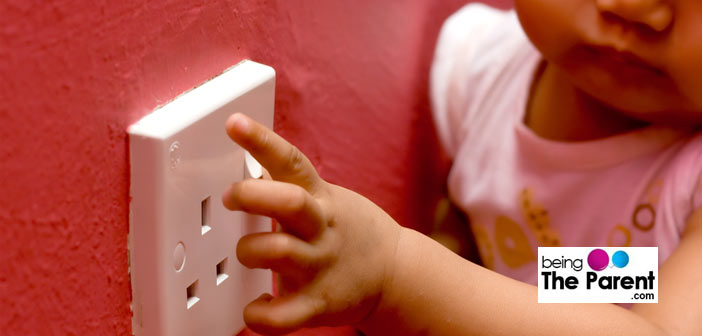 As parents, our biggest concern is our children's safety. We make sure that we do not leave our child unattended at a public place and that our child does not wander off alone outside the home or in a park. But have you thought about all the dangers a child faces while he/she is at home. According to a research, children get into more dangerous situations at home than anywhere else. So, while you may think that your home is the safest place for your kid, it may be the most dangerous of places.
Childproofing Your House
Here are some tips on how can you childproof your house and make it safe:
Get down: And by this, we mean you literally get down and take a look at your house from your child's point of view. Take a look at what all things look tempting and what all things are within the reach of your child. Doing so will help you realize what corners, cupboards and drawers can hurt your child. Any harmful thing that appears within the reach of your child should be immediately removed. Pick up any small object like marbles, coins, any decorative item kept on low shelves that your child can swallow. Make sure to cover any sharp corners and edges of furniture or other items that can hurt you child
Electric Sockets and Appliances: We live in a world full of gadgets and appliances. Make sure that all electrical appliances are kept outside the reach of your child because they can pass electric current. Also their cords too should be kept out of reach as children can pull them resulting in the appliance falling over them. All the electrical sockets that are placed low on the walls should be covered because children often tend to stick their fingers inside the sockets out of curiosity. Be careful never to leave any appliance plugged in after you are done using it
Furniture: The most common safety hazard that furniture causes is that it provides a place for children to jump from. Children love climbing up the furniture so remove any fancy or decorative items from the shelves where children can reach by climbing on chairs or stools. Children can hurt by shards of glass or china if they fall. Make sure all drawers are properly locked as well. Keep furniture away from high rise windows
Poisoning: Children will eat or drink anything out of curiosity. Make sure that you remove all sorts of medication bottle or pills from within their reach. Keep them safely locked. Similarly, detergents, floor cleaners, dish-washing liquids, etc. should also be kept away and at a high place so that the children cannot reach them
Drowning: Do not, in any case leave your child unattended in a pool or a bath tub even if he/she is in a bathing ring or seat. Even buckets filled with water are dangerous for small children as they can pose a drowning hazard to your child. Always keep an eye on your child and supervise his/her activities in the bathroom. Also pay attention to your child while in the toilet to avoid his/her accidentally falling inside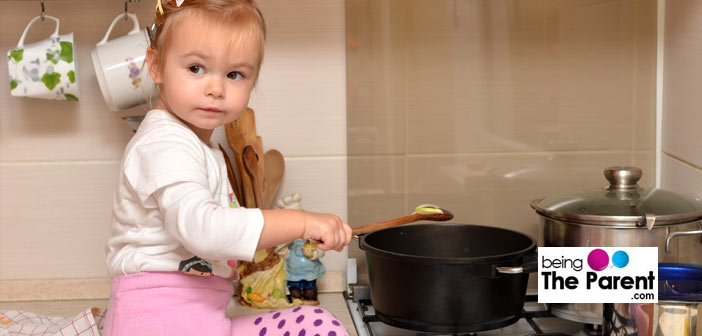 Childproofing the Kitchen
Make sure safety latches are there on all the kitchen cabinets and drawers so that your angels cannot lay their hands on household products
Always store medicines and household products separately from food and edible items
When you use the stove, turn the pot handles and pans towards the back of the stove. Keep all cooking utensils away from the reach of your little ones
Kitchen appliances should be away from the reach of the children – not on the sides or corners of tables or kitchen counters
Answering the phone? Either take your child with you or carry the open household products
Childproofing the Bathroom
Safety latches are a must if you store disinfectants, acids etc in the bathroom cabinets
Install toilet locks to keep toilet lids closed. Children can fall into the toilet easily as they are more top-heavy than adults. They also can drown in just one inch of water
Keep your personal care appliances away from the reach of children, and always unplug them after use
Use outlet protectors or safety caps to cover and secure unused electrical outlets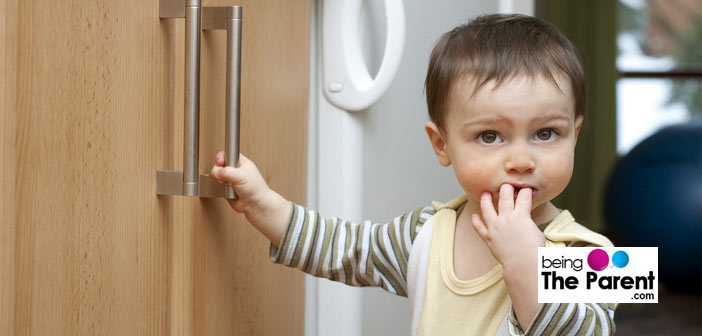 Childproof your house with utmost care and attention as the slightest negligence on your part may harm your child. Remember, children are prone to accidents and they want to touch and feel almost everything that comes their way!