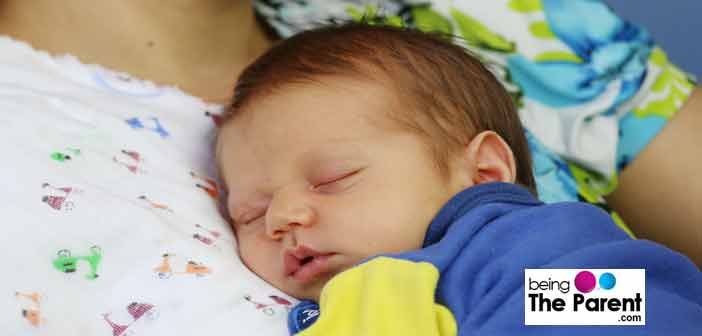 First of all, note that all newborns are fully dependent on their moms. Just don't start panicking citing that your baby clings to you when your baby is still very young! In fact, this panicking can actually hamper the emotional growth of the baby, making him clingy later on. Since babies are born without a care for the world (simply because they don't know nothing about the world yet), the anxiety syndrome is clearly a side-effect of misguided upbringing. Either you are pampering your child too much or trying to instate the fear of things in him, both of which are wrong approaches unless in balance.

To cling is the baby's natural inclination
Furthermore, children are beings of heart and they have very developed natural intuition. So, if your baby is comfortable with you, but not so with your partner, maybe the baby feels more comfortable with you, and your touch gives him warmth. Your baby is trying to find safety in you, and you should go all out in creating a safe haven for the little angel. The basics explained, please find below the details on how to help a clingy baby in becoming confident.
Your approach matters
Foremost, you should remember that your approach to upbringing matters the most in determining whether your baby will be clingy in a few years. Your style of parenting should not make your baby scared of everything, find a balance that suits you and the baby
Limit the attachment
Often, mothers who were able to conceive finally after many years of trying become naturally very attached to the baby. There is nothing wrong to this at all, but as your baby is growing, you should be confident that he will be able to stay by himself for some time when you have to handle other work. Your confidence will literally transpire into how your baby perceives the world
Lessen the carrying
Mothers with a premature delivery also naturally have very high attachment, which is again totally needed because preemies are so very fragile! Follow the same tip like above. When your baby is a little grown up by himself, encourage him to play with toys instead of carrying him around always
Fearful parenting – NO
Most parents try to instate a sense of fear in their babies. You are doing it to ensure the baby's safety of course, but don't carry it to the point of where it becomes too much of a bad thing. Just don't constantly command your baby not to just being 'baby'. A little one is naturally curious and will try to explore anything that catches your fancy.
If it is nothing but a toy with no sharp edges, don't be afraid of it carrying germs a lot! Of course, germs deposit on plastic toys, but you can always disinfect them by a warm wash. Keep a close eye on your baby, but there is no need to prohibit him in anything he does
Please find time:
Sometimes, clinginess is not an issue of overanxious parenting. It can simply stem from your baby missing you a lot. Working mothers mostly face this issue. You have to work out a solution, balancing career and motherhood. No one carries babies to workplaces, but you can always do a video chat with the caregiver looking after your baby in the break! Just by seeing you and hearing you, the baby may miss you a little less

Again, when you have the time, do not pamper your child even. Keep a sense of balance and be the omnipresent support your little one needs to grow as an individual. Occasionally, bring gifts for your child. Simple things like a musical toy offer a sense of constant magical wonder in the innocent mind of a baby

Try not to think primary childcare as something heavy: See, all new mothers spend sleepless nights. All new moms have backaches after carrying the baby all day. These 'troubles' are actually very much a part of the bliss of motherhood. They help to strengthen your lifelong bond. However, if you tend to perceive these natural responsibilities as a burden, it obviously shows in your actions and vibes. Now, when a baby cannot find the support from mother, he naturally gets anxious and implores you to pick him up. Please think about this. Motherhood is never easy at all
The problem may be in another person:
Although this should not really be an issue to talk, but unfortunately the world is in many ways grossly wrong nowadays. The point is that if your baby is always uncomfortable with your partner, the problem may not even stem from the baby. Most probably, your child is intuitively sensing very insecure vibes from your partner, or any other person where he is very uncomfortable. Please look into it in all alertness
Encourage your baby to be himself
Play with him, talk to him, take trips, and read from fairytales. Nowadays, the sense of individuality is very much at stake because the concept of rat-racing does not recognize individual expression as something positive. Instead, uniqueness is typically treated as a threat to social conformity. You should really try to encourage curiosity and uniqueness to help your baby grow