Do you think craving, mood swings and morning sickness are a women's monopoly? If, your answer is 'yes' then you are wrong. Probably you have not heard of sympathetic pregnancy or couvade syndrome in expecting fathers.

What is Couvade Syndrome?
Couvade Syndrome or sympathetic pregnancy is a condition in which – in other respects a man in his good health- who is the partner of an expecting mother undergoes the same pregnancy symptoms his wife or partner experiencing. "Strange but true" are the only words to express this extraordinary condition which is largely termed as a psychosomatic condition. The results are some prominent changes in the social, psychological, and behavioral factors on bodily processes
We have seen movies (like Junior) in which man undergoes pregnancy and gives birth. Lots of experiments are going on this field. It is proved that a transman (born as a woman, but undergone treatment to become a man) can get pregnant and deliver a baby. But sympathetic pregnancy is totally different. It is very odd and queer to think how a powerful mind of a man convinces his brain and body that he is pregnant and make to show off the same symptoms of pregnancy. Though it is not recognized as a medical illness, it is widely suggested that couvade syndrome is quite common.
Is Couvade Syndrome (Sympathetic Pregnancy) Real?
Couvade Syndrome is not a recognized as a disease in the medical world. There is no clear explanation for this syndrome. It is more or less considered as a remarkable condition without physiological basis. Many expecting fathers from Europe, America and Thailand share the experience of couvade syndrome. This shows that couvade syndrome is real and is not restrained to a specific culture. Yet more studies are required in this field. Men who have couvade syndrome develop the same conditions like nausea, mood swings, pains and aches, food cravings and aversions and hormonal changes, just like a pregnant woman.
When Does Couvade Syndrome Appear?
In most of the reported cases, the onset of the couvade syndrome takes place during the first trimester, temporarily disappear on the second trimester and reappear on the third trimester of the pregnancy of the mother-to-be. Cases of sympathetic pregnancy have been reported in the third month and the final week's of a man's wives' pregnancy.
What Are The Symptoms Of Couvade Syndrome In Men?
Symptoms of couvade syndrome are of both physical and psychological, as enlisted below:
Physical symptoms of sympathetic pregnancy are:
Leg cramps
Heartburn
Backaches
Blotting
Constipation
Nausea
Vomiting
Abdominal pain
Toothache
Headache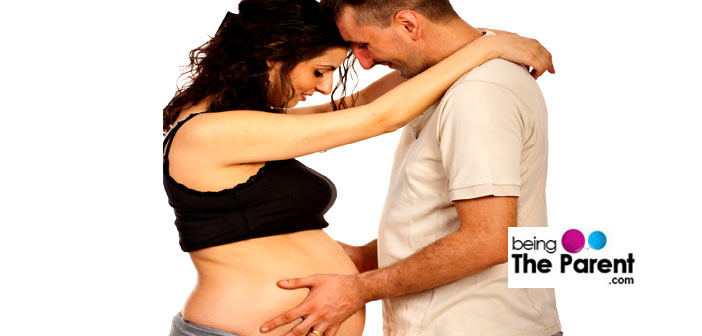 Psychological symptoms of couvade syndrome are:
Mood swings
Cravings
Irritability
Anxiety
Fatigue
Loss of appetite
Sleep disturbance
Regarding the symptoms, it is seen that various symptoms show up at different rates and intensity for different men suffering from sympathetic pregnancy.
What Causes Couvade Syndrome?
Here are some theories that try to explain what is behind couvade syndrome:
Psychological reasons: A common explanation of the couvade syndrome among some physicians is that it is a psychological problem. Men getting ready to be fathers, sometimes, go through some mental, emotional and physical strains. Some of them frighten to take the responsibilities of the father, which is clearly a psychological problem. Some of them may even show opposing emotions such as developing rivalry and jealousy with the unborn child conflicting with love and attachment he feels for his child. Some men suffer from a sympathetic pregnancy fall under this group
Attack of hormones: Some studies were conducted focusing on hormonal changes occurred in man during the pregnancy period of his partner. The test shows

Stress is one of the reasons which cause decreased the testosterone (male hormone) levels in man. Studies conducted in men suffering from the couvade syndrome confirms the level of hormones like prolactin and estrogen is increased considerably during the first and the third trimester of their partner's pregnancy, whereas the level of the male hormone testosterone and the stress hormone cortisol is decreased
Cortisol, if produced in large amount for long period results in enlargement of the breast, which is seen in some men suffering from couvade syndrome.
Some doctors explain the weight gain of the father is not a surprise because he tends to eat the same extra calorie food that the mother eats during the pregnancy period. This change in food habits may lead to the gain of weight. The other symptoms may be the result of stress
How To Treat Couvade Syndrome?
The best bet is to involve the man in the pregnancy and birthing process. Men tend to feel lost and disconnected with their wives' pregnancy because they do not get to experience the same. Involvement and being active in the time of pregnancy will help a man ease his anxiety and fears. Birth by the mother will definitely cure the syndrome of the father. Man will take medication simply to treat the trouble caused by the symptoms. There is no medication for the couvade syndrome because it is not considered as an official disease and has no medical diagnosis. Making him participate in child birth classes, encouraging him to take an active role supporting the mother during their pregnancy period are some tips to make him come back to normal life and become a supportive husband and a good father. Expecting parents should talk about their baby, plan the future and ease into parenthood without any worries.