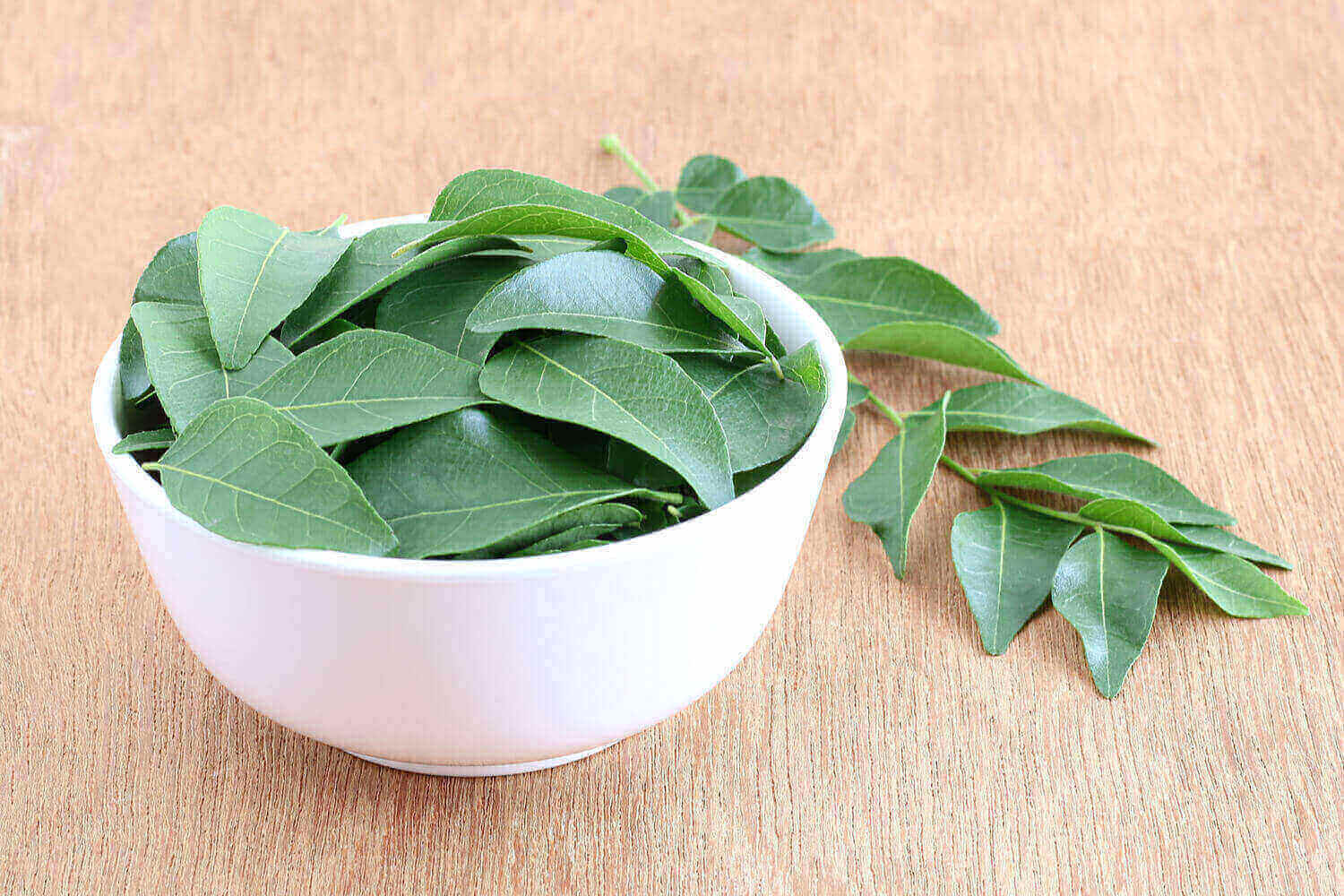 The pregnancy phase is the most crucial in an expecting mother's life. Hence, it is quite normal to be worried about diet and food consumption during this phase. This phase is the most memorable period in a woman's life, too, so she always tries to ensure a safe pregnancy. Well, eating during pregnancy can be a challenging task. Why? Because an expecting mother cannot just eat anything, she craves for. She needs to first consult her doctor about the same, after which she can have it. The same is the case with the consumption of curry leaves. Although consuming curry leaves during pregnancy is not harmful, staying on the safer side would be an ideal thing by consulting a doctor regarding the same.
Curry leaves are full of nutritional benefits like vitamin A, C, calcium, iron, folic acid, and fiber. One main advantage of consuming curry leaves is that it lowers the risk of premature births and helps you with safe and smooth delivery. Keeping these benefits in mind, you must start including curry leaves in your meal during your pregnancy phase. This article will guide you about the various aspects of curry leaves, so you have a fair idea about consuming them during your crucial months. Are you excited to know? Let's move on!
In This Article
About Curry Leaves
Is it Safe to Consume Curry Leaves During Pregnancy?
Curry leaves, also known as kadi patta, are a traditional Indian leaf and are an integral ingredient in every kitchen and household in India. Eating curry leaves during pregnancy is completely safe and is recommended by doctors. Curry leaves provide many nutritional benefits for the mother-to-be and maintain the health of the fetus too. Another advantage of eating curry leaves is that it lowers the risk of anemia and premature births. It also reduces the risk of infectious diseases due to its antioxidant properties.
Eating curry leaves helps an expecting mother by providing them with vitamin E and fiber, which keeps constipation at bay and regulates the functioning of the digestive system. Additionally, curry leaves are a rich source of vitamin C. All the above benefits make it completely safe to consume curry leaves during pregnancy.
Nutritional Values of Curry Leaves
| | |
| --- | --- |
| Nutrients | Value |
| Calories | 0.1 |
| Potassium | 1.5 Mg |
| Vitamin A | 0.50 % |
| Calcium | 0.001 |
| Vitamin C | 0.10 % |
| Vitamin B-6 | 0.10 % |
Top 5 Health Benefits of Curry Leaves During Pregnancy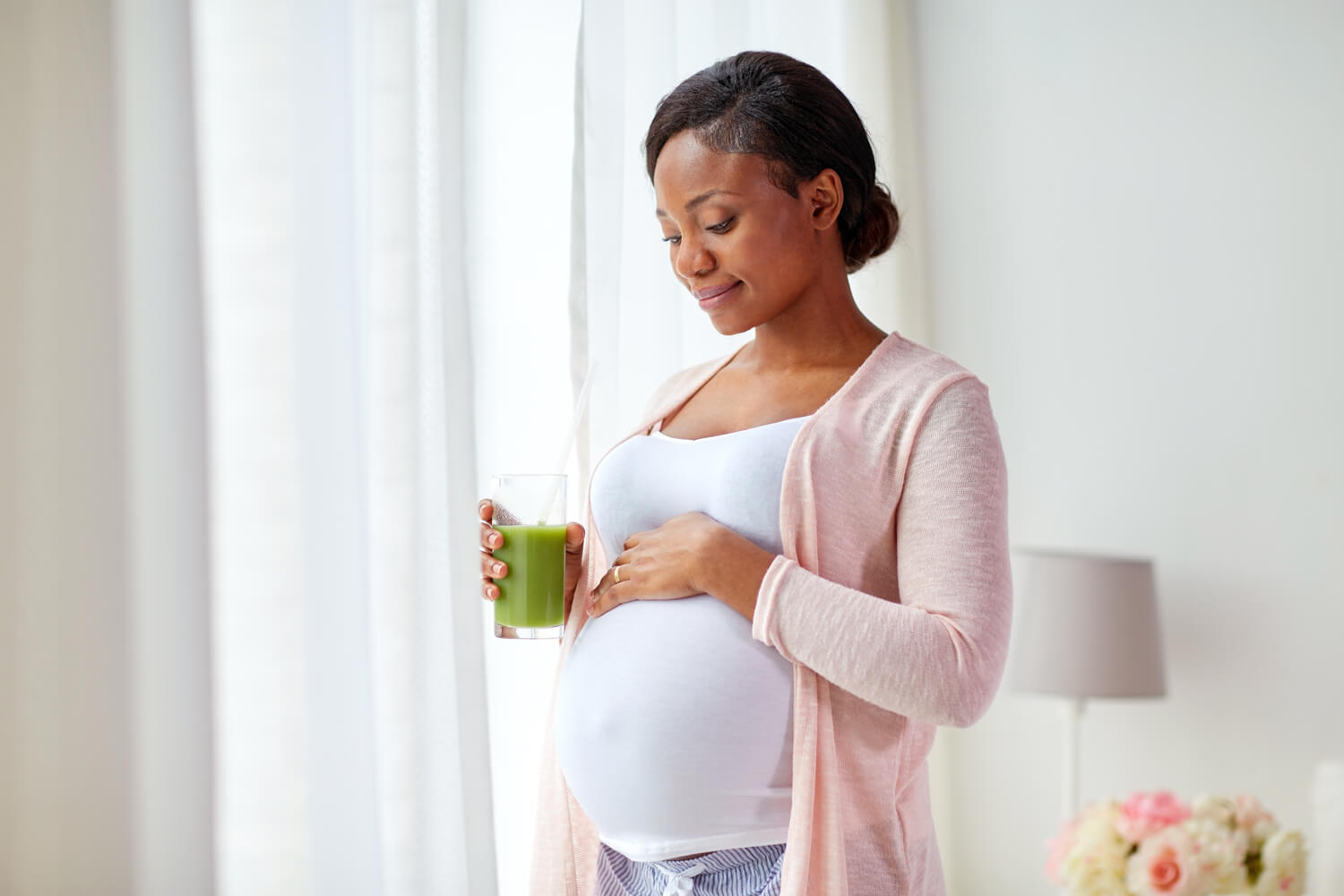 As we discussed above, curry leaves have numerous benefits during pregnancy. Their consumption can be extremely safe for expecting mothers and provide these five health benefits.
1. Helps in Maintaining the Cholesterol Level in the Body
One of the main benefits of consuming curry leaves during pregnancy is that it helps to maintain the cholesterol level in the body. Curry leaves can reduce the levels of bad cholesterol in the body. In addition, they prevent the oxidation process of cholesterol. As a result, consuming curry leaves brings down bad cholesterol and encourages the formation of good cholesterol.
High levels of cholesterol are never good for the expecting mother or the fetus growing inside, and can affect the functioning of the heart. With the consumption of curry leaves, you can keep your cholesterol levels in check and ensure your safety as well as your little one growing inside.
2. Keeps You Away From Bacteria
As human beings, we are constantly exposed to different kinds of bacteria that can play havoc with our health and expose us to various diseases. When you are carrying a baby within you, you must be extra careful in ensuring that you do not get affected by any diseases. Falling sick may affect the growth and development of your baby.
Experiments conducted with extracts obtained from dried curry leaves show that curry leaves can fight different strains of bacteria. The anti-bacterial and antioxidant properties of curry leaves ensure that the mother and the growing fetus stay safe and develop well through the course of pregnancy. The presence of Vitamin C acts as an added advantage in keeping sickness and illnesses at bay.
3. Regulates the Digestive System
When you are pregnant, the raging hormones play havoc with your system. Slow and sluggish metabolism is one of the common features of pregnancy. This means that your digestive system also slows down, and you may face issues such as acidity, indigestion, and even constipation.
Curry leaves have many nutritional and medical properties that ensure that your digestive system functions well, and as a result, you will experience digestive issues with much lower frequency. In addition, the high fiber and Vitamin E content in curry leaves also help in regulating the functions of your digestive system.
4. Keeps You Away From Inflammation
Curry leaves are counted among the best natural sources of antioxidants. These antioxidants play a major role in reducing the activity of free radicals. These free radicals can become responsible for multiple problems, such as causing inflammations.
The antioxidant and anti-inflammatory properties of curry leaves ensure that your body stays away from any kind of inflammation. Consumption of curry leaves in limited amounts will keep you safe from infections, fevers, and inflammations and ensure a super smooth pregnancy period.
5. Helps in Preventing Diarrhea
Have you eaten something that didn't suit you and now are having bouts of diarrhea? Do not worry. Along with consulting your doctor, you can also take the help of good old curry leaves to help you out.
Curry leaves contain alkaloid compounds called carbozole, which have anti-diarrheal properties and help you in curbing the problem. These alkaloids also improve the flow of blood to your intestines and create a protective layer, preventing attacks from various bacteria.
Issues related to the common cold, diarrhea, and cough are on a surge during pregnancy. Hence, eating curry leaves in controlled quantities during pregnancy would help in regulating these issues.
[Read : 8 Wonderful Health Benefits of Wheatgrass During Pregnancy]
How to Curry Leaves in Pregnancy Diet – Tips & Precautions?
Tips to Include Curry Leaves in Your Pregnancy Diet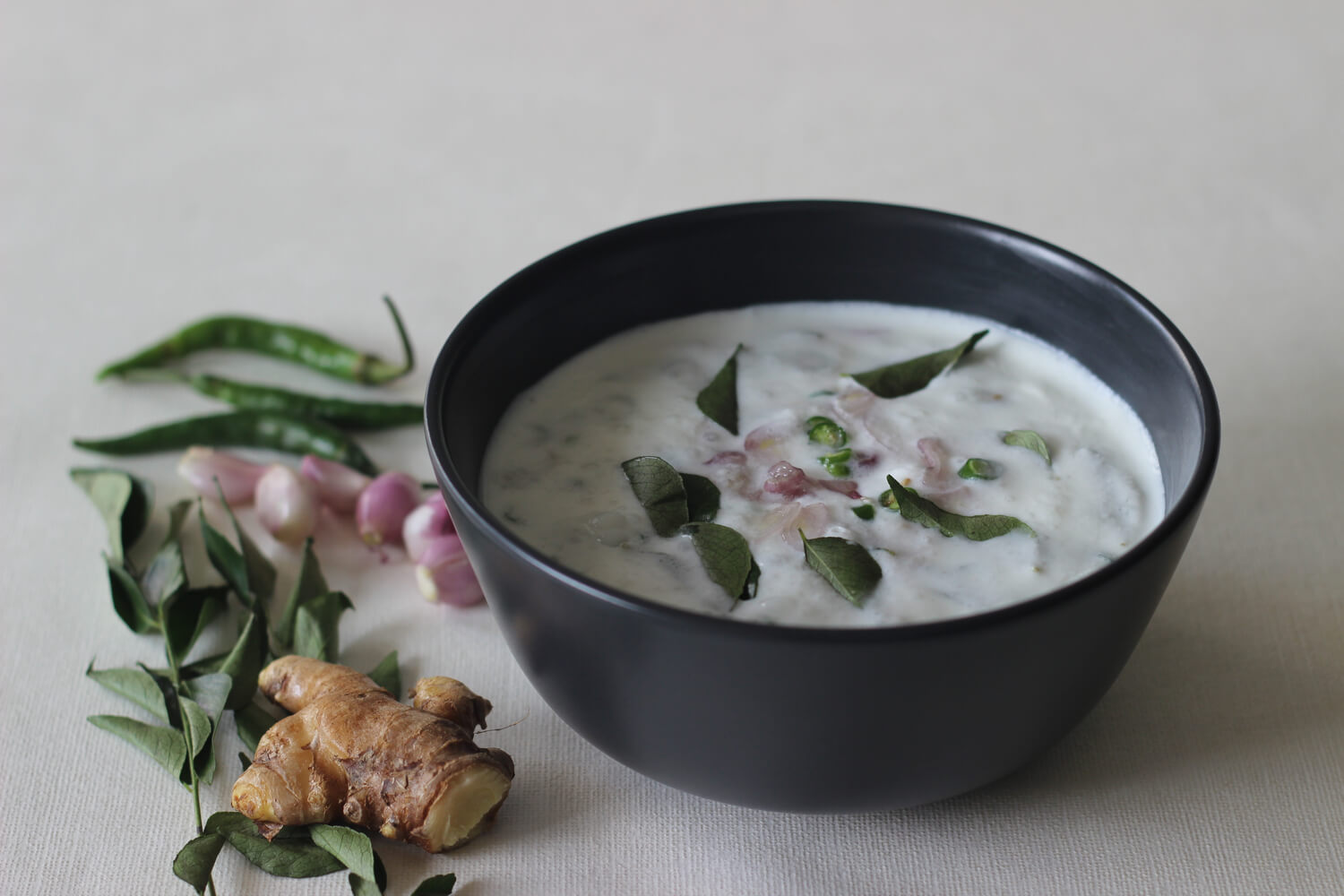 Well, we have already discussed how useful it is to include curry leaves in your diet during the pregnancy period. But, now the main question is how to include them into your diet during the pregnancy phase? Scroll on to get your answer.
Overconsumption of anything can harm you. It is recommended to use curry leaves in at least one meal a day. Doing this would nourish your body with nutritional benefits, and hence it will keep all the unnecessary diseases at bay.
Another way of consuming curry leaves is by preparing a paste out of them. You can consume this paste during the day with water added to it. This might be difficult as curry leaves are bitter.
You can include curry leaves in the dishes which you prepare every day. This process will extract the essential nutrients from the curry leaves and transfer them to the cooked vegetable, ultimately benefitting you.
You can even dissolve these leaves into water and add a spoonful of honey into it. Drink this mixture and enjoy the many helpful benefits.
[Read : Eating Spinach During Pregnancy]
Precautions to be Taken While Eating Curry Leaves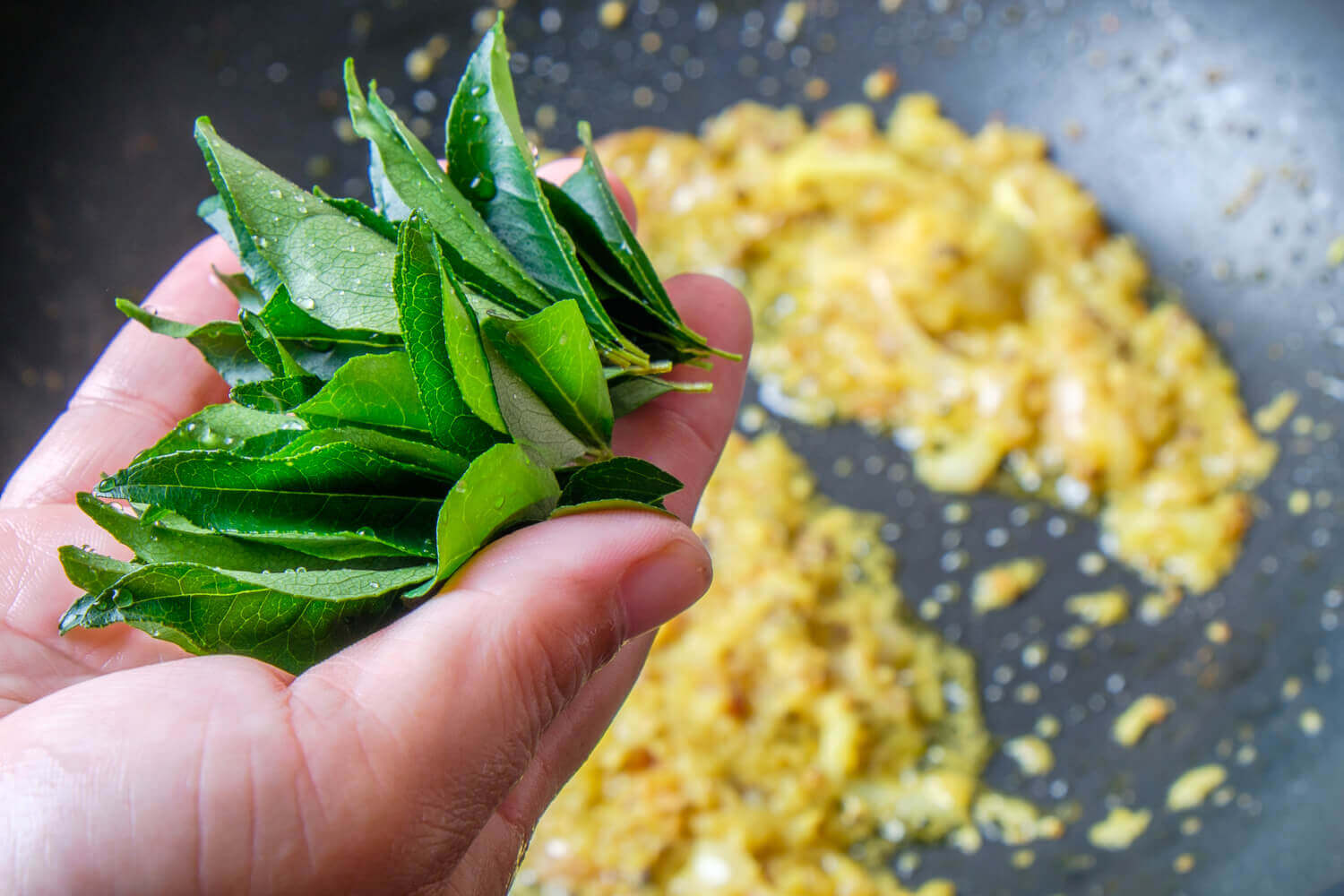 Curry leaves are undoubtedly beneficial. They maintain your health. They also improve your hair health and skin health and make you look extremely radiant. However, if you use them over the recommended amounts, you might end up having problems like hair loss.
Excessive consumption of curry leaves may result in a sugar imbalance in the body which is highly harmful during pregnancy. So, consume the recommended amount and never exceed it.
Consumption of anything in moderate quantities isn't harmful. But if you exceed the quantity, you might have to suffer from unwanted issues. The same is the case with curry leaves. So, concluding this article, we assume that you must have got the complete information regarding the consumption of curry leaves during pregnancy. It helps an expecting mother with all the nutrition and also keeps her baby's health in place.
[Read : Is Eating Neem During Pregnancy Safe?]
FAQ's
1. Are Curry Leaves Good for a Pregnant Woman?
Yes, curry leaves are completely beneficial for a pregnant woman as it helps them with instant relief from morning sickness and also maintains their digestive health. It also reduces the feeling of nausea and vomiting, two conditions common to most pregnant women.
2. What Happens if You Eat Curry Leaves Every Day?
Eating curry leaves every day helps an expecting mother in reducing frequent weight gain. Gaining weight naturally is okay, but putting on extra weight can be dangerous.
3. What are the Side Effects of Eating Curry Leaves?
Well, loading yourself by eating excessive curry leaves can result in an upset stomach and can cause acidity in many women.
4. What are Some of the Benefits of Eating Curry Leaves for an Expecting Mother?
Eating curry leaves can help an expecting mother by keeping her stress-free and eliminating unnecessary tensions. Along with that, it is a good treatment for vision and helps with problems related to constipation.
Read Also: Buttermilk During Pregnancy: Everything You Need to Know