You are pregnant, many congratulations! You are elated, and so is your family! As you progress with your pregnancy, there will be a gamut of emotions that you will experience. You will also have to deal with uncontrollable food cravings. You will crave chocolates, cakes, sweets, sometimes fried unhealthy stuff, and sometimes things as absurd and weird as chalk and mud. Yes, you read that right. Since a lot of things that you crave may only be fattening or unhealthy, your well-wishers (plenty of them, suddenly) will advise to eat healthy and eat right. While wheatgrass is a healthy and nutritious food, should it be on your things-to-consume-during-pregnancy list? Read on to know some amazing health benefits that wheatgrass can offer expecting mothers.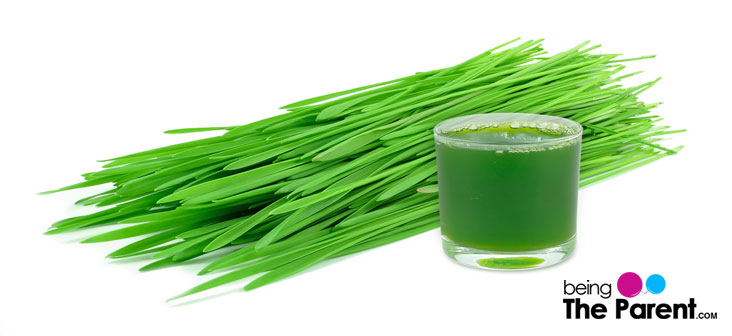 What Is Wheatgrass?
Is It Safe To Eat Wheatgrass During Pregnancy?
8 Wonderful Health Benefits of Wheatgrass During Pregnancy
Side Effects Of Wheatgrass During Pregnancy
What Is Wheatgrass?
When you are pregnant, a lot of suggestions and food recommendations will come your way. One of them will be wheatgrass – belonging to the wheat family, rich in vitamins, minerals and essential amino acids. Wheatgrass is becoming very popular these days as it is very good for your digestive system and helps in killing harmful bacteria and flushing out toxins from your body.
Wheatgrass is available across many health stores in the form of powder, capsules, tablets or juices.
Is It Safe To Eat Wheatgrass During Pregnancy?
Yes, it is safe to consume wheatgrass during pregnancy, but it has to be consumed in moderation! Excess consumption of wheatgrass can induce headaches, swelling of the throat and also nausea in pregnant women.
Also, you should be careful while consuming wheatgrass as it grows on the soil and is consumed in raw form. So, there are high chances of catching an infection due to contaminated bacteria or fungus present in the grass.
Also, if you suffer from gluten allergy, grass allergy or celiac disease then you should stay away from consuming wheatgrass. It is always advisable to talk to your doctor before including wheatgrass in your pregnancy diet.
8 Wonderful Health Benefits of Wheatgrass During Pregnancy
Aids hemoglobin production: Pregnant women are often prescribed iron supplements to beat anaemia and lower levels of hemoglobin. Wheatgrass has medicinal properties that help increase the rate of hemoglobin production in the body. Drinking a small cup of wheatgrass juice during pregnancy can help an expecting mother to overcome such disorders
Helps beat acidity: Acidity and heartburn are very common during pregnancy. While some women are relieved of these conditions after the first trimester, many continue to experience and live through them throughout their pregnancy. An increased level of progesterone during pregnancy relaxes the smooth muscles, including those that help keep food acid in the stomach. Wheatgrass being alkaline in nature neutralizes the acid reflux and provides expectant mothers the much-needed relief from acidity and heartburn
Regulates bowel movements: Increased levels of progesterone leading to slower muscle contractions, intake of iron and prenatal vitamins have a combined effect on your digestive system during pregnancy. This is reason you feel constipated and bloated during your pregnancy. Wheatgrass can be a big savior here. It is a rich source of dietary fiber and cellulose, which help in digestion, cleaning the colon and regulating your bowel movements
Improves blood circulation: As wheatgrass increases the rate of hemoglobin production, the oxygen uptake in the blood is also improved. This has a direct positive effect on your blood circulation. When wheatgrass is applied on the skin, it helps dilate the blood vessels which leads to a clearer skin
Brings the much sought-after pregnancy glow on your skin: As a corollary to the above, wheatgrass brings the much sought-after pregnancy glow. Some women experience dull, dry and patchy skin during their pregnancy, because of the hormonal changes in the body. Wheatgrass is a very rich source of anti-oxidants. The damage brought on by free radicals is nullified by wheatgrass juice as it removes the damaged skin cells, clears the skin, improves complexion and rejuvenates it
Reduces the risk of hypertension: Some women develop gestational hypertension or pregnancy-induced hypertension roughly after 20 weeks of gestation. This condition could have a debilitating effect on the growing foetus. Wheatgrass improves blood circulation and helps reduce the risk of hypertension in pregnant women. Wheatgrass also lowers cholesterol by blocking its absorption
Regulates blood sugar levels: Wheatgrass is also high in its chlorophyll content. Chlorophyll is known to help regulate blood sugar levels, avoid tooth decay and help keep hair healthy and strong. A small cup of wheatgrass juice every morning can help pregnant women cut the risk of gestational diabetes
Boosts your immune system: Pregnancy-related side effects, makes you vulnerable to several ailments and diseases. Also, weight gain and imbalanced gait could lead to falls and fractures. Wheatgrass is known to boost the healing process, especially healing cuts and wounds. Its antimicrobial properties destroy harmful antigen in your stomach
Side Effects Of Wheatgrass During Pregnancy
Too much or too little of anything, could always lead to health problems. It is important to regulate the quantity of wheatgrass, in any form, consumed during pregnancy. While wheatgrass could deliver the above benefits to expecting mothers, it could also swing the other way around, and cause complications or sudden miscarriages, if not consumed in a limited quantity. Here are some of the adverse effects of wheatgrass, especially during pregnancy:
Infection: Since wheatgrass is harvested from the young wheat plant, powered and consumed in the form of a juice, it could lead to bacterial infections that could prove fatal to the mother and growing foetus
Nutritional imbalance: Given wheatgrass's purgative properties, while on hand it offers relief from acid reflux, on the other it could lead to excessive diarrhea and vomiting. This could result in a loss of vital nutrients from the body
Risk of miscarriage: The detoxifying effect of wheatgrass could take a potential wrong turn in the form of a miscarriage or damage to / complications in the growing foetus
As a note of caution, it is highly recommended that a pregnant woman visits her doctor and seeks a medical opinion before including wheatgrass in her pregnancy diet. The nature or form of wheat grass, its source, the quantity of intake and the frequency of intake should all be discussed in detail with the doctor before proceeding to consume it during the most beautiful phase of your life. After all, a healthy baby and a healthy mother is all the family wishes for. Happy pregnancy to you!