As mothers we are always looking for ways to keep our children healthy and strong. We don't want to compromise on the food they eat. Colorful and crunchy fruits and vegetables are an important and enjoyable part of your child's diet. Fruits and vegetables contain essential nutrients, are low in calories and loaded with fiber that are essential for proper growth and development of a child. It is imperative for a child to get the required supplements from fresh fruits and vegetables that he consumes daily rather than relying on artificial ones. But very often children just shun fruits and veggies and as mother we are totally perplexed about how to entice them to eat these every day. Read on to learn some tricks to make your child happily eat fruits and vegetables.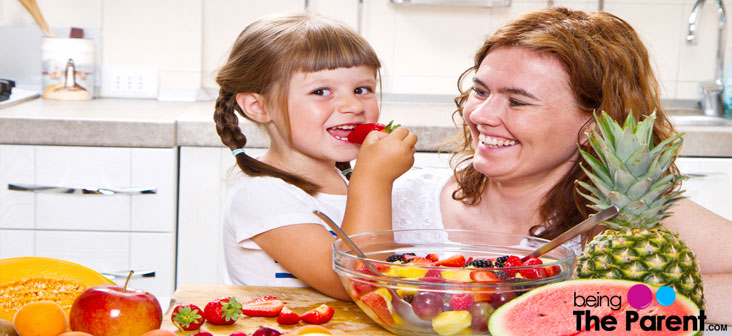 10 Wonderful Tricks To Make Your Child Happily Eat Fruits And Vegetables
If you have a kid at home who is fussy about eating fruits or trying out different veggies, don't get worried. Just sit back and relax. Here are some simple and wonderful tips that will help you to get your little one to eating fruits and veggies every day.
Take them along and let them pick their favorite fruit and veggies: When going shopping for fruits and vegetables, it would be a good idea to take your child along and let them pick up whatever fruit and vegetable they are interested in eating. Having them participate in picking up their favorite fruit and veggie, makes them more excited about eating it
Be a Little Sneaky: Be a smart mom. Add small florets of broccoli or carrots cut in julienne to pasta, macaroni or noodles that they enjoy eating. You can even blanch and puree spinach or carrots to make a pasta sauce out of it. Mashing up beans and adding corn, cauliflower, potato, peas or carrots to the dough to make healthy paranthas can be another option. Top grilled chicken with a homemade salsa which can include tomatoes, ripe mangoes, avocados, bell pepper, onions, cilantro etc. in it
Lead by example: Most children are not interested when you place a bowl of fruit or veggies before them and force them to eat it. So here you can lead by example and sit with your child and make it a healthy snack time for the whole family where together you all can have a bowl of fruit or plate of fresh salad as a snack. Children at once become interested in what their parents are eating and automatically eat some of it too
Try serving smoothies: A lot of kids don't like the cumbersome process of chewing and eating stuff. The trick here is to blend some fruit with yogurt or milk and mixing different veggies and making a smoothie out of it. Try serving it at breakfast or after they come home from playing. You will find they lap it up in a gulp and you can relax as their fruit and vegetable requirement for the day has been met
Slice it up: A lot of children do not like biting into a pear or an apple and are even plain lazy to crunch it up. Just slicing it up and giving in a bowl may encourage them to eat it more easily. Also cut fresh vegetables in sticks and keep them handy in refrigerator all the time. This will encourage the kids to have them as a snack whenever they are hungry in between meals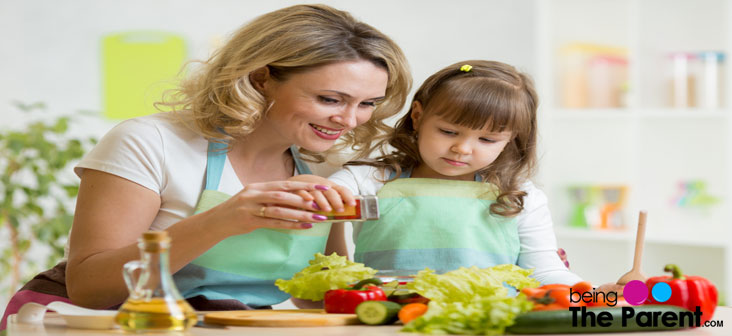 Give a variety: Variety is the spice of life. Do not stick to just plain apples, bananas, carrots or cucumber. Add variety to your kid's plate. Do give them a helping of dry fruits like figs, walnuts, almonds and cherries along with fresh strawberries or pineapple. Top it over with a bowl of cream or ice-cream or add it to their cereal. You could also give make it interesting by dipping fruits in chocolate sauce and serving it to them. Children love experimenting and this is what you need to do. Always keep a bag of frozen veggies in the freezer and readily add them to soups, stews and rice dishes. Have a raw and cooked vegetable option ready for your kids so that they can choose what they like the best as children enjoy munching on the crunchy raw vegetables, while others like their vegetables to be soft and mushy
Do not give up: Just because your child refuses to eat a fruit or veggie, just don't give up. Some kids are apprehensive about trying out a new food as they are not very sure about its color, texture or taste. A child may enjoy biting on to the raw crunchy carrot but not cooked carrot, or he may enjoy soft canned pineapple but not freshly sliced one. Persistence is the key here. It may take 10 to 15 tries before you child is willing to accept it. So go on trying and one day they will surely start eating fruits and veggies that you want them to have
Take your children fruit picking: It would be a wonderful idea to visit a farm where you are allowed to pick fresh strawberries, apples or plums. These fruits just taste heavenly when freshly picked and are guaranteed to tantalize your child's taste buds. Children love these kind of adventures and tend to happily eat fruits when they get involved in such fun activities
Begin gardening and start growing fruits and veggies at home: If you happen to have the space for a little garden, it would be a wonderful move to plant some strawberry runners or even some lovely veggie plants so that your little one gets involved in watering them and nurturing the plants. The joy of picking up fruits and veggies from your own garden and eating them is certainly something really exciting for children
Tell them the benefits of fruits and vegetables: If your little one refuses to eat fruits or veggies, just try sitting down and explaining the benefits of these to them. Tell them how fruits and vegetables help them to become stronger and even run faster and grow up quickly. Children do tend to take this seriously and become willing to try at least a small portion
All the above mentioned tips are sure to help you encourage your little child start eating fruits and vegetables that are a must for their healthy growth. Just remember to have lot of patience and never give up as children will surely come around in the end. Also remember, kids will be more interested in eating what you serve them if you do it in an entertaining way. Make kitchen your "fun zone" where you can involve your children in preparing a fruit bowl or plate of fresh salad for everyone in the family. You can assign them duties right from cutting to serving.
Enjoy eating nutritious fruits and veggies with your little ones and do let us know if you have any more interesting tips that have worked for you!
FAQ's
1. Should I be Concerned if my Baby Does Not Eat Fruits or Vegetables?
Not really. This could just be a phase. Keep offering often.
2. Should I Give my Kids Fruits and Vegetables Every Day?
It is advisable to. They are rich in many nutrients. However, if they miss a day or two, nothing will happen.
3. What Fruits Can I Give my 5 Year Old Regularly?
There are many options. You can give almost all fruits in moderate quantities. Avoid fruits your child is allergic to.
4. Can I Bribe my Child to Eat Fruits and Vegetables?
No, this is not healthy. Encourage them to eat, don't bribe. Be patient, they will eventually come around.