With digital advancements, it might sound a bit unusual that anyone would want to wash diapers manually. However, when it comes to babies, no rules stand the test of times. If you are a new mother, you must already be getting suggestions on using cloth diapers and that they must be hand-washed. Cloth diapers are inexpensive, soft and more breathable than commercial diapers. They are also the best choice if your baby has developed any diaper rashes. If you yearn to provide comfort to your baby, but at the same time are weary of the trouble, read below for easy and effective ways to hand-wash cloth diapers at your home.
An unknown source quoted:
"You can't buy happiness, buy you can buy cloth diapers, and it's kind of the same thing."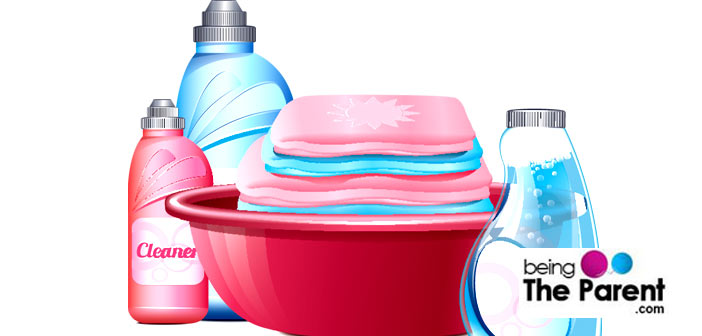 Why Will You Need To Hand Wash Cloth Diapers?
What Will I Need To Hand-wash Cloth Diapers?
Step By Step Guide To Wash Cloth Diapers With Hands
Tips That Will Help You When Hand-washing Cloth Diapers
Why Will You Need To Hand Wash Cloth Diapers?
Well, this a circumstantial one. There could be many reasons that you have opted for hand washing the cloth diapers. This could be because you find using cloth diapers more economical and feel hand-washing will ensure longevity. Your washing machine could be giving you a bad day or you could be somewhere where machine is not accessible. You could be out camping with your baby, or staying a couple of days in a hotel. Or maybe you are out of the disposable ones and are using cloth diapers and need to wash them. Whatever your reason be, we assure you, hand-washing diapers is easy and you can do it easily.
What Will I Need To Hand-wash Cloth Diapers?
Things you will need to hand wash cloth diapers:
Just a quick reminder on what all you will need before heading on to the washing mission:
Mild detergent – remember, babies have sensitive skin. You can use some very light liquid wash that is used to wash woolens and delicate clothes
Hot water (optional, if available, would save a lot of manual scrubbing)
Cold water
A bucket, sink or tub
Gloves (optional)
Clothes liner
Few clips
And of course, soiled nappies!
Step By Step Guide To Wash Cloth Diapers With Hands
Below is a step-by-step guidance on how to wash cloth diapers easily at home.
Step 1: Hold the soiled nappies under running water for a couple of minutes. You may even soak them in a bucket of cold water. Drain the water. In case of solids, dump it in the toilet and then hold the nappy under running water
Step 2: Fill half the bucket with hot water, the quantity depends on the number of soiled diapers you have in hand. The water should be enough to submerge all the nappies well. Wearing gloves at this point is a good idea and will make the process less icky. It will further prevent detergent from damaging your skin
Step 3: Add detergent to the water, depending on the quantity of nappies. Give a nice stir
Step 4: Add nappies to this hot water and detergent
Step 5: Now you may want to let the nappies sit in hot bucket for about half an hour or so. If not, you may scrub the fabric of nappy against each other in order to remove any stains. This is more like kneading with your hands, like you work for making a roti or a bread dough
Step 6: Drain water
Step 7: You may now rinse the nappies under cold running water or simply transfer it into a bucket full of cold water
Step 8: If using bucket, drain water and rinse the nappies again. The nappies should not have any soapy residue on them
Step 9: Simply wring out the excess water or you may use a tumbler or Spin option of the washing machine
Step 10: Voila! You are done, now put the nappies on the stand to dry out and pin them with clips so that they are not blown away by wind
The above procedure sounds tad long, but honestly if you soak the nappies in just hot water, scrubbing diapers would hardly take 5 minutes and another five for rinsing them.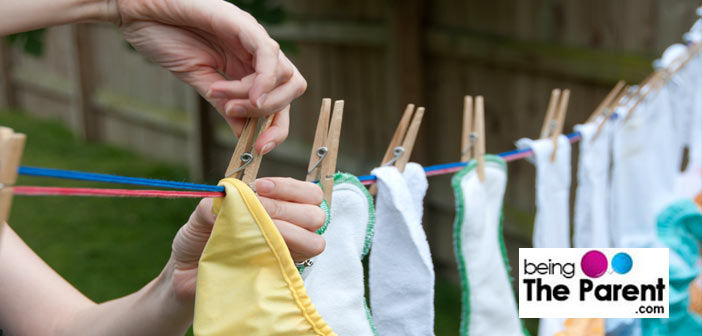 Tips That Will Help You When Hand-washing Cloth Diapers
Below are a few tips to help you in the process of manually washing the cloth diapers:
You may add vinegar, while soaking cloth diapers before washing. Vinegar eliminates odor and keeps the fabric soft. However, you need to check the washing instructions since vinegar may shorten the life of cloth
Avoid fabric softeners and detergent with strong fragrance as they tend to irritate the sensitive skin of the baby
You may soak the nappies in baking soda or bleach once a month to maintain their whiteness. Bleach also helps fight yeast infection
Keep plenty of nappies handy, for new born babies, you may need somewhere between 12-18 nappies daily
The earlier the soiled nappies are put under water, the lesser the chance of staining. When you baby soils the nappy, simply hold it under running water for a couple of minutes and then soak it in the bucket of water with other nappies or you may simply store them aside
Many moms have taken the route to hand washing cloth diapers voluntarily, and most of them swear by manually washing the nappies. They feel that personally washing the baby's nappy gives them more peace because they know that the nappy is perfectly washed for the baby.
Hopefully, with the above tips, you will not feel burdened with the task of washing nappies. So gear up for this 30-min task per day, or you may simple soak it up for the maid to get the rest of the things done, eh?