Pregnant and keep munching all the time? Feeling quite bored about eating the same old fruits time and again? There is no argument about the fact that all kinds of fruits and dry fruits are ideal nutritional supplements while you are pregnant. One dry fruit you could try eating if you have not tried them yet are prunes. If you have already eaten prunes, you may not be sure how safe they are for eating while you are carrying. Prunes actually make an excellent choice as a snack during pregnancy given their amazing benefits. Lets see how they help in pregnancy.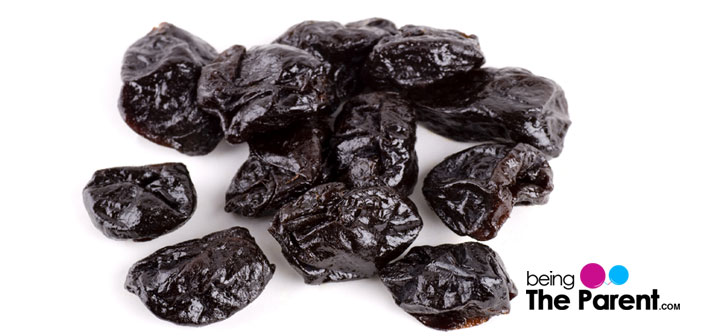 What Are Prunes?
Prunes are actually dry plums and are a wonderful and healthy food option all over the world. They are an excellent source of nutrition and can be safely eaten by everybody even while you are pregnant. Though they rarely have any side -effects, yet is wise to consult your doctor before including prunes in your daily diet. This is because each pregnancy is different and whether you can safely consume them depends on each one's personal health condition during your pregnancy.
Health Benefits Of Eating Prunes During Pregnancy
Given below are some of the main benefits of eating prunes.
Combat constipation: Prunes help to keep constipation in check and help to restore good bowel motions. One of the most common issues most pregnant women have is constipation or other kinds of bowel difficulties. Prunes are an ideal choice to help to relieve constipation symptoms and help to bring your bowel movements to normalcy
Combat iron deficiency: Prunes are an excellent choice to ward off anemia and hike up the iron levels in your system. One of the major nutrients absolutely necessary for the growth and development of that precious bundle growing inside you is iron and prunes have plenty of it. During pregnancy you requirement of iron increases significantly and just the usual stuff you eat will simply not suffice. Well, prunes will help correct this deficiency by assisting to improve hemoglobin and arrest anemia
Prunes help to build up your immunity system: It also aids both mother and baby to develop immunity and ward off any signs of fatigue. Prunes are also believed to preserve energy and calm the nerves
Aids in combating nausea: Prunes also assist in thwarting nausea naturally
Keep blood pressure and depression at bay: As prunes are veritable sources of potassium it aids in lowering blood pressure, manage tension and avoids depression
Prunes work wonders on your skin: Prunes are ideal to work wonders on your skin keeping it soft and beautiful. They are even good for your baby's skin too
Prunes are also helpful in averting pain in the joints: A lot of women experience cramps and pain in the joints during their pregnancy period. Consuming prunes on a regular basis is quite effective in averting and getting relief from these discomforts. Prunes have also been known to assist in avoiding any kind of inflammations which can occur during your pregnancy period
Good for your baby's eyes: Prunes are proven to also be quite effective in the development of your unborn baby's eyes too
Prunes help to cleanse your system: Prunes contain traces of chlorogenic and neochlorogenic acids which belong to the hydroxycinnamic acid family . These acids are proven to act as excellent radical scavengers while you are pregnant giving your system a good cleanse
However there are also some disadvantages of consuming too much prunes during your pregnancy period. Any food for that matter, if over eaten can trigger some ill effects and the same applies in the case of this dry fruit as well.
Probable Risks Associated With Eating Prunes When Pregnant
Excess consumption of prunes can reduce your appetite for the next meal thereby lowering your required amount of calories and nutrition consumption which is absolutely necessary for you and your baby inside you.
Known to be an excellent laxative, over eating of prunes can trigger diarrhea
Eating prunes in excess can cause unpleasant gastric disorders like flatulence and bloating of your tummy
Anyhow, these probable after affects are not yet proven and can only be triggered if you happen to over eat prunes.
The fact that prunes are an ideal nutritional supplement during your pregnancy cannot be debated. Prunes are beyond doubt a nutritive and tasty snacking option to reach out whenever those hunger pangs hit you during those nine months. You could also opt for prune juice if you do not feel like eating this dry fruit as prune juice is quite tasty and refreshing too. So the best option would be to consult your doctor before you add prunes to your pregnancy diet and make sure they are absolutely safe and beneficial for you to consume in limited quantities. You can be sure to experience its wonderful positive effects as soon as you begin munching them.