Whether to have sex during pregnancy or not is a question all pregnant women and their partners need to make together. While some couples abstain from sex due to various medical problems, others decide to stay away from sex for various other reasons. Read here to find out why many couples decide to stay off each other during pregnancy.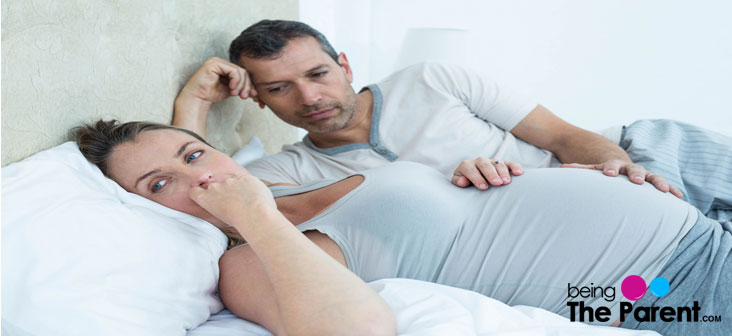 Is It Ok To Have Sex During Pregnancy?
8 Reasons Why We Decided Not To Have Sex During Pregnancy
Is It Ok To Have Sex During Pregnancy?
For many women, sex is not a good idea during pregnancy due to various medical reasons, including, but not limited to, placental issues such as placenta previa and cervical insufficiency. Read more about it here – 8 Reasons Why You Should Abstain From Sex During Pregnancy
For many others, sex during pregnancy is a scary thing as they worry that sex is not safe during pregnancy and it can harm the baby. This is not true. Unless you have any medical condition due to which your doctor has asked you not to have sex, you can safely have sex. Read more about it here – Is Sex Safe During Pregnancy?
8 Reasons Why We Decided Not To Have Sex During Pregnancy
Once you are pregnant, you are allergic to touch, smell, and can go bananas about anything and everything. And it is easy to understand that you are no longer that artful. So these could be some of the excuses you used to ward off your husband when he wants some action. Here are 8 reasons why a lot of couples decide not to have sex during pregnancy:
"I don't like your smell any more": Pregnant women have a heightened sense of smell and one direct consequence of this for many is that they develop a dislike for the smell of their spouses – smell that they didn't know existed before. And we all know how bad odor is a big turn off. So not being comfortable with the smell (even if no one else can smell what you can smell) is a common reason not to have sex during pregnancy
"I don't feel like it at all": While some women feel an increased drive for sex during pregnancy, some people are quite opposite. They do not feel like having sex at all, in fact sex is the last thing on their mind. This is mainly because of the hormonal play inside your body and the way each pregnant women respond to it is unique
"I might just explode": Many pregnant women fear that having sex might just break their water. While this is not true, the feeling that it might happen cannot just be kicked off. And when you are too anxious, you are not going to enjoy sex. So this is another reason to stay away from sex during pregnancy
"I am not flexible any more": Let's face it. You have a bulging belly and swollen feet. Many of the otherwise fun sex positions are impossible for you to achieve because you are not exactly flexible right now. And you do not need a muscle twitch, thank you very much
"I just want to sleep": Lethargy goes hand in hand with pregnancy. Most pregnant women are so tired that by the end of the day all they want to do is sleep. You do not want another exhausting activity, however fun, to make you more tired. You just want to sleep!
"I don't look hot": Ok, let's face it. Our skin looks bad. Our legs are swollen. Our tummy is huge. We have freckles all over. We have stretch marks all over. And we feel we don't look beautiful (you are wrong ladies, you do!). But many pregnant women do not want their partner to see them in such a state
"I might start labor": Did you know that orgasm can kick start labor? Yes, you heard it right. This is because orgasm can result in your uterus contracting. Some research shows that this can lead to preterm labor, especially in those women who have high risk pregnancies. Further, having an orgasm will also release a hormone called oxytocin. This hormone is responsible for triggering labor contractions, which can also result in preterm labor. While this will not impact women with healthy pregnancies, some still find the risk not worth it
"What if the baby can see?": While you might think this one is a bit silly, some women do feel that there is a lack of privacy to engage in sex as there is a baby in the belly. Some even believe that the baby might be able to "see" things. And this makes them conscious enough to keep away from sex
Although if you have no medical issues, it is safe to have sex during pregnancy, but these are some of the reasons why a lot of pregnant women don't enjoy having sex during pregnancy. Are you one among them? Please do share your experiences in the comment section below.
For more on this topic, refer to Sexual Positions During Pregnancy, Is Oral Sex Safe During Pregnancy? and Why Did I Bleed After Sex During Pregnancy?
Have a healthy and safe pregnancy!