The most common question that lurks in the minds of women who are pregnant and their spouses is, is it safe to have sex? Pregnancy is a phase that extends for a whole 9 months. Obviously, it is too long a time to keep away from intercourse for both the partners. In fact, most women find it enjoyable due to increased blood flow to the vagina. To top it, research proves that sex during pregnancy reduces the chances of preterm labor (in most, if not all women). So, all the more reason to indulge! Vaginal sex may get tedious as the weeks advance, so most women may be left with the option of oral sex alone. And the good news is, it is perfectly safe. Read on to know more about this.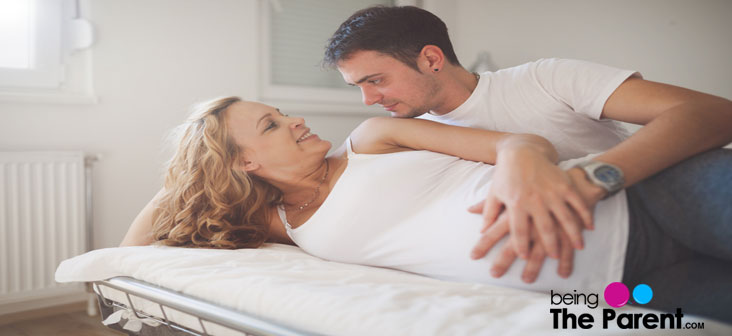 What Is Oral Sex?
Will Oral Sex Harm My Baby?
10 Things To Consider While Having Oral Sex During Pregnancy
When To Avoid Sex During Pregnancy?
What Is Oral Sex?
Oral sex is a sexual activity in which a person uses his/her mouth, lips, or tongue for sexual contact on their partner's genital area. It includes licking girl's vagina or vulva to make her sexually excited, or sucking boy's penis, scrotum and nearby skin. Chances of pregnancy are very low in oral sex and gives as much pleasure as the intercourse.
Will Oral Sex Harm My Baby?
It is absolutely safe to have oral sex during pregnancy and it will not harm the baby. But there are few things that would always help you with this.
10 Things To Consider While Having Oral Sex During Pregnancy
Here are some things you should keep in mind before you give in to the act:
The most important thing your partner should know is to not blow air into the vagina. This may block a vessel (also referred to as air embolism) which can be harmful for you and the baby. It is important to discuss this with your partner and there is nothing to feel awkward about it. Moreover, this is rare; so don't think too much about it, but this is something both the partners should be aware of
Your partner should restrict himself to kissing and licking the clitoris and the lips around the vagina. That's safe and gives immense pleasure as well
At times it is possible to go into preterm labor due to contractions that oral sex brings in. If you are in doubt, it is better to stay away, especially towards the end
Bacteria could enter the vagina due to oral sex; hence it is highly risky, especially, in terms of STDs or if your partner has an open cold sore. If you contract STD or herpes infection, your baby is also at risk. It could lead to miscarriage, complications during delivery or preterm labor. However, if your partner has tested negative for STD or herpes, there is no reason to keep away from him
Many women have experienced intense orgasms during pregnancy. If you experience the same, remember, you are not alone
It is perfectly safe to swallow semen during pregnancy (provided your partner has tested negative for STD)
One thing that you may be surprised to know is that hormonal changes during pregnancy makes vaginal secretions have a stronger taste/odor. Some men may like it, others may be put off. Moreover, some women secrete more fluids than others which turn the men on
Some women may find it difficult to get in the mood or some may lose their libido. For others, it may be just the opposite. Don't worry; it's the hormones working and it's absolutely normal
As pregnancy advances, you should not lie on your back if you are on the receiving end of oral sex. The uterus gets heavy and lying on your back may press down on the vena cava, a major vein. This could reduce your blood pressure and restrict oxygen supply to the baby
Try alternate positions to get in the mood. A heavy uterus is a huge put off. You feel very uncomfortable and the pain overrides the pleasure. Try propping up with some pillows if it helps. Maybe you could even try lying down sideways
When To Avoid Sex During Pregnancy?
During pregnancy, extreme caution needs to be exercised with everything. When in doubt, it is always best to consult your doctor. Most people have a misconception that sex during pregnancy leads to a miscarriage. This is a myth and should be done away with. Your baby is safely guarded by the amniotic fluid in the uterus and the strong muscles of the uterus wall. Sexual activity will do no harm—you can rest assured on that. The only times you might want to avoid any sexual interaction with your partner are when:
There is vaginal bleeding
Amniotic fluid is leaking
Cervix has opened up prematurely
Placenta covers the cervical opening
You're pregnant with twins or more babies
For many pregnant women, if intercourse seems gawky and uncomfortable, then she may find the alternative oral simulation quite pleasurable. So, at an advanced stage of pregnancy, when oral sex is the only alternative you have during times when you are aroused, don't let unnecessary thoughts dampen your spirit. Enjoy! Pregnancy should not be a reason to restrict yourself—from anything!
Hope this article will clear all your doubts about safety of oral sex during pregnancy.