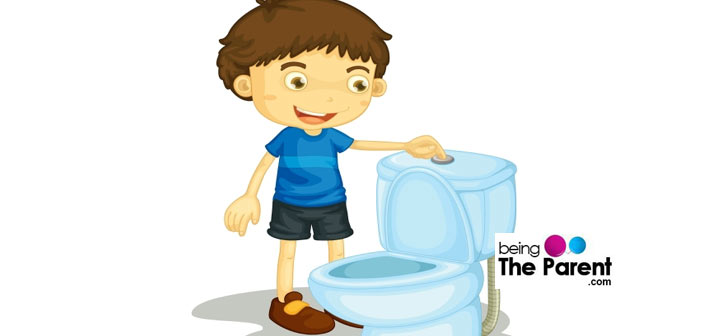 Potty training your toddler will obviously be a daunting task. When you begin to potty train your boy, you will start worrying about training him to pee standing up. However, the best way to go about it is to let him associate the idea of peeing and pooping in the same way first- that is sitting down. When your boy masters the act of sitting down and peeing and pooping, you could train him for peeing standing up. Talking about teaching your boy to pee standing up, well, be prepared for some bathroom cleaning and splashing incidents!!
The anatomy of a girl and a boy child differs and therefore, you need to go an extra mile teaching your son how to pee standing up. The most common problem is that the penis does not always points straight down in the pan/bowl while peeing, it needs to be directed. This also means that your boy needs to understand how to splash the pee as he takes control of his penis. Here goes the law of nature! Therefore, as your child grows, you can help him understand the correct way of peeing, with no soiled underpants and clean bathroom after use.
Is It Okay If My Boy Pees While Sitting?
Now since mothers primarily assume the role of a potty trainer, girls do have an advantage of seeing someone the same way as they are, while boys may fluster as to why dad pees standing up. It is an awkward situation, wherein the mother cannot actually demonstrate how to perform the action so that your kid can follow suit. Most often, boys associate with 'this is how mom does it' theory and thus sit and pee. This also means less mess and you can avoid those missed target firing on you. It is alright if your boy sits and pees, and unless you are very sure of his concentration, balance and potty training, you can wait and relax. Loop in you husband to help your son once you feel he is ready. His dad is teh best man to teach him about his body parts and the way to pee standing up, taking control of the splash and the direction.
How To Teach Your Boy To Pee Standing Up
Ideally, you should wait till about two years after your son is potty trained to introduce the concept of standing and peeing. Below are a few simple steps which will help you in teaching your boy:
To stand you must first sit: For simple reason, that the penis is small and directly points out while peeing, there is little room to hold the penis. So initially he must be peeing while sitting. Now as he grows you should start teaching him on how to pee while standing
Is he ready?: You must first identify whether your kid is ready for pee-training. This can be easily determined by observing signs for improved motor skills, understanding and cognitive ability
Help him: Initially you may hold your child's penis while he urinates and explain him all the what, when, how and why?
Let him try:Then allow him to try it on his own, expect misses and dirty and floors!
Teach him to concentrate on one activity at a time: Now the line "Nazar hati, durghatna ghati" could actually be apt here!! So let him realize that if he gets distracted, or moves his body, the urine trail will also follow
Differentiate between pee and poop: Give him time to understand that standing is for peeing and sitting is for pooping or defecating
Teach him basic hygiene habits:

cleaning the toilet seat if there are any urine drops
washing hands after using urinating
putting down the toilet seat after use, your future daughter-in-law will thank you for this!
Using toilet paper and disposing it in the bin or flushing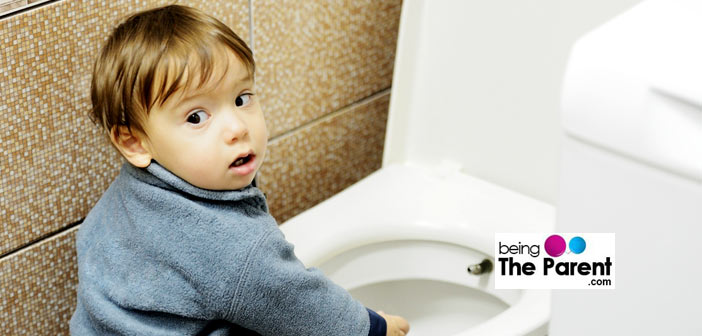 Would It Help If Fathers Teach The Sons To Pee Standing Up?
It would be great for the young boy of yours to observe the entire process LIVE – here comes the need for the dad or the brother. The father can help the child learn quickly and make urinating a fun time for your kid – sharing his own first-time experiences. In this regard, the child is more likely to bond with the father. Sometimes, male children feel shy in presence of the opposite sex, even if it's their mum! Every child is unique and therefore, in such cases, it's the fathers who become more responsible and take care of such needs.
Use Interactive Media To Teach Your Son Pee Standing Up
You can now take advantage of interactive media to accomplish this task. There are hordes of animated clips available online on potty training. Find one which features your child's favorite cartoon and this may catch his interest.
Practice and Practice!
"Rome was not built in a day", so practice patience. It may take up to few months for your child to master the SKILL of urinating – no messes and direct hits! It's very important not to degrade or embarrass your kid if he is taking time to learn peeing standing up. There will be accidents, yes, and there will be embarrassing situations too. You must refrain from comparison and belittling your little champ. This will hurt his self-esteem. Always remind your child that your love and support is with him and that you are there to help him.