A mother has the hardest job in the world: to take care of a new life inside her till it arrives into this wonderful world and beyond. It means that in order to do your job well, you have to take care of yourself first! As a pregnant woman, you have been advised to eat healthy and keep your skin moisturised. It is all for the well-being of the mother and child.
But here is a different side to the story that may not be pleasant news for you. Did you know that an alarming amount of chemicals are found in the umbilical cord that links the mother to her child? Research shows that over 200 chemicals may be found in the umbilical cord that is passed down from the mother to the child! Whoa, that's a lot of harmful substance for a newborn. But where did it come from when you have been extra careful about your diet?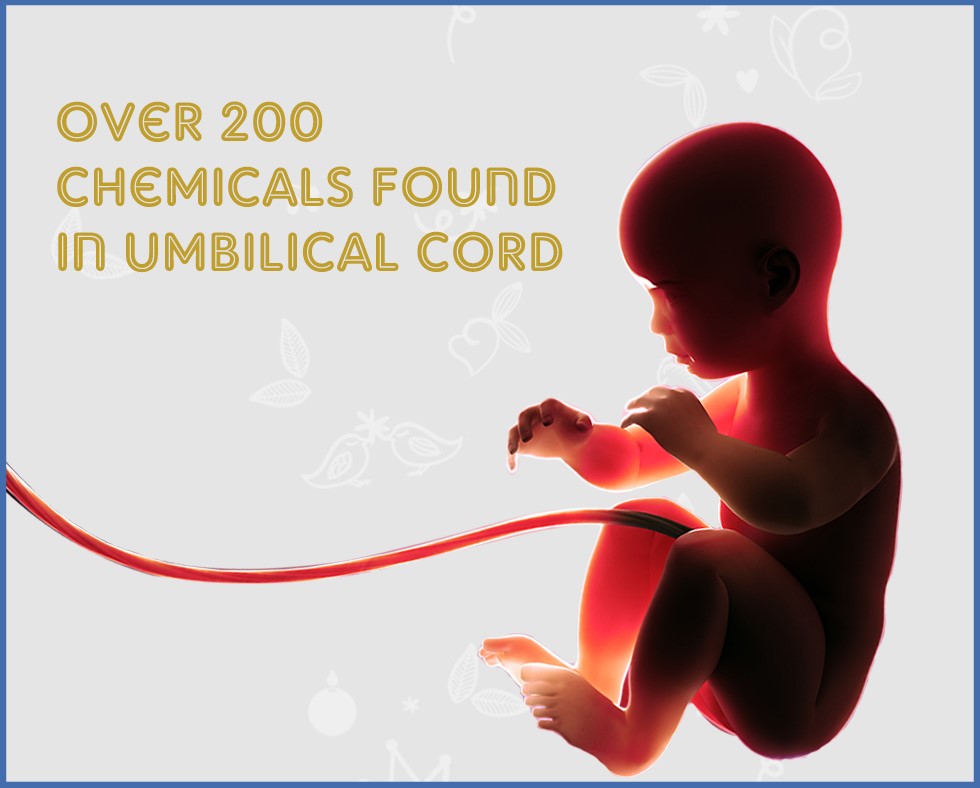 The hidden chemicals moms and moms-to-be should be aware of
As an expectant mother, what you consume and what you apply on your skin will have an impact on the well-being of your little one who is now growing inside your womb. Have you checked the ingredients of your favourite body lotion and do you know how they are made? That sculpted bottle of a popular personal care brand may smell heavenly and feel amazing against your skin, but does it have the potential to harm your unborn child? With chemicals, of course!
While choosing a pregnancy care range, drop the product if it uses these ingredients. Many international brands have stopped using these ingredients because of new scientific research that shows how much harm these can cause!
Any Mineral Oils or Petroleum based ingredients or jelly
Artificial or synthetic colours or fragrances
Parabens or chemical-based preservatives in the product
Sulphates, SLS, or SLES
Diethanolamine, Triethanolamine (TEA, DEA)
Metal oxalates or salts
Phthalates (Dibutyl and Diethyl)
When should I start thinking about the skin care products I use?
Today! Are you already pregnant? Or are you planning to start a family soon? If yes, then it's time to be on the lookout for ingredients that may pose danger to the well-being of the fetus growing inside you.
The fact is that most of us either do not know about them or aren't aware of safer alternatives. Any product containing artificial colours, fragrances, or chemicals such as parabens or sulfates could be very harmful to us, leave alone your little one. What's more? These chemicals leave a greasy film on your skin, block the pores and invite more dust and pollutants to stick on to the surface of your skin. They could also cause allergies, irritation or rashes, especially during your pregnancy period. To get rid of the itchiness, you may need to use medicated products that may in turn have an adverse effect on your baby. As long as your little one is dependent on you for its survival, your troubles are your baby's troubles too.
But I need the products, is there a better solution?
Are you feeling worried reading about the harmful effects of the so-called popular skin care products! Worry not mommies! Here comes The Moms Co. to your rescue – an All Natural and Certified Toxin Free brand free of all harmful chemicals. The Moms Co. came into existence when a mom, just like you, was shocked about the chemicals put in regular products, and decided to work with experts across India, Australia and Switzerland to create safer alternatives.
Today, The Moms Co. provides safe, natural and effective choices when it comes to personal, health and skin care products. The Moms Co. combines nature and science to give mommies and the little ones inside them the best skincare available with the safest, certified toxin free range of products. As a mother, your love is the purest, and they give you natural care products as pure as your emotions for the baby inside you.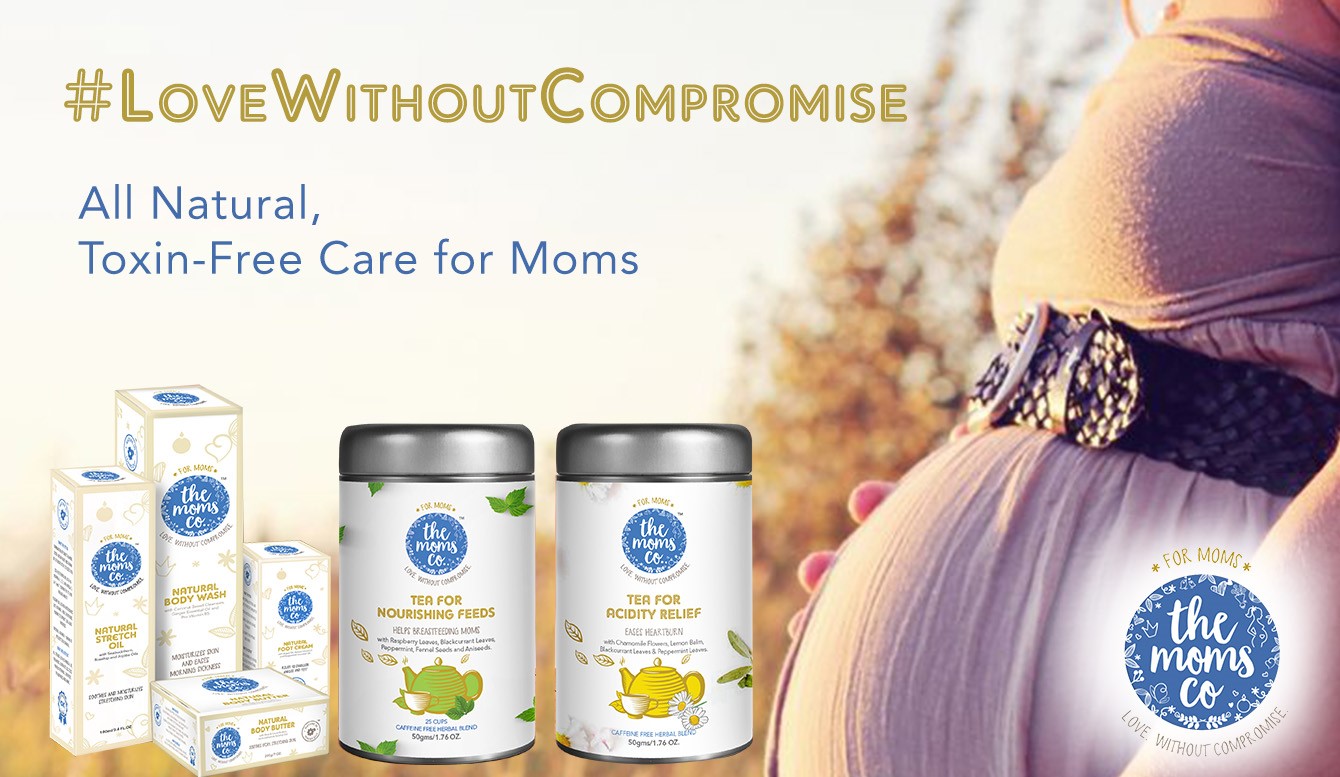 Why do Moms-To-Be swear by The Moms Co.?
Their products take care of the common discomforts you face during pregnancy So be it Morning Sickness, Dry/Itchy skin, Stretch Marks, Swollen Tried feet that's causing Mom-to-be discomfort or whether it is a new mom worried of the quantity of milk flow, The Moms Co. provides Natural Effective Solutions through their range of skin care products and 100% Caffeine-Free teas.
What makes The Moms Co. products especially suited for pregnant women and new moms?
They stand by their philosophy of Nature In, Toxins Out where they use only the best natural ingredients from around the world. They test every product against 5 global databases on toxicity and even certify their products as Toxin-Free by Safe Cosmetics Australia, an NGO working to remove chemicals from products for the last 10 years.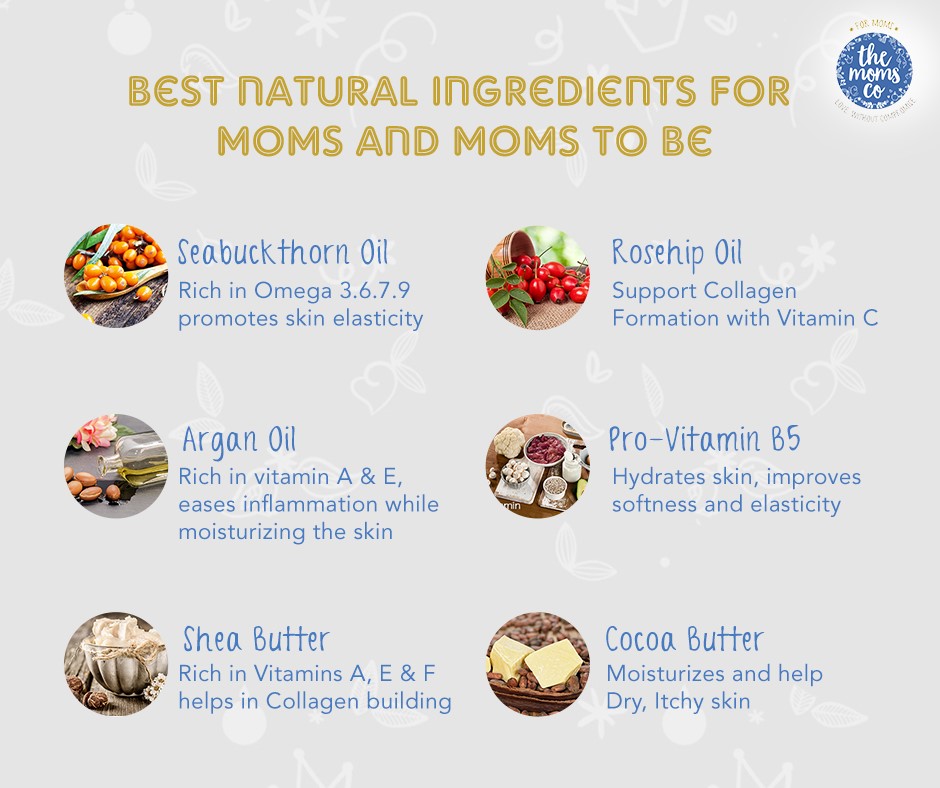 The Moms Co. didn't limit themselves to local knowledge and sources ingredients which have been internationally used to help moms cure the common discomforts faced during pregnancy.
Seabuckthorn Oil: Besides the valuable Fatty Acids, Omega-3, 6, 7 and 9, Seabuckthorn oil also includes Vitamins E and A. It is known for its ability to recover skin damage caused by stretch marks, wounds and burns. It regulates moisture balance of the skin and improves the softness and elasticity of the skin.
Rosehip Oil: It is a natural skin emollient drawn from the seeds of the Rosa rubiginosa plant. This non-greasy oil penetrates the skin's first few layers almost instantly to help soften dry, rough patches. It is also rich in Vitamin C which is known to support skin and collagen formation.
Shea Butter: It is a skin super food that comes from the seeds of the fruit of the Shea (Karite) tree and that is a rich source of Vitamins A, E and F. It provides the skin with essential Fatty Acids and the nutrients necessary for collagen production. It reduces inflammation and moisturizes
Cocoa Butter: Obtained from the whole cocoa beans, it is known for its moisturizing abilities to improve dry, itchy skin.
Argan Oil: Rich in vitamin A and vitamin E, Argan oil is also packed with anti-oxidants, Omega-6 Fatty Acids, and Linoleic Acid. Research has shown that when applied to skin, it eases inflammation while moisturizing the skin.
Pro Vitamin B5: This miraculous compound stabilizes the skin's barrier function, reducing the amount of water lost through the skin. It not only increases skin hydration but also improves its softness and elasticity. It is used in the treatment of dry, scaly and rough skin.
Coconut based mild cleansers: That gently clean and do not rob your skin of its natural moisture.
 Clinically tested, Australia-Certified Toxin-Free and Loved by Moms
Their products are clinically tested by expert dermatologists to make sure that there are no irritants or allergens and every product is 100% safe to use.
So if you are an expectant mom, maybe it's time to bid adieu to your luxury skin care brand and say "Hello" to something blessed with the goodness of Mother Nature. From now on don't forget to check the list of ingredients before buying anything to pamper yourself during the nine month journey towards motherhood. Choose only certified organic and toxin-free products for yourself and your family. Give your baby the gift of 'Love without compromise' even before the angel is born!