Lessons learned in the early days go a long way and become a part of your nature. Cleaning is one such aspect that if imbibed at the right age will ensure a disciplined and healthy life throughout. Managing growing kids is an onerous task. They leave no stone unturned in their quest to explore and learn new things and in the process leave back a mess to be cleaned up by their parents. The parents often look out for an external source of help to make their task easier. Their life becomes dependent on the maid or the house helper. A day without them is difficult to survive. Are you facing a similar struggle? Are you on a lookout for ideas to make your work easier and save some time for yourself? Read on to know your way out of this problem!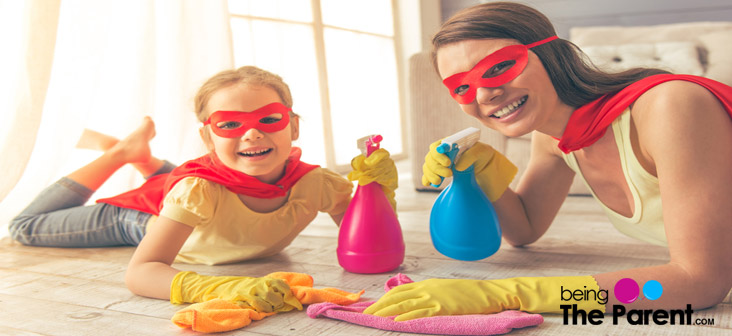 How To Get Your Kids To Clean Up?
The task of cleaning and maintaining a clean environment can be easy and fun when you engage your kids in the process. A day in a kid's life is all about play. They look for every opportunity to play and not sit idle. So why not make the process of cleaning a part of their play. Kids are always happy to help the elders with their work. It makes them feel confident about themselves and they look forward to opportunities to prove their talent and intelligence. Instead of looking for external help to clear up the mess, engage your kids in the act. This will make them feel a lot more happy and responsible in their acts. It is not very easy to get the kids engaged in such tasks. If they feel the process is boring, they would sooner or later start hating the concept of cleaning, which actually is very common among the kids. The only way to arrest their interests is by making the entire process fun. It would motivate them to give their best.
8 Helpful Tips To Make Cleaning Fun For Kids
If you feel the struggle of keeping the house clean with growing kids running around the house, here are few ways by which can get your work done:
Make the process a game: Kids hate to do things on order. They have a mind of their own and prefer being treated as individuals. They hate if someone encroaches on their play time. So in order to get them interested in the cleaning activities, make the process a game. Give them simple and easy to do tasks that can be completed in a stipulated time period. Clock them for the activity they do. This instills a feeling of challenge within them. For instance, the activity can be dusting the windows of the house. If you have more than a single child, you can divide the rooms amongst the kids. If it's just you and your child, then you can compete against each other
Give them interesting tools to use: You can make your kids do activities that they would enjoy and to some extent link to their interests. For example, if your kid loves flowers and playing in the garden give him/her a hose pipe and ask to water the plants in the garden. If your kid likes to paint, give him/her a water spray bottle and ask to wipe down the window panes
Make it musical: Good Music is known to make the environment in a room vibrant and it lights up the mood of everyone around. You might be aware of your kid's favorite dance numbers. Play them loud while you guys get to clean the house. Show few dance moves as you move across the room and get your kid to do the same. This would arrest his/her interest in the activity and he/she would associate the act of cleaning with fun
Play the colour game: Colour game can be fun with toddlers and early school goers. Identify a
color and tell your kids to pick up things of the said color and place them at their correct/original place. You may keep a timer for this activity. This will add more fun to the task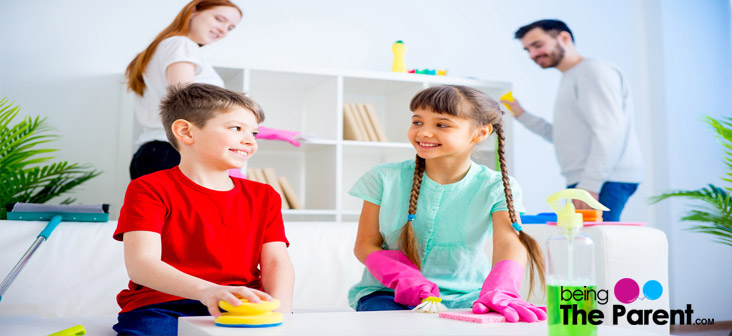 Make a to-do list: Like you have a to-do-list for every day, make one for your kid too. Stick up both the list beside each other on the fridge or someplace where you kid can notice it. A to-do list besides yours will make him/her feel responsible towards the house. Kids often look up and learn from the acts of their parents. They tend to imitate your tasks so as to feel like a grown up like you and to grab your attention. This to-do list will make them happier and they will be eager to prove themselves at the task given
Set rewards: Kids love it when they are appreciated and rewarded for the tasks they do. To get them help you clean up the house, set rewards for the act. The one who finishes the work first gets the reward
Find the treasure: You can hide small treasures like chocolates which your kid likes in different parts of the house and tell your kids to discover the treasure as he /she help you clean the house. Hide it somewhere near the mess, so that the kid is forced to clean up the mess to reach the treasure
Keep it short and simple: Any activity for a long duration can spoil the fun element and make it look and feel tedious. Keep the cleaning activity restricted for a short period. It should not be more than 15-20 mins. Plan and schedule the cleaning activities over the entire week so that house gets cleaned and at the same time the excitement and fun element of the activity is not lost
What Household Chores Can The Kids Do?
Here are few tasks that your kid can help you with. Please ensure the chores are age appropriate and your kid is able to do it without any difficulty.
Dusting around the house
Folding the washed and dried clothes
Tiding up the toys in his/her room
Setting and clearing the table for breakfast, lunch, and dinner
Watering the plants
Cleaning the window panes
Setting up the bed
Cleaning the floors after playing with colors, paints or water games
Finally, be sure that you are equally involved with your kid and work alongside him during the cleaning tasks. Try and keep the tasks independent for your kids and at times you may have to overlook the little standards of cleanliness. Kids can be fabulous cleaning helpers if you make the process fun and interesting for them. Also read: Teach Your Child To Keep His Room Clean With Simple Tips
Hope the article has been of help to you. If you have anything more to add to the above or wish to share your experience, please share your views in the comments section below.