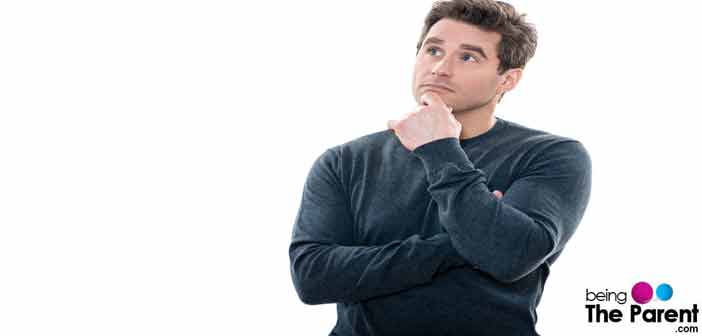 Becoming a father is wonderful news for most of the men but it also gives a rise to feeling of fears, anxiety, apprehensions and insecurity. So, when you break the news to your man, do understand that he could take some time to give you that elated and happy hug.
Here are the top 10 new dads fear and the ideas to combat them:
Fear: Can I afford to have one more member in the family?
This is the first thought which generally crops up in the minds of all expecting fathers. Would I be able to bear the increased expenditure due to baby's arrival? Is my current income sufficient enough or do I need to look for increasing income?


Tip:

Being a primary family provider, such a feeling is obvious. But some financial planning with decent savings can help you to run everything smoothly. Divide your income in two parts Current expenditure of the house & the money which is spent on mobile bills, partying and eating out or binge shopping etc. Now try to cut down such unnecessary expenses and start saving for your little one from the day you decide to go for the baby.
Fear: Am I going to be a good father?
Every father wants to be 'the perfect father'. Men get scared whether they will be able to fulfill all their duties towards their baby or not. Will they be able to contribute to their child's development in a positive way?


Tip:

Before your marriage you were single but after marriage you are managing your partner, relationship in a good way. That means you already have many qualities within you which would surely come out when needed.
Fear: How would be my sex life after becoming dad?
Your partner will be engaged with the new born most of time & will not be much interested for romance. Hormonal changes during pregnancy sometimes make women develop a disinterest for sex in many women. Men need to understand that these changes are temporary.


Tip:

Accept the fact that for some time your sex life may not be same as before when you were not a father. Also if you stay close to your wife and baby, you will soon realize that you are developing a new level of emotional intimacy and romance in your relationship. Try not to expect anything physical from your wife during initial few weeks after delivery.

Fear: How I am going to manage work and family during delivery period?
It is difficult to take care of a wife, new born and work assignments all put together but there are ways to do it.


Tip:

Most of the employers provide paternity leave. You can save your other leaves for the time of your wife's delivery. You may explain your boss that for some time you may not be able to take any new work assignment.
Fear: Going out with children and getting embarrassed
Most men are afraid of having kids just because they pee or go for potty at their will, without caring where they are. Some men are also afraid of their children breaking glasses, or behaving badly in front of their friends and colleagues. They begin to imagine that child bearing will involve frequent embarrassments.


Tip:

Firstly there is no point of getting embarrassed as we all were kids once and used to do the same with our parents. In fact these days you have many facilities like diapers, potty pots and prams to carry your baby out. Secondly, if you see around you may find many other little monsters – whom you so adore for their sheer cuteness. So just do not panic, things get better with time if you work on them.
Fear: How will I handle new born, what if I hurt her?
Many Fathers are afraid of touching new borns'. They find the tiny, little being too fragile and restrain themselves, burdening themselves with negative thoughts of hurting the baby.


Tip:

No parents can ever hurt their child. Have faith in yourself and go ahead to love her. Seek advice from your friends and family on how to take care of new born.
Fear: Babies create mess!
A house, full of nappies, floor with toys spread everywhere, foul smell from the beds and diapers here and there is another fear man possess.


Tip:

Hello!! A baby is a baby! And all this comes with the lovely awards of a little tiny gargles, and coos; and some amazing moments to last a lifetime.
Fear: Sleepless nights!
Yes initially, men may feel no one is able to sleep in the family but it is for some days and later your new born learns to sleep and makes his own sleep and rest schedules.


Tip:

Work it out in a planned way by sleeping in turns one by one.
Fear: Behavioral changes in wife
Delivery a baby is not easy and you may find your wife irritated and frustrated a lot of the time.


Tip:

She's the same woman, and unlike you, the baby needs her constantly. This keeps her on her toes, 24X7. Couple this with the massive physical and emotional changes she's just been through. Your best bet? Be supportive, caring and show her your love.
Fear:Will I be able to enjoy my life like before?
You may not be able to do everything that you used to do but you will surely enjoy your life with your kids if you try so.


Tip:

With a little bit of support from family and friends, you may be able to party out and enjoy like you did earlier after some time. What fun is it to have a monotonous life partying every weekend? Explore this mew world of fatherhood without any inhibitions and you'd wonder what took you so long to plan a child!