Staying active during pregnancy has more than one benefit. For starters, it helps in ensuring a comfortable child birth. It also makes your body stronger and more prepared for the weight gain that is pertinent with pregnancy. It can keep gestational diabetics at bay. Being active can also make you more happy and energetic. And what's more, it acts as a catalyst for weight loss once the baby is out! If that doesn't sell this idea to you, we do not know what will!?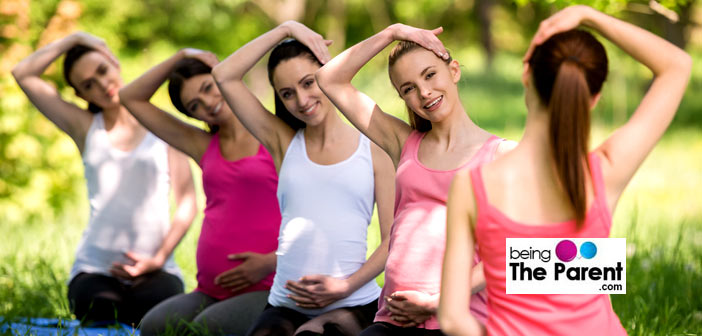 Top 10 Ways To Stay Active During Pregnancy
First step to being active is to talk to your doctor. Ask if you can remain active safely during the three trimesters and ask specifically if you have to stick to low-impact workouts or can try few medium- to high-impact ones. If you have certain pregnancy conditions (e.g.: Placenta Previa) then your doctor might ask you to take bed rest and not be very active. So it is important to get your doctor's option first. Once you have the green signal from there, here are few things you can do:
Walking: Walking is a fantastic exercise. You can do it anywhere anytime. You can either incorporate into your daily life like an errand, such as walking to the vegetable shop / supermarket. You can also walk as an exercise. Walk at a brisk pace that will break a sweat if you can handle it. If you cannot walk fast, the try to walk uphill. Ensure you walk around for few minutes for every 30 mins you are sitting idle
Stretch: Stretching does wonders to your flexibility. And as you become bulkier throughout the pregnancy with your tummy protruding forward, trust us, you need all flexibility you can get. Start with your neck, and continue stretching different parts of your body like shoulder, triceps, wrists, calves and pelvic. Look at a reliable fitness website to understand the right way to stretch to ensure you do not get any catches
Practice prenatal Yoga: Lara Dutta was spot on here and she has a first mover advantage for coming out with a popular dvd in the Indian market. Buy the cd, or download it from YouTube and practice the art. It will help improve your balance, keep your muscles toned, strengthen your body and calm your mind

Dance: Dancing makes staying active fun! Put on your favorite music and dance. You can also sign up for some dance classes like Zumba – but ensure you do the low- to medium- impact versions, especially during first and last trimesters
Swim: Water exercises are great during pregnancy as you feel weightless under water and hence can move more. If you know swimming, go for regular swims. If not, you can still go to the pool and do few water exercises
Household chores: You have already made up your mind that this is a boring idea! But sitting idle can also be boring right? Cleaning the house is a good chore to start with. It will ensure you are moving around and what's more you feel happier in a cleaner house, wouldn't you?
Cardio and strength training: If you have been working out before being pregnant, you can continue most of your workouts even after your pregnancy. If you have not been working out, incorporate both aerobics and strength training to your routine. IT goes without saying that you should start slowly
Apps support: There are many apps that you can download to help you in this journey. There are apps that alert you to walk regularly, that remind you to drink enough water, that counts your steps and tell you if you have walked enough. Go through your smartphone's app store and download few that can be your aid.
Healthy diet: A good diet would go a long way in making you feel light and active. Ensure you take a healthy balanced diet along with any supplements the doctor suggested
Sleep: This is our favorite for obvious reasons. A good long (6-8 hours) will ensure you are refreshed and rejuvenated to start the next day actively. And what's more! If you have been doing anaerobic exercises (like strength training) during the day, you will be burning fat even during sleep
While all these tips are great to follow, you need to ensure you do not overdo anything. You should also avoid high risk activities like ones that involve lying on your back (leg raises) or the ones which increases your chances of falling (like skipping, or running up and down stairs).
Be active, be safe.
Happy pregnancy.