Once your baby comes into this world, you feel like it's the end of vacation and holidays for a long time as looking after a little baby is not an easy task. However do relax and plan a vacation with your little one as travelling with a small baby is not as difficult as you imagine it to be. You just need to make the right preparations and plan well in advance to ensure a lovely and stress-free trip with your new member. You will be pleasantly surprised to experience a relaxing holiday and will look forward to travelling again.

12 Tips To Travel Smart With Your Baby
Given below are some useful and wonderful tips that will ensure you have a hassle free holiday with your little darling:
Always make your plans and booking much before time: Planning well ahead of time and getting your travel and accommodation booking confirmed before you make your journey is absolutely necessary when travelling with a baby. This will of course reduce your stress and make you feel reassured as you begin your travel with your little baby. Prepare your itinerary keeping in mind your baby's schedule, like their nap time, their play time, etc
Pick ideal baby destinations: When you plan to travel with a baby, look for places like a lazy beach retreat, family and scenic resorts, or similar baby-friendly places. Avoid crowded, noisy tourist destinations as they will pose challenge when you have a little baby in tow. Calm and peaceful surrounding help soothe babies. After all, your baby is on his vacation too
Make a point of feeding your little one during landing and takeoff: If you are planning to fly with your baby, this is one important tip that you need to abide so that your little one's jaws keep working helping their ears to change in elevation that occurs while flying. It also helps you to keep them clam and relaxed rather than cranky, irritable and disturbed during take off and landing
Be flexible with your schedules: While it is imperative for you to plan well, but you still do not know how your baby will take to the new surroundings during your journey. So there are chances that you might have to change your schedules keeping in mind the new schedule of your baby. Your baby might get bored having to sit still for long periods so keep your itinerary simple. Keep your plans flexible so that it is much easier to make last-minute adjustments if your baby gets tired
Stick to your baby's routine: Babies get cranky when exposed to the new environment. So make sure you stick to your little one's routine. Suppose your little one is used to a bath, a soft lullaby and a bottle to snuggle with, never deviate from this routine. As this will help him calm and make him feel more at home
Carry a few of their favorite toys and pack some new ones too: Little babies can sense they are away from their familiar environment and do become quite irritable to new atmospheres while travelling. Carrying a couple of their favorite toys are a great support in helping them coming to terms with their new environment and certainly has a calming effect on them. Also it would be a good idea to shop for some new and innovative toys that your little one has not played with till now. Packing them for your trip is an excellent idea as a new toy automatically grabs the attention of your little one and is guaranteed to keep him occupied for some time till the newness wears off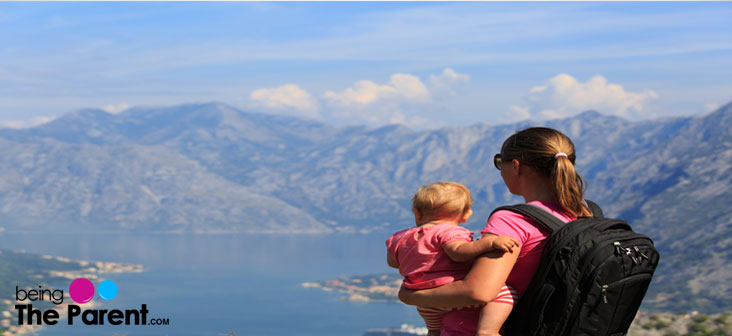 Clothes and more clothes: Don't forget to pack extra clothes for your baby. If you are travelling to cold weather, you might want to add extra layers on your baby .It is easier to remove or add layers on the go according to change in the temperature. Since you have a baby on board, be prepared for emergencies like diaper explosions, spit ups etc. so always keep extra clothes handy. Carry an extra bag or backpack with you with all the baby essential items. Also make sure that you dress your little one in clothes that facilitate easy changing of diapers as elaborate dresses that need a lot of time to change will make the little one more fussy and cranky during travel
Make sure you have a full bottle: Whenever you set on a journey, even if it is a short one, it is imperative that you have with you a full bottle to feed your little one whenever he becomes cranky or hungry. Babies tend to relax when the bottle is popped into their mouth immediately rather than to wait for you to prepare the formula. So always ensure you have a full bottle handy with you while travelling
Unpack as soon as you reach your destination: Unpacking is something most people put off till later. However it would be a good move to send your hubby away with your little one or keep the mite engaged in some activity, till you unpack your belongings and create a home like atmosphere as soon as possible. Seeing familiar things around will help settle your baby and make him less cranky and irritable
Create a play niche in your hotel room : Once you check into your room, you need to find a play niche for your little baby and also stack up whatever toys you have carried along in that niche in a low drawer or shelf. This helps to keep the room more organized and also makes the little one feel quite at home with his toys and favorite teddies
Make use of technology: Keeping your little one entertained with his favorite cartoon or some interesting app is surely a good idea during travelling. So make sure you download something that will keep your little one enchanted and glued to your mobile screen or ipad for sometime so that you can enjoy some peace too
Hire a play crib: Most hotels have play cribs for hire and it would be a good idea to take one on hire while you are staying in the hotel. This way, you get the much needed rest while relaxing in your room as your little one is quite safe playing in the crib and will be quite occupied examining her new surroundings
Before you plan your vacation, do let your doctor know about your travel plans. Your doctor may advise you from not traveling in certain weather conditions keeping in mind your baby's health status. He will also recommend some extra medicines to carry along for unforeseen emergencies. So it is very important to listen to your doctor on what he has to say about your travel plans.
A pleasurable trip with your baby comes with proper planning and thoughtful packing. It is just not possible to go for an unplanned trip with a baby. There are a lot of things that you need to take care of. Remember, your little baby is precious. He may find it difficult to adjust to new surroundings like you do. The new changes might make him irritable and cranky. So be prepared that things might not be smooth and move according to your plans.
Enjoy your holiday and let your baby enjoy too!