During the first couple of years, a baby's immune system is still developing. Due to this he is more susceptible to infections – both bacterial and viral. A baby as young as two months is more vulnerable to these infections as his immunity level is very low. Therefore, it is imperative to reduce his exposure to these disease causing micro- organism. It is also very important to maintain proper hygiene and good sanitary conditions to protect the baby from any infections. Read on to know all about typhoid in babies – its causes, symptoms and treatments options.

What Is Typhoid?
Typhoid fever is a bacterial infection, which can be serious and sometimes life-threatening in young babies. This disease is associated with poor hygiene and sanitary conditions. The babies can turn out to be extremely sick or even die without proper treatment. Typhoid is more commonly found in developing and underdeveloped countries.
Causes Of Typhoid In Babies
Bacteria called Salmonella Typhi causes typhoid fever. Once the bacteria gets into the body, they quickly multiply and spread into the circulatory system of the baby. Typhoid is an exceptionally infectious disease that spreads fast and is generally transmitted by food and water just like cholera. Babies usually get typhoid fever by drinking water or eating food that has been infected by the bacteria. Babies can also catch this infection if the infected or carrier person of typhoid touches them with unwashed hands.
Symptoms Of Typhoid In Babies
The signs and symptoms of typhoid fever surface within one week to three weeks after the baby is exposed to infection. The symptoms vary from mild to severe. Usually, the babies fall sick suddenly. The symptoms of typhoid include:
Persisting low-grade fever that gradually rises to 103 or 104F
Rashes on the body, especially, red colored spots may appear on the chest region
Stomach pain
Baby is always tired and weak and inactive
Loss of appetite
Body pain
Headache
Severe constipation
Loss of weight
When To Seek Medical Attention?
Proper diagnosis and treatment on time are very important when it comes to typhoid in babies. If you see any of the following symptoms in your baby please take him to the doctor as soon as possible.
Persisting fever (more than five days)
Continuous vomiting
Loss of appetite
Swollen tummy
Baby is inactive, very tired and drained out
A blood test or stool examination in a laboratory will help the doctor to diagnose typhoid in your baby.
Risk Of Typhoid In Babies
If proper and on time treatment is not given to the baby, there are certain life threatening risk associated with typhoid fever. They include:
Developing gastrointestinal issues like intestinal perforation, i.e, hole in the intestine
Severe weight loss
Baby may become unresponsive
Pneumonia
Meningitis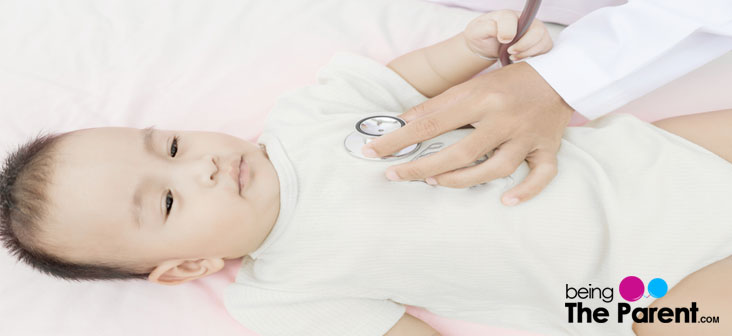 What Are The Treatment Options For Typhoid In Babies?
As typhoid is caused by bacteria, antibiotics are a necessary treatment option. The strength of the antibiotic to be given and duration of the course depends on the severity of typhoid
While your baby is under treatment, he should be under continuous monitoring. Make a note of how the baby is reacting to medication, progress in his health etc
Remember to complete the course of antibiotic even if baby appears to be fine and healthy
Make sure the baby gets plenty of rest when recovering from typhoid fever
Give baby lots of fluids and feed him soft and semi-solid foods like porridge, which replace the fluid and nutrients in the body and easy on the tummy
If the baby is below 6 months, give him breast milk as often as possible
Give the baby simple food (without oil). Avoid spicy and deep fried food items for another week after the antibiotic course is over. Give time for the digestive system to get back to normal
Keep you baby clean. If possible sponge him two times a day. If your baby allows it's better to give him a body wash. Wash his mouth, brush his teeth and keep his hands clean. All this will help to keep the germs away
Ways To Prevent Typhoid In Babies
Though typhoid is a fast spreading disease, taking some preventive measures will reduce the chances of your baby catching it. These measures are:
Breastfeed your baby till his second birthday. This helps in babies developing a strong immune system
Always keep the surroundings that the baby comes in contact with frequently clean and neat
Ensure that drinking water is clean and pure. You can boil it to further ensure the germs are killed
Give him well washed and well cooked food, once he starts to have solid food
Avoid feeding your baby any street food
A healthy diet will also help with boosting the immune system of the baby. Design one with the help of a pediatric nutritionist
Frequently wash the baby's hands by using plenty of water as the babies have the tendency to touch ground and surfaces that can be contaminated with germs
Typhoid Vaccine For Babies
Yes. The vaccines are available for protecting babies from typhoid. There are two types of vaccination. Injection and oral vaccine. Injection is usually preferred for small children (two years or older) and the oral vaccine is usually given to children above 6 years. However, the effect of the vaccine will last only for 3 years. Therefore, if you hear that typhoid is in your neighborhood and if the vaccination time has lapsed, consider revaccination after consulting with your doctor.