A sneezing and coughing kid is bothersome for any parent. Babies and kids are often affected by cold and cough and it is usually better to avoid using strong antibiotics for treating these. There are certain home remedies which can be tried before giving them any kind of medicine. Ajwain is one among the most popular home remedies that you could give a try. Ajwain also known as carom seeds is one of the most common spices found in all Indian homes. This spice has been proven to be extremely effective in providing wonderful relief from cough and cold symptoms not only in kids but also in elders.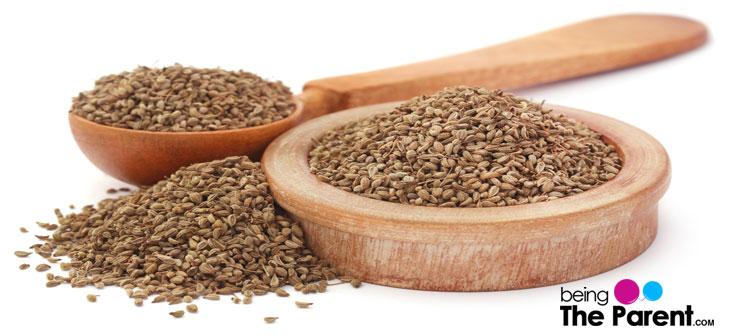 The Medicinal Benefits Of Ajwain For Kids
5 Ways To Use Ajwain To Provide Relief From Cold And Cough In Kids
Few Words Of Advice
The Medicinal Benefits Of Ajwain For Kids
Thymol that is present in ajwain has excellent antimicrobial characteristics and has been proven to provide respite from congestion issues
Ajwain seeds have a strong flavor and are loaded with excellent medicinal properties
These seeds are ideal for curing respiratory and digestive issues
5 Ways To Use Ajwain To Provide Relief From Cold And Cough In Kids
Given below are some simple home remedies that make use of ajwain to cure cough and cold in babies and kids alike:
Ajwain herbal decoction: Pour half a cup of water in a pan and add one teaspoon of ajwain, around 8 to 10 leaves of basil, half a teaspoon of powdered ginger, five black pepper corns, half a teaspoon of turmeric and one third cup of jaggery. Boil all the above mentioned ingredients for around ten minutes. Strain this concoction and serve it to your kid. This concoction can be given to even babies as young as six months. It is absolutely effective and safe in every sense of the word. If your baby is one year old, a spoonful of honey can be also added to this concoction
Dosage: For babies below one year, one teaspoon around twice daily after food would be ideal. This needs to be administered for three days. However do not give this decoction along with other medication and cough syrups. For kids above one year,one- fourth cup can be given
Hot pad of ajwain or ajwain potli: For this all you need to do is dry roast around two tablespoons of ajwain in a pan or tawa for some time till the smell is emanated. Now remove the ajwain to a fresh muslin cloth and tie it up into a small pouch. Apply this small pouch on your little one's chest just like a hot pad. Just ensure it is not too hot to burn your child though. It has been proven that ajwain potli works wonders to combat chest congestion and even clear stuffy nose
Garlic and ajwain potli smoke: Heat and roast two biggish cloves of garlic along with a tablespoon of ajwain seeds in a pan or tawa. Prepare a potli once this is cooled completely. Place this potli in the cot or cradle in which your little one sleeps. It has been found that the smoke that emanates from this garlic ajwain potli is excellent to clear stuffy nose and provide respite from congestion helping your little one sleep more restfully. Remember to never place the potli too near the baby as there is a chance of choking hazard if by any chance the potli opens up and the little one swallows these seeds
Massaging with oil infused with ajwain: It has been found that massaging your little baby with oil infused with ajwain is a wonderful remedy to ward off as well as fight that severe cough and cold your little one is experiencing.Preparing this oil is also not so difficult. All one needs to do is mix a pinch of ajwain to a tablespoon full of massage oil and heat this mixture for some seconds. You could also add a couple of garlic pods to this for better results. Once the oil returns to lukewarm temperature, apply this onto your little one's back as well as chest with a gentle massage. Never commit the blunder of applying very hot oil as it can burn your little one's delicate skin
Ajwain and jaggery: Dry roast ajwain and powder this. Mix equal amounts of ajwain powder along with jaggery or palm sugar and give it to your little one before meals. The dosage for toddlers between one and two years is 1.5 gms with just half a teaspoon of ghee for around three days. If your child is above five years, you can provide around 4 gms of the mixture with one teaspoon of ghee twice a day. This mixture is excellent to get rid of phlegm and cough for children
Few Words Of Advice
Begin with small amounts of ajwain water for babies and use in moderation
For making ajwain decoction or water, make sure to use husk free ajwain seeds
If cold and cough persist for long or is accompanied by fever, make sure to check with your doctor to rule out any infection
Hope these home remedies of ajwain for treating cold and cough in babies and kids is helpful to you. Please do share in comments section below any of your tried and tested home remedies for treating your little one's cold and cough.