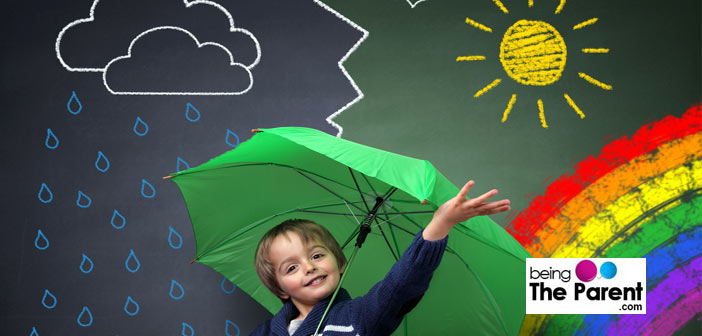 In India, we mostly brave three seasons: summer, winter and rainy. We do welcome a rainy surprise in the scorching heat of May but with the sudden downpour comes an unexpected tide of diseases and feeling of being unwell. Whenever the weather changes, viral and bacterial infections spur up. This particularly takes a toll on the health of young kids. Upset stomachs, fever, cough, cold and sore throats are commonly observed in almost every kid. his not only disrupts the child's health but affects his studies too since exams are mostly held during these months. The pressure of exams and poor health may adversely affect your child. Below are a few tips to help your child stand high against the changing weather:
10 Things You Should "Do" to Combat The Changing Weather
Feed superfoods:It's best to go natural and prepare his body to fight the increased viruses during changing weather. Give him immunity boosting foods such as:

Banana
Turmeric added to milk
Serve him with a healthy platter of fruit chaat( चाट) or wholesome chicken soup
Fruit juices high in vitamin C

Get Chyawanprash(च्यवनप्राश): It's packed with herbal and medicinal properties, which will help keep diseases at bay. Start with half teaspoon till your child develops its taste
Ensure enough water intake: Water will flush toxins out and keep skin and body hydrated
Flu jab: Depending on your child's previous history of immunity as well as the place where you live, you may want to consider him getting a flu vaccine
Follow basic hygiene: Teach him to cover his mouth while coughing and frequently washing hands, particularly before and after meals. Instruct him against touching his eyes, nose and mouth as germs enter from these means
Use stronger disinfectants: Simply add one cap of Dettol while mopping floor or cleaning the table. Invest in a hand sanitizer
Relaxed sleep: Ensure that your kid gets plenty of sleep and is rested. Stress weakens immunity and is likely to make him more vulnerable to seasonal changes
Dress in layers: Morning it's breezy, noon it's hot and chilly during night. Dress your kid in multiple layers so that he can add or subtract clothing depending on the weather. The key in dressing appropriately – safe if its is cold, and safe if it is warm. Find that line!
Take care of skin and hair: Skin and hair may get dry and irritated

Consult a pediatrician/dermatologist or indulge in aqua-based moisturizer. It is light, easily absorbed and leaves no oily residue behind
Try covering hair as much as possible either with a scarf or cap

Keep honey and ginger handy: Kids love this sweet potion and will love this in place of horrible smelling cough syrups. Ginger and honey may be combined to relieve itchy throat caused by sudden weather change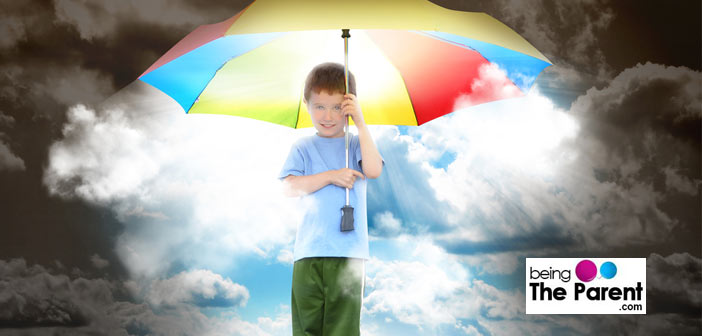 10 Things You Should "Not Do" During The Changing Weather
Underestimate the chill: Summer's haven't knocked in officially. The day temperatures have started soaring but as the sun sets, the coolness sets in
Feed processed, fatty and sugar loaded food: Foodstuffs such as potato chips and Coke absorb water and are unhealthy. Feed balanced diet
Serve chilled drinks and ice creams: Expect tantrums for ice cream and avoiding hot food at home during lunch. Don't indulge in chilled drinks as of now. Wait for proper summer to set in. Otherwise your kid may catch cold
Switch on the Air conditioner or cooler: Do not fuss over your kid to relax in an air conditioned room as soon as he comes home from school huffed with hot weather. Remember he may catch cold and the sudden shock from hot to cold temperature may not be adapted well by the body. Ask him to first wash his face and hands with normal water, drink water and sit under fan. This will allow his body temperature to drop to normal
Set him free outdoors: This weather is highly characterized by allergies being contracted through air. This is the season of pollination and they are highly present in the air along with pollutants

Try to keep your kid indoors during periods of breezes
Get him a mask when he goes to play outdoors
Advise other children's parents to do the same for their kids. This will protect from respiratory problems, allergies and eye infections

Ignore hygiene: With all the news about H1N1, it's all the more important to teach your kid to wash hands frequently especially before meals and touching face or mouth. Read more about Swine Flu here
Skip exercise: Whatever the weather, engage your little one in light exercise or physical activity. How about a morning walk during sunny days and turning on the Nintendeo Wii during rains for a virtual tennis match? This will keep the kid active and fresh air as well as sunshine will do good to his body
Switch frequently from hot-cold environments: Try to maintain a stable temperature, hopping from an AC car to hot sun and back to the AC mall can make the child feel sick because the body is not able to adjust so quickly
Eat from unhygienic places: There are plenty of viruses in the air and sudden changes in the weather harbour breeding of bacteria. Best to carry your own food and water if travelling
Underestimate the mosquitoes and bugs: With pools of water from yesterday's shower and scorching heat of today noon – this is surely fueling the growth of mosquitoes and bugs. Keep your child protected by getting mosquito nets, repellents and maintaining hygienic surroundings
As Mark Twain rightly said, "Climate is what we expect, weather is what we get". Being prepared for changes and being knowledgeable is the right way of facing weather changes, which are beyond our control. Follow the above tips and keep your child protected against the challenges of changing weather. Exercise, eat well and be happy – the mantra to keep fit!