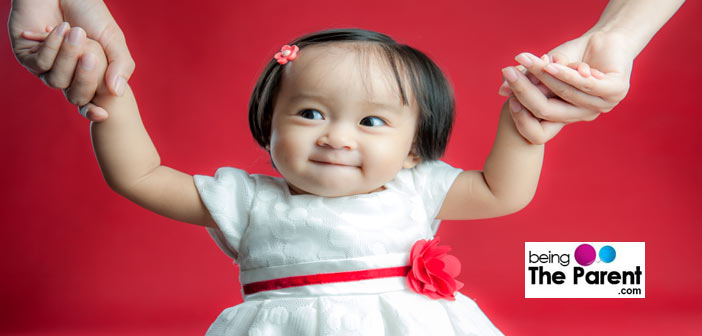 Bracing the legs is a reflex that your baby is born with. When you hold your baby against your lap, you will find that he tries to brace his legs- no, he is not trying to stand, for his legs are not strong enough, but this is his natural instinct. Standing is a very important milestone for your baby, as it lays the foundation towards independence, which is walking. Before your baby can lift herself on her legs, and support her weight, she will need to gain some muscle strength and coordination. Generally, babies learn to roll and sit before they start to enjoy the view from the top. However, some babies directly pull themselves up and surprise you with standing.
When Will My Baby Stand?
Standing is the baby's first step to learn walking and usually happens after some time of crawling. Babies start to try bearing weight on their legs soon after they turn 6 months. Yes, your little one's legs are still developing strength, and hence it will be sometime before she can bear some weight on those teeny-weeny legs. Somewhere between 8-10 months your baby will learn to stand on her feet holding some furniture or by taking wall-support. Some babies develop standing (without support) skills during the 9th month. Some babies learn to stand without support even before their first birthday. It must be noticed that all babies are different and learn in different ways and time. Some babies simply skip the crawling stage and pull themselves up to stand straightaway. Once your baby is able to stand without support, she will soon start taking baby steps too. But there are some who start walking first and then learn to stand without support on the floor. The development of the baby in both the cases is same and perfect. One the baby figures how to balance herself on the legs, she will try to sit but will fall. That is because she hasn't yet figured to bend her legs at the knees and get down. Yes, that is some hard work there!
One thing which you must keep in mind is that there is no defined time of any learning or skill. If your baby is not ready to stand by ten months, you should neither force her nor get disappointed in her, wait for some more time. You can definitely encourage her to stand.
How Can I Help My Baby Stand?
When you hold your baby, your baby is likely to bounce up and down, thus strengthening her muscles. Once she's rolling, crawling, and cruising nicely, she'd like to take the view from the top. Place some safe furniture in the room so that baby can pull herself up to standing position using it. Make sure the edges of furniture are not sharp to avoid accidents. Make her sit on the floor and keep her favorite toy at some height like on a sofa or a bed. Let her try to stand up to reach to the toy. She would learn to maintain balance while standing. There are many push toys which babies use to maintain balance while standing and later they learn to walk using these. Once the baby learns to stand with or without support, she is very likely to hurt herself with anything. Sometimes, babies do stand up with support but are unable to figure out how to sit back again! If she cries because she cannot sit back, show her how to bend her knees and she will pick it up soon.
Cute little baby-things!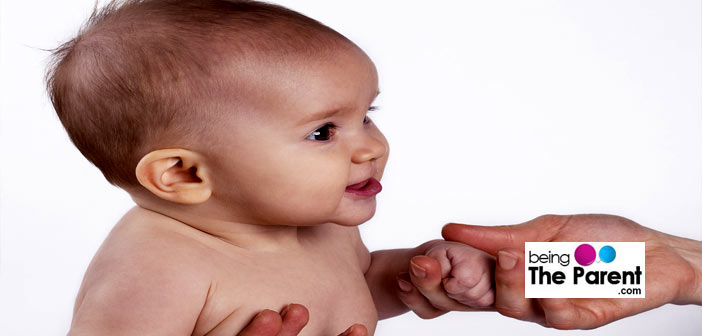 Developing Fine Motor Skills
Along with these large motor skills her fine motor skills are also being sharpened. By now she would start saying some words like "bye" "mamma" "dada". You can introduce some basic discipline to her like when she tries to hold footwear and bring it to her mouth. Say "No" gently. Soon she would start understanding what is allowed and what is not! She may try to pick and grab small items using thumb and forefinger. Once she learns to stand herself up, she might repeat it several times. You may feel she's tired but she would be very enthusiastic about her new skill. When she knows how to maintain balance on her feet and stand without support or without holding anything, her first step is too close.
How Can I Encourage My Baby To Stand?
Encourage your baby by offering a lot of praise, hugs and kisses. Give her a lot of physical support, applause as she will look at you after she balances her, and cuddle her when she falls on her bum – which would be pretty usual. She might cry and get a bruise or two, but this is a part of growing up. Arrange playdates and give her plenty of time to hone and stimulate his interest and muscle development.
My Baby Is 12 Months Old, But She Doesn't Stand
If your baby is not able to crawl, or stand with support at the time of her first birthday, seek the opinion of a pediatrician. In case of premature babies (babies born before 37 weeks), achieving these milestones may be little delayed, so give her a little more time.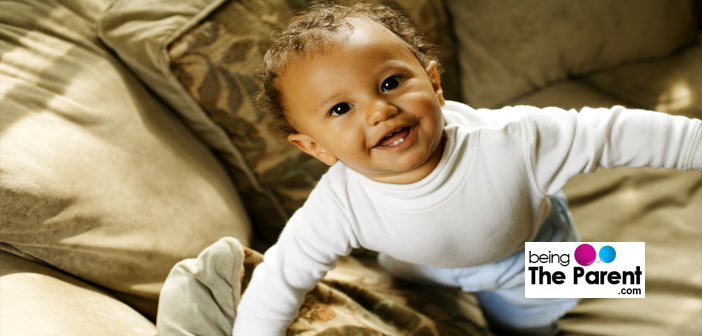 Preventing Accidents
Parents should get prepared to run here and there after their little one. A baby covers distance with great speed, so be sure there is no hurdle in her path. You need to be around always when she practices standing or holding furniture to stand. The most challenging task is to watch and secure your baby. Be sure to add more nutrients and healthy foods in her diet to keep her energy up for all the mischief she does!