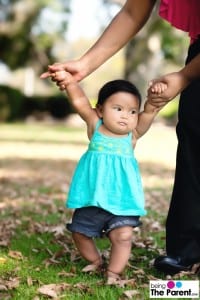 A baby's first steps are a moment of rejoice for the parents and echoes independence for the baby. Once the baby learns to pull herself up for standing, she will soon start balancing herself on her tiny feet and take some baby steps tip-toeing – filling you with immense joy. Initially, she may not be able to control and balance her body perfectly. You may see her walking fast with no control or taking a few steps and falling down. By the time baby becomes one year old, her leg muscles develop and gain enough strength to support her while walking.
After gaining good control over the standing position, the baby starts to cruise – from one support to another and takes a small step unconsciously between objects. If distracted, she may loose her balance and get toppled easily. A little practice here and your little one is set to explore!
Babies love this new independence and are likely to hurt themselves while walking or learning to walk. Most of them start walking during 12-13 months of age. Make sure the area where your baby takes her small steps is safe enough to protect her. At the age of 15 months she would love to pull or push her toys along while walking. By the time she touches her 16th month she may start climbing stairs. Reaching towards 18 months she would be proficient walker. As your baby starts walking you should now invest in good shoes for her. Prefer going for good quality cushioned shoes which keep your baby's soft feet comfortable while walking. Every day, she develops something or the other for herself – like blabbing broken words, mumbling sentences, bending easily to pick something while walking and then continuing on her cruise, taking few steps backwards and look at you while smiling and going farther.
Many parents prefer walkers, once their baby learns to stand, to help baby learning to walk. It is good but only under supervision. Babies do not know how to control themselves and when placed in the walker, they go so fast that sometimes they hurt themselves. There are cases where babies left unattended with walkers suffered serious injury. Bring some toddle toys with stable base which she may use while walking. If your baby is not able to walk by the time he is 12 months, you should encourage her. Stand in front of her and cheer her up to move forward by showing any toy or anything she loves. Some absolutely normal babies do not take their first steps before they are 16-18 months old. If your child is taking time and is not able to walk like other babies ,just wait for some more months and encourage her ,support her ,love her. If she is not able to stand with support by the age of one year or not able to walk by the age of 17-18 months, you should consult her doctor once. Some babies walk holding some items in the hands like any doll or just a ruler or even a pen. They are afraid of walking without support so they grab some or other item to feel relaxed while walking. It's all normal and lovely to watch them like this! These moments will never come back so enjoy every single achievement of your baby.