Tea tree oil is one of the best essential oils that can be used for babies. With its antiseptic properties, this oil is not just used to cure microbial and skin infections in babies, but also burns, cuts, scrapes and diaper rashes. Besides this, does this oil serve any other purpose? Is it completely safe to use on babies? To know answers to these questions, keep reading.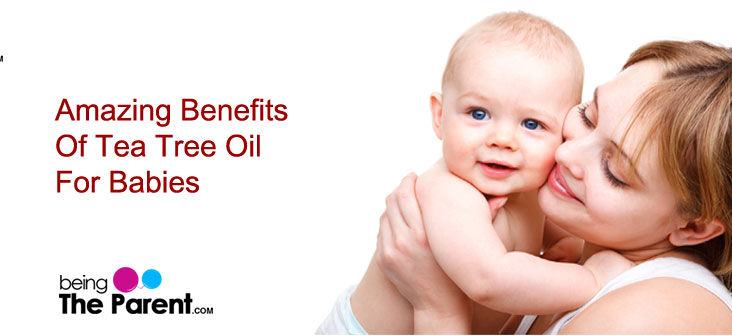 What Is Tea Tree Oil?
8 Amazing Health Benefits Of Tea Tree Oil For Babies
How To Use Tea Tree Oil On Babies?
5 Simple Home Remedies For Using Tea Tee Oil On Babies
Precautions While Using Tea Tree Oil On Babies
What Is Tea Tree Oil?
Tea tree oil, also popularly known as Melaleuca oil or oil of Melaleuca, is derived from the leaves of tea tree (botanically known as Melaleuca Alternifolia). This medicinal oil is formed when leaves and twigs of tea tree are steam-distilled at low pressure. Possessing the ability to cure all sorts of infections and ailments, tea tree oil is a natural solution to treat health conditions in babies, adults and old alike.
8 Amazing Health Benefits Of Tea Tree Oil For Babies
Acts as a natural antiseptic: Having powerful anti-bacterial properties, tea tree oil can be used to cure most dangerous bacterial infections in babies/infants. From insect bites, wounds to diaper rashes, this miraculous oil can treat anything effectively if used properly
Has antimicrobial and anti-fungal effects: Tea tree oil has the ability to kill harmful microbes such as fungi and protozoa and prevent them from causing fever and fungal infections in babies
Cures wounds faster: The oil of tea tree is known for faster healing of wounds in babies. Also, the oil is helpful in reducing or neutralizing the scars that appear post chicken pox, eruptions, boils and other infections. Thanks to its cicatrizant property!
Acts as an expectorant: If your baby is suffering from cold or a cough, congestion, bronchitis or similar health trouble, the condition can be relieved by applying tea tree oil. This is because the oil has expectorant properties. Simply rub the oil on your baby's chest to provide him quick relief from any of these problems
Acts as a stimulant: Tea tree oil strengthens your baby's immune system by offering a stimulating effect on his hormone secretion and blood circulation. As a result of this, your baby is less likely to fall prey to various infections and ailments
Promotes good health: The oil of tea tree has balsamic properties that in turn can boost your baby's overall health
Acts as a sudorific substance: Toxins may accumulate in your baby's body from time to time. This, in turn, may lead to complicated health problems. Tea tree oil acts a sudorific substance and helps to flush all the harmful toxins from your baby's body. Apart from this, the oil cleanses pores, drains excess water and salts and helps increase sweating
Has anti-inflammatory properties: Due to its anti-inflammatory properties, tea tree oil is known to minimize muscular sprains, pains, and aches in babies. This oil is known to promote circulation in the affected area, thereby speeding up the healing process
How To Use Tea Tree Oil On Babies?
Tea tree oil is an essential oil so it is available in a concentrated form. It should not be applied directly on baby's skin. It is important that you dilute it with a carrier oil like coconut, sweet almond or olive oil before using it on your baby's skin.

5 Simple Home Remedies For Using Tea Tee Oil On Babies
For treating cuts and burns: To cure cuts and burns in babies, prepare a tea tree oil solution by diluting it with a carrier oil. Add 1 drop of tea tree oil for every teaspoon of the other oil. Clean the infected area with water and then apply the tea tree oil solution on it. Repeat every two or three hours. Cover the wound properly to prevent any possible infection
For relief from diaper rashes: Tea tree oil when used in combination with coconut oil can work for treating diaper rashes. These types of rashes are characterized by extreme redness and well-defined borders. To cure such rashes, combine 3 tbsps. of coconut oil and 4-5 drops of tea tree oil. Apply this oil solution to the affected area. Repeat with each diaper change
For curing insect bites: To get relief from insect bites prepare a tea tree oil solution by diluting it with a carrier oil. Add 1 drop of tea tree oil for every teaspoon of the other oil. Apply the tea tree oil solution to the cleansed, affected area. Repeat every two or three hours. Note: Insects hate tea tree oil and for this reason, the latter can also be used as a natural insect repellant
Baby wipe solution: Create an effective baby wipe solution at home with tea tree oil. All you need is 2 cups of distilled water, 1 tbsp. of baby oil, 2-3 drops of tea tree oil, 2-3 drops of lavender oil. Mix all this and store it in a spray bottle. Keep the solution near the changing table and wet your wipes with this solution during every diaper change
For treating cradle cap: Mix a drop of tea tree oil with olive oil. Leave on for five minutes and then rinse. This will help in treating cradle cap in babies
Precautions While Using Tea Tree Oil On Babies
Undoubtedly tea tree oil is safe to use on babies and offers several benefits when it comes to their health. But it is seen that this oil can trigger hormonal changes in babies. Also, only topical application of tea tree oil is recommended in case of babies. Tea tree oil is toxic in nature so oral consumption of this oil can be fatal for your baby. So take extra care while using this oil on your baby. Make sure to consult your pediatrician before using this oil for your baby.
Tea Tree oil is a magical oil that can treat various health conditions and problems in babies. As a mother, you are always concerned about your baby's health so always consult your pediatrician before beginning to use this oil on your baby's skin.
Did you use tea tree oil for treating any kind of infection on your baby? How did you use it? Do let us know your experience in the comments section below