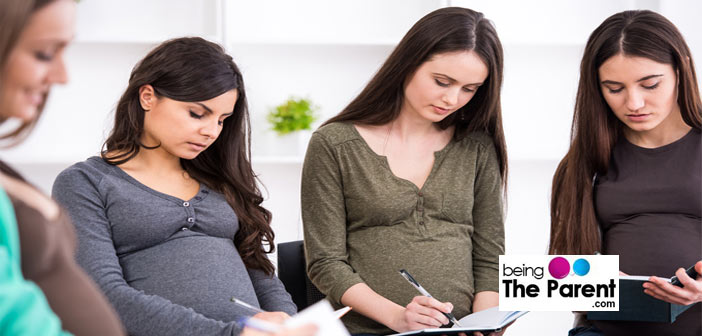 Gloria Steinem has aptly said, "Childbirth is more admirable than conquest, more amazing than self-defense, and as courageous as either one."
Birthing classes or antenatal classes are the classes to help you and your spouse prepare themselves for labor, baby's birth and new parenthood. They focus chiefly on birth, labor and help you sail through the newly acquired parenthood with ease and finesse. They help you your newborn's requirement and how to handle the baby. Giving birth is a miraculous phenomenon but a little complicated one. Birthing classes can help you overcome all your hidden fears and apprehensions. In birthing classes the experts give you information, about issues related to childbirth, cesarean birth, breathing techniques, vaginal birth, etc.
Are Birthing Classes Necessary?
The antenatal or prenatal classes are important as they prepare the expectant mother both mentally and physically to cope up with labor and the process of giving birth. It evades all the misconceptions associated with pregnancy and delivery processes. You will be given insights on vaginal and C-section birth, potential complications, coping tips and techniques, and how your partner can help you in this hugely transitional phase of your life.
What will I learn from Birthing Classes?
A child birth class would help prepare yourself for labor and birth. You will be provided information on labor, birth, parenting and your fears would be addressed. Especially if you are a first time parent, you would find these child birth classes especially useful as your questions, expectations and worries would be addressed. Techniques and basics covering labor, breastfeeding, newborn care, early parenting, healing etc are covered which would help you make informed decisions. Not only will you be equipped with information by experts, you would also know a lot of facts from hear-say when it would be about labor, birth and newborn care.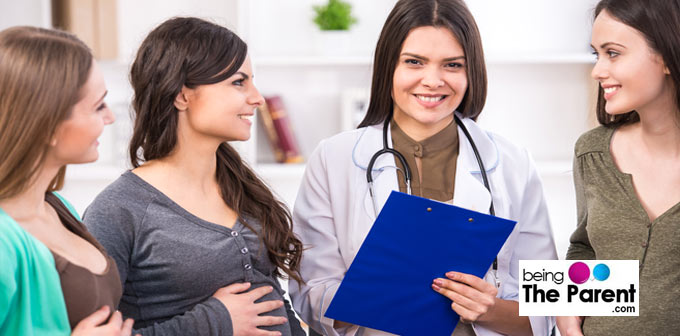 Benefits of Birthing Classes
The benefits of birthing classes are enlisted as under. The birthing classes provide you a platform to get answers for you various queries and help you explicitly understand main issues related to your baby's birth.
They disseminate information about the following:
The growth and development of your baby
Warning signs if something is seriously wrong
Making pregnancy, delivery and labor easy and comfortable
Relaxation and breathing techniques
Recognizing labor pains
Signs of labor
Normal advancement of labor and birth
Techniques for dealing with pain
When you should call a doctor
What all your partner can do to help you in labor
Pain relief alternatives during labor
Role of assistant during labor
What to avoid during pregnancy
In a nutshell everything related to pregnancy, labor and delivery is covered under these classes' curriculum.
They also tell you about the ways to handle newborn, breastfeeding, and tackling the emotional aspect of being a parent.
When to start taking a Birthing Class?
You can start taking a birthing class form the first trimester itself. Birthing classes offered in early pregnancy tells you about the changes occurring during the first trimester of pregnancy while some offer information about the late pregnancy are aimed at issues related to labor, delivery, post-delivery issues, breast-feeding, etc.
Choosing the Right Birthing Class
Choosing the right type of class depends largely upon your beliefs and personality. If you are a social person and love to meet and share with others, then a small and intimate class is good for you. If you are not fond of talking and sharing too much, then a large class is ideal for you.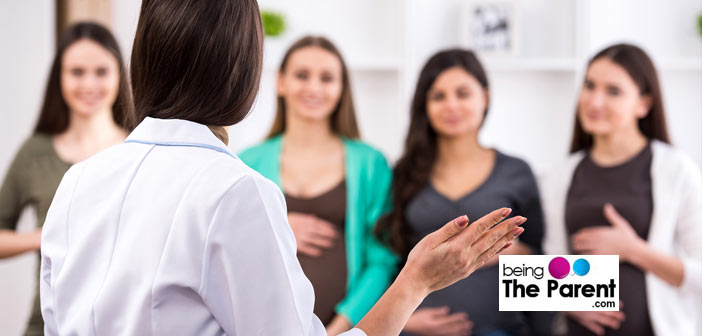 Before actually joining a birthing class, you should try to find out what all it encompasses and its underlying philosophy.
Ask your teacher the following questions
Teacher's background and what sort of training has she/he taken?
Whether the teacher has any professional certification form a nationally recognized organization?
Is there any particular method that they follow?
What are the topics of discussion, lectures and practicing techniques?
Types of Birthing Classes
The choice of childbirth classes would depend on your needs and location where you are. If it is pain management by natural means that you want to know, then you should enroll yourself with an instructor who can teach you breathing and comforting techniques. In the other case, you might not want someone who is a strict antidrug instructor.
Lamaze Classes
These classes are offered by corporate hospitals in Indian metropolitan cities such as Mumbai, Kolkata, New Delhi, etc.
The Lamaze philosophy is "birth is normal, natural, and healthy" and that "women have a right to give birth free from routine medical interventions." Lamaze empower and educate expectant mothers so when the need to give pain relief medication arises, they are ready to give their consent and are well informed.
Lamaze classes enable the would-be mothers to rely on their inner wisdom and intelligence and make their choices wisely about their own health as well as the betterment of the baby
Bradley Method Classes
With the philosophy that childbirth is a natural process and emphasis on diet and exercise during pregnancy, the Bradley classes teach women to manage pain with deep breathing techniques. They also involve the partner as an integral participant to help women through the labor. Bradley classes are also called as "Husband-Coached Birth" classes
CAPPA India
CAPPA India provides comprehensive professional training institution based in Mumbai. It aims at providing information and education to the expectant mothers regarding childbirth, lactation, pregnancy, fitness during pregnancy, labor, delivery and postpartum issues.
CAPPA empowers, advocates and connects with childbearing women and aims to forge productive and positive association between organizations supporting healthy and well-informed families


Several other types of birthing classes are also available, based on the above mentioned methods or on yoga techniques to deal with pain. Hypnobirthing courses that use deep relaxation and self hypnosis as pain management techniques are also available at many places.
How can I find a Childbirth Class in my Area?
Finding a birthing class is not a tough task. You can ask about them from your family doctor, obstetrician, friends or midwife. You can find antenatal classes offered by:
Private teachers
Hospitals
Midwives
Videos and DVDs
Health care providers
Community health institutions
National childbirth education institutions
Many maternity Hospitals in Hyderabad and Chennai offer prenatal classes for pregnant mothers. Antenatal classes are also offered by hospitals in Mumbai.
Pain is the most important and deadly fear of a pregnant woman and the antenatal classes can help you overcome this fear and help you cope with pain and make the process of giving birth easy and comfortable. Nevertheless a memorable one.
"The pain of childbirth is not remembered. It's the child that's remembered."