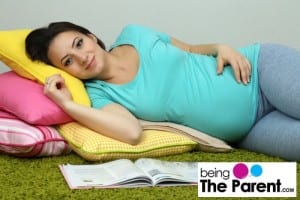 Apart from the beautiful motherly feeling, pregnancy also gives you certain physical changes, which are the result of your hormones. Every body reacts differently in pregnancy but all do get transformed to support the little one inside you. Your belly grows multi-fold times, your breasts become tender, your legs experience affliction.
Here is how your breasts react in all three trimesters during pregnancy.
First Trimester
You will experience tenderness in your breast starting in between the 4th week to 7th week and lasting through first trimester. Breast tenderness usually occurs due to the changes in levels of progesterone and estrogen hormones in your body. Additionally, the fat development and speedy flow of blood circulation towards your breasts are also the reasons for tenderness. Your breasts are cultivating colostrum for your little one; they ought to experience few changes. They might become enlarged in size, and generally go up a cup size or two if it is your first pregnancy. Because the skin stretches, you may feel itchy and stretch marks may also appear.
Second Trimester
Most of the breast tenderness experienced in first trimester will diminish as your pregnancy breakthroughs the second. However, the increase in the size of your breasts will make headway. The regular flow of blood circulation to your breast will increase the sizes of your nipples and areola two fold and that will remain even after delivery. Your breast skin will darken and remains throughout your pregnancy. Get ready to maintain a new stock of varied bras. Get access to a supportive bra to ensure comfort and convenience to your fully developed breasts.
Third Trimester
This is the time when your breasts are fully prepared to feed your baby making you feel heavier and somewhat tender. Thanks to the hormone changes that again take place when you approach the end of your pregnancy. Your breasts produce colostrum- the first milk produced after delivery. Therefore, they continue to increase with your tummy and grow to the fullest size. You will encounter mini bumps forming near your double sized areola called Montgomery's tubercles. These tubercles are formed with the objective of providing comfort while breast-feeding. The oil produced through those bumpy glands helps in smooth feeding. Your nipples will become flexible.
These changes are pretty normal during pregnancy, and be assured that they are good to deal with the entire process of pregnancy and childbirth. However, if you feel something's not quite right, do consult your OB right away. Else, enjoy the changes and dwell in the fact that a baby is on the way!