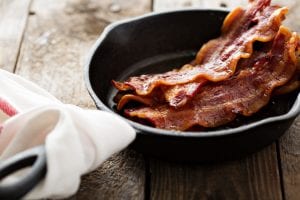 It is a known fact that a healthy pregnancy is the result of good care. One needs to eat well, stay happy and keep doing moderate exercises as well as this is beneficial for the development of the baby which is inside the womb. A nutritious diet is very crucial as the deficiency of few nutrients can lead to adverse effects for both the mother and the baby. As per the medical practitioners, the best foods for fulfilling the nutritive needs is a diet with variation and enriched with meat dishes and fruits. It is recommended to have chicken, meat, fish but there is a big question if it can be consumed during pregnancy.
Given below is an insight of the nutrients one gets from bacon, how safe it is for pregnant ladies, the frequency of eating it, its benefits and drawbacks, the alternatives to be taken instead of Bacon and few recipes as well.
What Is Bacon?
Bacon refers to side pork, which indicates it is the portion taken from the side of the pig's body. This meat is usually cured with salt and sodium nitrites. Smoking and curing of bacon helps to:
Cut off the growth of harmful bacteria
Prevent spoilage
Give the meat its characteristic pink color and flavor
Most of the flavour comes from the fats that are present in the meat and is responsible for the crispness and softness of the bacon.
Can Pregnant Women Eat Bacon?
Bacon is a yummy add-on for the pregnancy diet but the meat needs to be cooked properly. Bacon is generally smoked and salted with salt, some spices, additives and even sugar to enhance its taste. So having this in abundance would be dangerous for the health. The Foetus's immune system is not so adaptable to fighting bacteria as is an adult, so one has to be cautious. It is best to take expert advice from a medical practitioner on the diet and finding out if consumption of bacon is safe under the conditions of pregnancy.
How Often Can You Eat Bacon During Pregnancy?
Bacon is enriched with saturated fats and hence it should be moderately consumed by women who have a higher BMI. During pregnancy generally, the calorie intake is on the rise, so consumption of bacon should be very limited. As per medical experts, the ideal intake of bacon daily is 13g in case the person requirement is 2000 calories daily.
What Are The Benefits Of Eating Bacon During Pregnancy?
Increase Brain Power:  Consumption of bacon help in developing the brain of the foetus and enhances memory as well.
Sumptuous Meal: As bacon is full of saturated fats, it makes one feel full once taken. And being low in the carbohydrates it regulates the weight of the women who are on the heavier side during the pregnancy phase.
High Protein Content: Bacon is loaded with protein which is important for the development of the foetus, nourished hair, healthy bones and supple skin as well as the development of the muscle.
Antioxidant Carrier: Bacon has antioxidant properties that assists in combating diseases and even promoting the thyroid development.
Source Of Phosphorus And Vitamin B: Phosphorus and Vitamin A are essential for the proper growth and maturity of the foetus and the nervous system as well.
What Are The Risks Of Eating Bacon During Pregnancy?
There are many pitfalls that are associated with the intake of bacon during the pregnancy phase:
Listeriosis:  This is one of the most common bacteria that can lead to miscarriage, preterm labour or even stillbirth and can also lead to severe infections or disabilities in the foetus like paralysis, intellectual infirmity so it is best to cook it properly before eating.
Saturated Fat:The level of the cholesterol in the body goes up if the fat consumption is more and bacon has fats which are not good for the functioning of the heart and blood vessels.
Preservatives: The mother and the baby should eat should not eat bacon which has preservatives as it is not good for them.
High In Sodium: Bacon is a high-sodium foodstuff. Roughly three slices of bacon carries around 700mg of sodium. Excess sodium intake during pregnancy increase the risk of high blood pressure, preeclamsia, swelling, etc.  Moreover, high blood pressure during pregnancy increase your risk of contracting heart disease and stroke later in your life.
Bacon should always be consumed when fresh or within a few days as storing and then eating needs good care.
How To Cook And Handle Bacon Well During Pregnancy?
When buying bacon, opt lean pink meat with little fat.
Watch out for the expiration date
Wash your hands and utensils thoroughly before and after you touch bacon
Always uncooked bacon should be kept far away from other food items like fruitds, vegetables, fish, meat, etc. .
Cook the bacon over a stove rather than in a microwave oven. Cooking in the stove helps to kill the bacteria completely.
Cook until it turns red and crispy.
If you are going to eat leftover bacon always reheat at 165°F.
Bacon should always be consumed when it is fresh or after few days as storing and then eating needs good care.
What Are The Alternatives For Bacon During Pregnancy?
In case one is not in favour of consuming bacon, other substitutes that can satiate the craving for bacon are listed as under:
Turkey Bacon: This has a taste which is similar to bacon and has a low content of cholesterol and fat, not too crunchy as such.
Chicken Bacon: This also has a low fat and sodium content and suitable for the people who require more protein, slight calories and very little salt.
Lamb Bacon: Pork bacon and lamb bacon have an equivalent amount of fat content, but isn't too crunchy.
Vegetarian Bacon: For all the people who do not consume non-veg, it is an ideal option and is made of tofu or tempeh. It has less fat content and high protein as well as dietary fibres.
Bacon Recipes For Pregnant Women:
Some bacon based dishes that can be prepared at home and are safe for the pregnant women are listed as under:
Spinach and Bacon Pasta
At first take some oil in a pan and put it for heating, now add 1 tsp of minced garlic pieces and sauté for a while.
Now add ¾ cup chopped spinach and sauté for a little more time.
Add a cup of chicken broth to this and cook till it completely dissolves and cannot be seen separately.
To this, add 250 gm cooked and drained whole wheat spaghetti.
Finally let it cook on low flame for about a minute and in the end season the same with 2 cups of grated smoked cheese, slight pepper and the bacon strips.
Broccoli Salad With Bacon
Take a huge bowl and stir in 1 tbsp. of cider vinegar,1tbsp of mustard, 1 tsp sugar,1 small grated garlic clove, ½ cup mayonnaise,-½ tsp ground pepper.
To this, add 1 cup of finely chopped cauliflower, 4 cups of finely chopped broccoli, ¼ cup of finely chopped red onion, 3 slices of cooked and chopped with 3 tbsp. roasted sunflower seeds.
Mix all of them till they are densely coated.
Chill for a day and consume.
Thus, it can be seen that like all other meats or foods, bacon's consumption has to be in moderation for the adverse effects it can cause to the mother and the foetus's health. It is best to select foods that have no preservatives and cook bacon thoroughly in order to keep the pregnancy a healthy one and keeping both the mother and the baby safe as they are precious.