Broccoli is indeed a super food. This tree-shaped, green-colored distant cousin of cauliflower and cabbage, is known to have many health benefits. Their benefits are not confined to nutrition, where it scores very high thanks to its high vitamin, mineral and antioxidant content. It also has many medicinal and health benefits, including cancer prevention.
So, now that you are pregnant, are you wondering how Broccoli can help? It can help and it can help plenty. Read on to understand various health benefits of broccoli during pregnancy.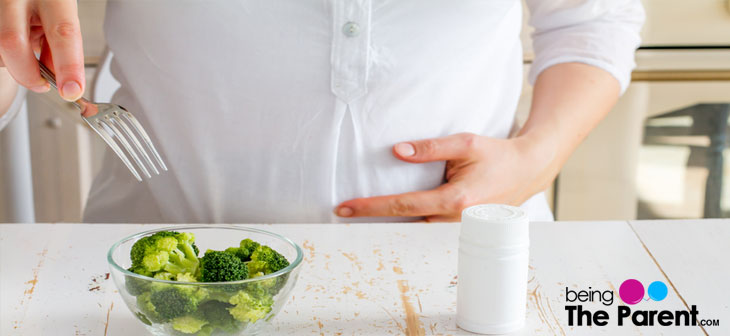 10 Benefits Of Including Broccoli In Your Pregnancy Diet
How To Select Fresh And Healthy Broccoli
How To Include Broccoli In Your Pregnancy Diet
10 Benefits Of Including Broccoli In Your Pregnancy Diet
Broccoli can prevent constipation: Constipation is one thing that bothers most pregnant women. The iron supplements, hormonal changes, and metabolism changes – all of these can slow down and impact the bowel movements. Broccoli is full of fiber, both soluble and insoluble. It can retain water, trigger bowel movements and hence help avoid constipation
Broccoli can prevent anemia: Broccoli is a great source of iron and folic acid. That is right, you take supplements for them. If you are adding a lot of broccoli in your diet, ask your gynecologist whether you need to take the tablets
Broccoli can help regulate diabetes: Gestational diabetes is another major problem among pregnant women. This happens because your body does not produce enough insulin to break down the sugar that you are consuming. Did you know that broccoli has the ability to regulate the sugar content in your body and thereby spare the use of insulin?
Broccoli protects your skin from harmful radiation: Broccoli is great for skin. It has many vitamins that are known to be great for skin, such as vitamin A, E, B and K. So having broccoli can brighten your pregnancy glow. And what is more, it is also known to protect the skin from harmful effects of UV radiations
Broccoli can strengthen bones: Pregnant women are susceptible to bone related problems such as osteoporosis during pregnancy. Broccoli has calcium, magnesium, zinc and prosperous – all of which help make bones healthy and strong
Broccoli can help improve immunity: You do not want to catch any infections while you are pregnant, especially the ones that can compromise the development of the baby in the womb. The vitamins and minerals present in broccoli, such as beta-carotene and selenium, can boost your immunity and keep you and baby away from unwanted infections
Broccoli can improve your eye's health: The beta-carotene that helps improve immunity is also great for your vision. The vitamin A, which is also abundant in broccoli, is also amazing for ensuring good eye health. So, eating broccoli can keep eye ailments at bay during pregnancy
Broccoli is known to prevent cancer: This might sound incredible, but the phytochemicals that are abundant in broccoli are known to have anti-cancer properties. If your diet is rich in broccoli, it might ensure that you and your baby are protected from cancer, not just during pregnancy, but throughout the life
Broccoli can help keep allergies at bay: The vitamin C present in broccoli has allergy-relieving properties. It is known to clear various allergy symptoms, including clearing out sinuses that are blocked. However, be aware that broccoli can cause allergic reactions in few. If you notice a rash or any other kind of discomfort after eating broccoli, may be it is better to keep it off your plates
Finally, broccoli ensures a healthy pregnancy: Overall, broccoli helps eliminate many of the problems pregnant women face, such as diabetes, osteoporosis, anemia and so on. In addition, it is a great source of vital minerals and vitamins. The vegetable is also a great source of folate that can help prevent many neurological problems in your baby
How To Select Fresh And Healthy Broccoli
It is very important that you eat fresh vegetables during pregnancy. Buying broccoli can be really tricky. Simply follow these tips which will help you select fresh and healthy broccoli.
Always pick fresh, dense and bright dark green colored broccoli heads
Avoid buying yellow colored ones as they indicate over-mature broccoli
Choose broccoli with firm stalk and stem and not the ones with hollow stems
Avoid buying dried or wilted broccoli florets
How To Include Broccoli In Your Pregnancy Diet
There are many recipes in which you can use broccoli. Some of the interesting ways to eat broccoli are:
Add chopped and steamed broccoli to any fresh salad
When craving for something simple, just stir fry broccoli with vegetables, garlic and herbs in olive oil for a healthy side dish
Add steamed broccoli to your pasta or use it as a pizza topping
Add broccoli florets to your soups
Make delicious dips out of broccoli to go spread on your parathas or bread
When yearning for something different, but easy to make, simply sauté broccoli with baby corns and carrots. It combines well with these vegetables. You can make a delicious baked dish with these vegetables
Just like you cook any of the vegetables in Indian style, you can cook broccoli too
Bright and green broccoli is as good to look at as it is to eat. It is one of the healthiest vegetables available in the market today. You need to be very careful what you eat during your pregnancy. There are many food items that you should consciously include (Best Energy Foods During Pregnancy) and many food items that you should consciously avoid (8 Indian Foods That Can Be Dangerous During Pregnancy). For a more detailed month wise diet tips, refer to our articles on foods to eat and avoid during First, Second, Third, Fourth, Fifth, Sixth, Seventh, Eighth and Ninth month of pregnancy.
For more articles on similar lines, refer to The Pregnancy Food Pyramid and Top 8 Ways To Deal With Food Cravings During Pregnancy