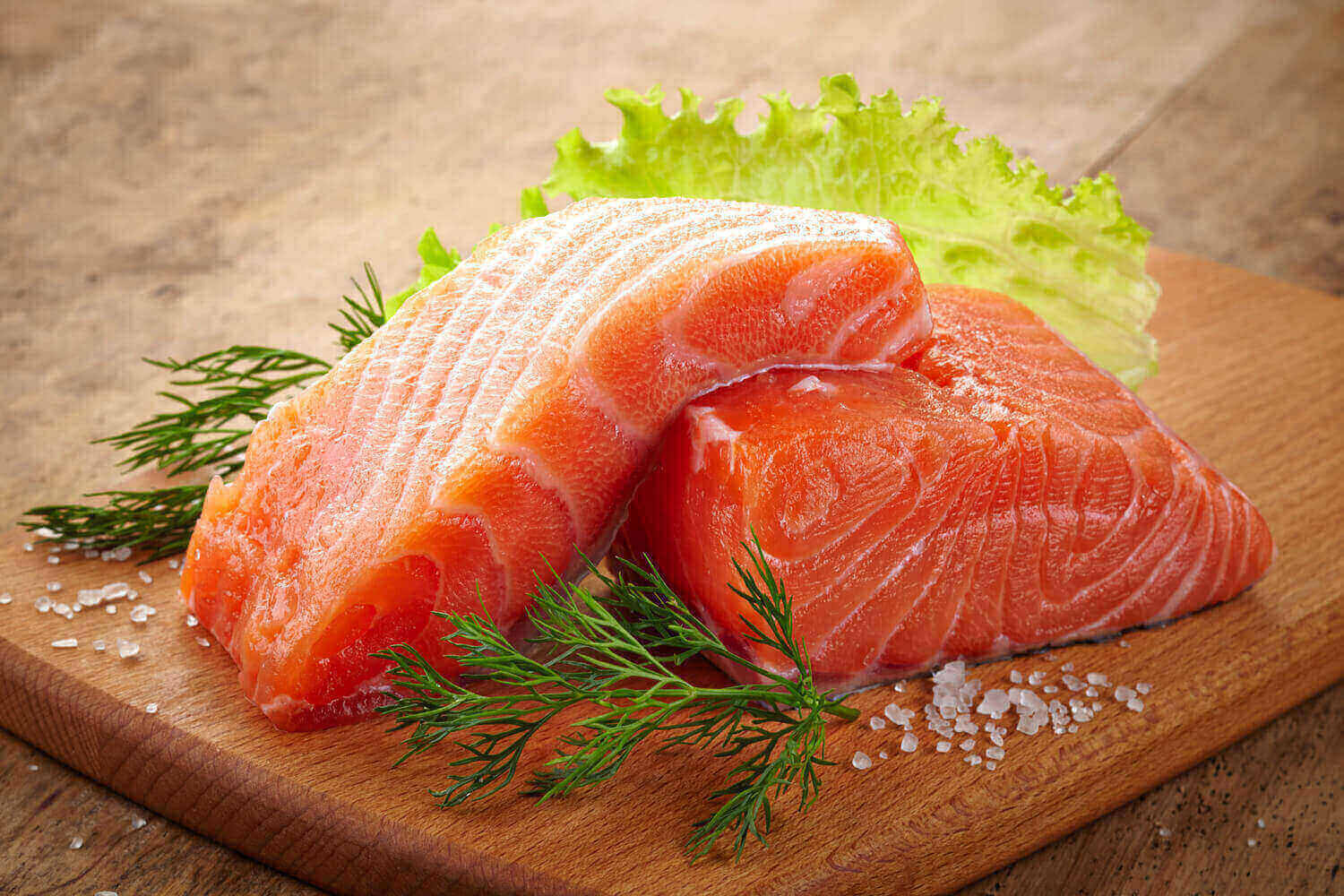 During pregnancy, among other things, diet is very crucial. Most foods are healthy, when consumed in moderation but some may cause harm to the developing fetus and therefore best avoided. It is a good idea to consult with your doctor at the beginning of every trimester and make a list of "can eat" and "avoid eating" foods so that you know exactly what to eat and stay healthy throughout the three trimesters.
Salmon is a fish known for its numerous health benefits that come under the "can eat" list. So is it safe to eat salmon during pregnancy. Read the article to know more.
In This Article
Seafood During Pregnancy
Seafood lovers need to be cautious. Most fish and shellfish are rich in Omega 3 fatty acids, protein, iron and zinc. However large fish like sharks, tilefish and swordfish contain high levels of mercury which can accumulate in your bloodstream over time if you consume it regularly. This in turn could cause considerable damage to your baby's brain and nervous system and impact its vision and hearing capabilities as well.
Therefore, it is important to know that some fish need to be consumed in moderation. Food experts and health agencies recommend 12 ounces of seafood in a week. Again, contaminants in fish is another cause for concern during pregnancy, so it is safer to be careful to ensure that the fish consumed is fresh and cleaned thoroughly.
Is It Safe To Eat Salmon During Pregnancy?
The good news for women who are pregnant and fish lovers is that salmon is permissible and in fact, comes under the "must have" category with one condition. It should be consumed in the right proportion because excess intake is more harmful than beneficial.
The American Pregnancy Association recommends the intake of salmon as it is quite low in mercury and is a rich source of Omega 3 fatty acids that aids baby's neurological and visual development. Not just that, salmon is also known to reduce the risk of premature delivery and preeclampsia.
Benefits of Consuming Salmon During Pregnancy
Salmon is rich numerous health benefits. Sometimes it is specifically recommended to pregnant women and nursing moms to include it in their diet. Let's take a look at some more health benefits of consuming salmon during pregnancy
Salmon is a rich source of protein and Vitamin B which aid baby's muscle and overall growth and development.
It helps maintain blood pressure and therefore reduces the risk of heart attacks and stroke.
DHA (docosahexaenoic acid) helps in the development of the nervous system of your fetus. It is also known to prevent postpartum depression.
As already mentioned earlier, salmon helps ensure that you don't go in for a pre-term delivery and encounter preeclampsia.
[Read : Know Everything About Your Baby's Brain and Nervous System]
Side Effects of Consuming Excess Salmon During Pregnancy
However, salmon needs to be consumed in moderation as consuming excess salmon can be harmful to your unborn baby, because:
Although salmon is known to contain less mercury compared to other fish, it could be ok for normal adults but prove harmful when you're pregnant. Mercury is known to retard the development of brain in fetus. Therefore, make sure you keep a tab on your salmon intake.
Sometimes fish are known to contain PCB (Polychlorinated biphenyls), a chemical found in fish from polluted water. Salmon is no exception to this.
How to Include Salmon in Your Pregnancy Diet?
Even though salmon is safe to consume during your pregnancy, it is advisable to avoid the raw preparations like sushi due to the risk of harmful bacteria present in it. You can include salmon in your pregnancy diet by poaching, broiling or baking salmon fillets serve it. It can also be served as a side with brown rice and vegetables for a wholesome meal. You can also put it in your salads or make a salmon burger by mixing the fish with whole grain bread crumbs and eggs.
[Read : Shrimp During Pregnancy]
Precautions While Consuming Salmon During Pregnancy
Here are some of the precautions you have to follow while having salmon during pregnancy:
So as mentioned earlier, the best alternative, therefore, is to avoid the raw fish.
Cook/smoke it well. Opt for the organically raised salmon, if possible. If that is not available, remember to scale the skin and cook it well before consuming.
Not just for salmon, but for other fish too—always buy from places that have good storage and are hygienic.
If it's a restaurant that you are eating at, make sure it's a good one.
Avoid canned salmon if possible because it might contain all the essential nutrients but the plastic and resin ingredient used for lining metal cans contain toxins that are harmful. The BPA used for lining food cans are known to cause birth defects and even cancer. So if you must buy canned salmon make sure it is from a reputed outlet and is BPA-free.
Non-vegetarians cannot avoid seafood during pregnancy as it is a storehouse of powerful nutrients that ensure a safe and healthy pregnancy, delivery and post-delivery health. The only option as with every other food consumed during pregnancy is to stay within limits and know what you are eating and where you are getting it from. When in doubt, it is always best to check with your doctor. Pregnancy is a phase filled with food cravings that must be satiated. Enjoy this phase and stay safe.
Did you include salmon in your diet when you were pregnant? Do share your experience with us and also some healthy recipes of including salmon in pregnancy diet.
Read Also: Crab During Pregnancy Is It Safe To Eat?