We all know how important breast feeding is for the baby and how essential a good and nutritious diet is for the mother to produce healthy and nourishing milk. A balanced diet with multiple servings of fruits and vegetables is the best way forward. Further, there are many super foods available in the market that are power-packed with nutrition and help you reach your recommended nutrition target quickly and efficiently. One such super food is chia seed. Here is everything you need to know about chia seeds and how it helps breastfeeding!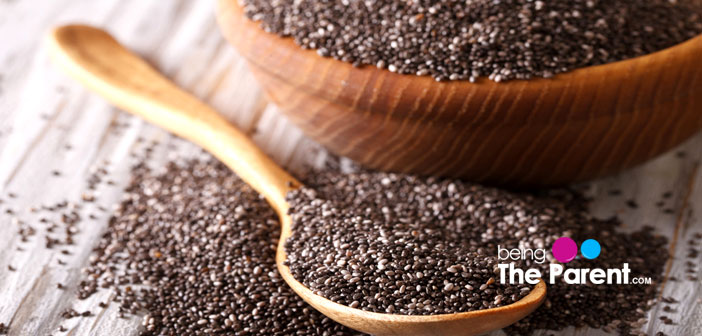 What Are Chia Seeds?
Is It Safe To Eat Chia Seeds During Breastfeeding?
How Can I Consume Chia Seeds?
What Are The Nutritional Benefits Of Chia Seeds?
What Are Chia Seeds?
Chia plants belong to the mint family and is native to Mexico. Chia seeds, from chia plants, are considered as super foods because they contain a high concentration of nutrients such as proteins, minerals, calcium and essential fatty acids. You may be wondering how such tiny seeds can be called as nutritional powerhouse – but that is what they are. Being gluten free and, a single 2 tbsp (24 g) serving of chia is reported to have (1):
calcium equivalent to a half a cup of milk
twice the fiber a cup of oatmeal offers
twice the iron and magnesium as in a cup of spinach
five times omega-3s than a 1/4-cup serving of walnuts
all eight essential amino acids
Is It Safe To Eat Chia Seeds During Breastfeeding?
Chia seeds are healthy, organic and nutrient dense. In fact, it is part of the daily menu in many Central American countries. They are not only "safe" during breastfeeding, they are known to increase the production of breast milk. They are also an excellent source of nutrients for the mother while she lactates. Therefore, as a natural food, it will not harm the mother and child, and is in fact very beneficial.
That said, like any food items, some people might have allergic reactions to chia seeds. If you are someone prone to allergic reactions from nuts or seeds, please consult your physician before you decide to have chia seeds.
How Can I Consume Chia Seeds?
There are many ways to consume chia seeds:
You can use chia seeds as they are in your preparation of oats, upma, or khichdi. It will add super food quality to the dish, without altering the taste or texture
You can powder chia seeds, and add the powder to the atta while you make chapatis or to the dough when you bake bread
You can also soak them in water and drink it as a health drink or add it to your smoothies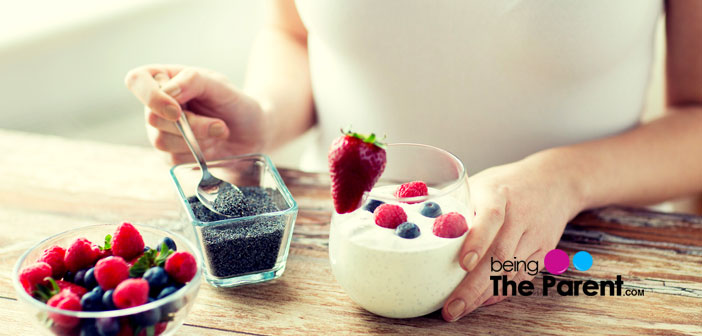 What Are The Nutritional Benefits Of Chia Seeds?
As we discussed earlier, a breast feeding mom benefits a lot by consuming chia seeds daily. Here are some of the specific nutrients (and their benefits) that are in chia seeds:
Proteins: Since chia seeds come from a plant, it contains plant proteins that are easy to digest. Additionally, if you are a vegetarian, your protein sources are limited, and an additional source of plant-based protein will not hurt! Proteins help in growth and brain development of your baby and nursing mothers need more of them. Proteins also help in repairing damaged cells
Calcium: Calcium is essential for the healthy bone and teeth development of your child. As a mother, you also need to protein to ensure that your bones are rejuvenated after pregnancy and delivery
Essential fatty acids: Chia seeds are rich in Omega 3 fatty acids, which help in the development of brain and nervous system of your baby. They also boost his immunity. Further, it is also known to improve baby's eyesight. Again, if you are a vegetarian, you might not be taking in enough omega 3 fatty acids (fish are a rich source). So, chia seeds provide a great alternative for you. Chia seeds can also help you in shedding some of those extra pregnancy pounds
Minerals: Chia seeds contain many healthy minerals such as Magnesium, Manganese and Phosphorous. These minerals help in boosting your metabolic rate, thereby reducing your body fat. It can also lower the risk of hypertension for you. And as always, your baby benefits from the minerals as well
Fiber: Even as little as three teaspoons of chia seeds supplies the daily recommended fiber target for your body. More fiber results in better digestion. Better digestion will result in avoiding problems such as bloating and constipation, which are common during and after pregnancy. Chia seeds also make you feel fuller longer and slow digestion and can help alleviate other digestive problems as well
Promote energy: History has it that chia seeds were used by the Mayans and Aztecs dynasties for their ability to keep one energized during times of long travels and battles. And for all we know, breast feeding moms are constantly running short on energy and endurance, consuming chia seeds as a health and energy food could actually help you maintain energy and stamina
So ladies, please start including at least a teaspoon of chia seeds in your daily diet. It will boost the production of breast milk, while at the same time providing multiple nutrients for you and the baby. That said, please remember that super foods are not an alternative to balanced diet. It should be used only to complement your diet, not to replace it.
Happy motherhood!