Children are precious and their safety is a top priority for parents. When traveling with your child by car, there are many risk factors such as accidents or the child getting hurt. Children cannot be treated the same way as grown adults when traveling in a car. They need special seating arrangements and safety precautions. All these arrangements should ensure the child's safety in the car.
Many parents may not be aware of these special precautions that must be taken. Through this article, we attempt to highlight a few vital aspects of making your car childproof. Different age groups also will have different needs and requirements. Read ahead to equip yourself and understand how best you can ensure the safety of your little one on your next drive.
In This Article
Never Leave a Child Alone in a Car
This is the first and fundamental safety measure that you have to ensure and that is you just cannot afford to let your child be alone inside the car. Especially if it is a hot day, then you should not leave your child alone.
The temperature inside the car could rise rapidly on a hot day and because of that your child could be in danger. Many parents have ignored this and have suffered as well. Therefore, keep this thing in mind.
Child Restraints – Rear And Forward Facing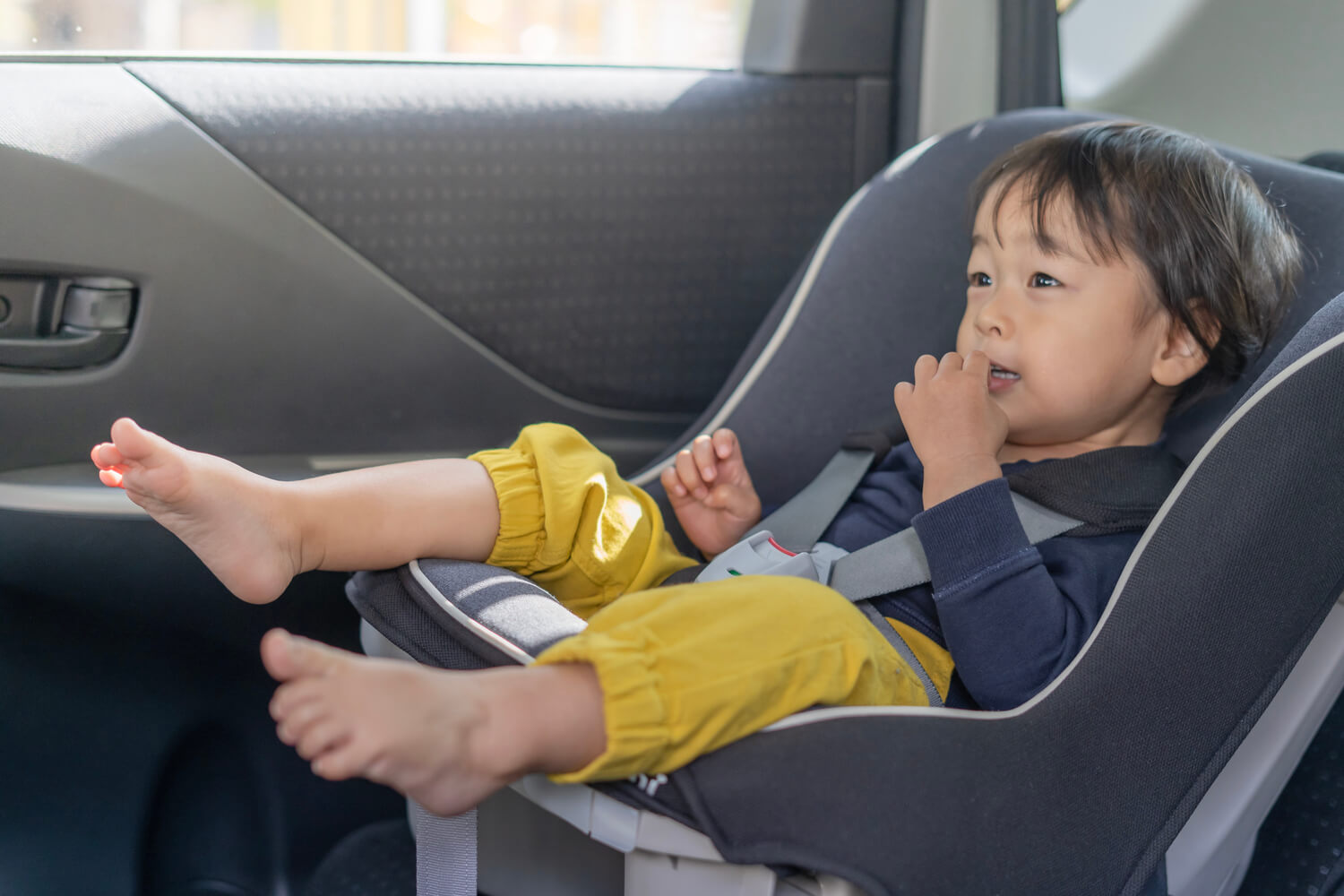 Using child restraints is a very good option. However, you need to keep in mind certain things before using the child restraints on your kid.
Make sure that the top tether and harness do not get twisted and are in a firm condition.
Check the pressure of the straps of the harness by putting two fingers in between your child and the harness.
Secure the arms of your child.
Make sure that the harness and the seatbelt buckles are placed properly.
Booster Seats
Many parents also use booster seats, which is also a good way of securing your child. When using booster seats, keep the following things in mind.
Ensure that the seat belt is properly adjusted.
Go through the seat belt guide ensuring that the sash part is well poised at the shoulder of your kid.
The lap portion should cover the upper thighs and not the abdominal area.
When Can My Child Switch From a Booster Seat to Seat Belts Alone?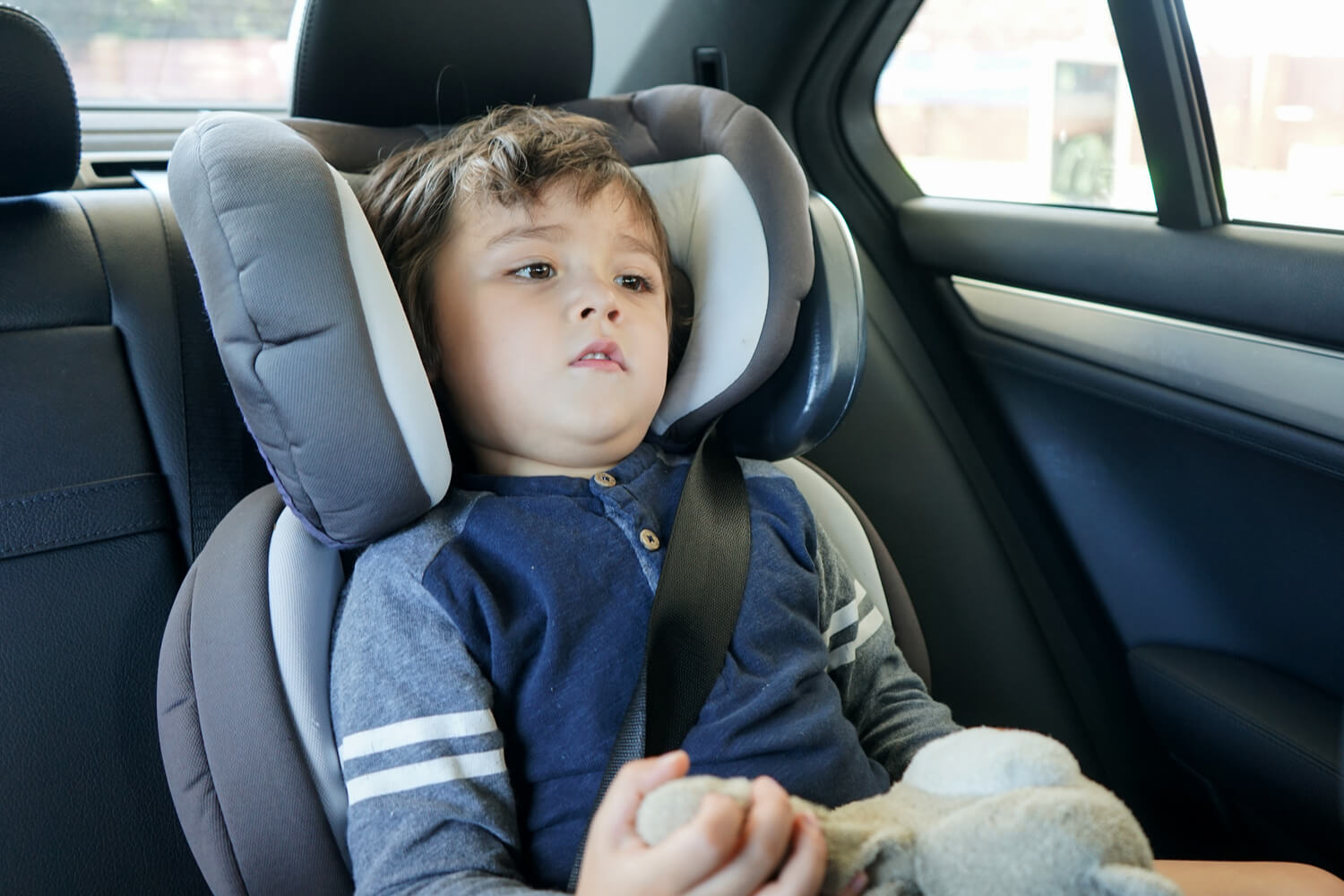 Typically, you can switch your child from the booster seat to seat belt between 8-10 years old, that is, when they grow at least 145 cm tall. However, he or she has to pass a test. For this, make your child sit in the back seat and fasten a seat belt. Now find out
If your child is able to sit leaning back comfortably on the car seat.
If your child's knees are easily bent at the rim of the seat.
Once the lap belt rests below the tummy, touching the upper part of his thigh.
Once the shoulder belt is positioned across the shoulder and chest of the child.
If the child is capable to sit comfortably like this throughout the trip.
If yes is the answer to all of the questions mentioned above, then you can switch your child from the booster seat to the seat belt.
[Read : 10 Tips to Buy an Infant Car Seat]
Child Restraints And the Law
There are some common laws for using child restraints that are mandatory to follow in most countries. So, let's have a look at some of those laws which you should know before using child restraints.
If your child is under 6 months, then you have to use an approved restraint.
When the child is between the age of 6 months to 7 years, then you have to use a restraint that is properly fastened and forward-facing.
If the child is between 4 to 7 years old, then you can use seat boosters.
Car Safety For Babies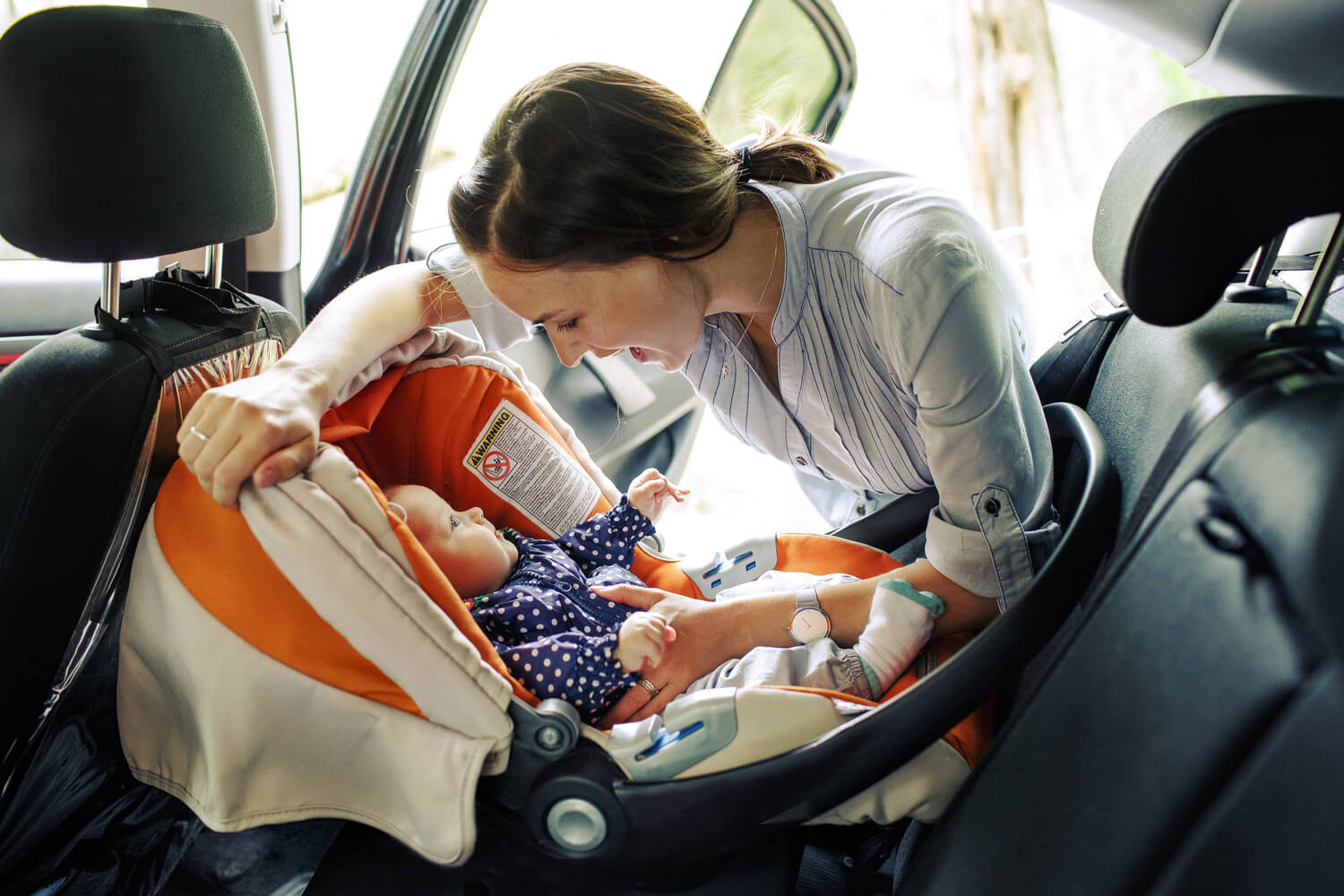 If your baby's age is less than 6 months, then you have to keep in mind the following safety tips.
Your child must travel with a rear-facing restraint.
Whenever you use the restraint, check the harness whether it is adjusted properly or not.
Use the restraint till your child is grown up.
The adjustment should be made to the shoulder straps as your child grows up.
Safety For Toddlers in the Car
Here are some of the tips for keeping toddlers of the age of 6 months to 4 years safe in the car.
You have to use a rear-facing child restraint.
Place your child in the middle seat in the back row of the car which is considered the safest spot.
When you use the restraints, pay attention to the firmness of the seat belts.
Make use of child restraints, till your baby has grown up.
Safety For Children in the Car
Here are some of the tips for keeping children of around 4 to 7 years safe in the car.
Always use the front-facing restraints.
Sash seatbelts can also be used if your kid's height is 145cm or more.
If your child is grown up, then you should visit an expert restraint fitting center for proper assessment.
[Read : Car Safety: Tips For Parents To Keep Kids Safe by Dr. Chetan Ginigeri]
Options For Children With Additional Needs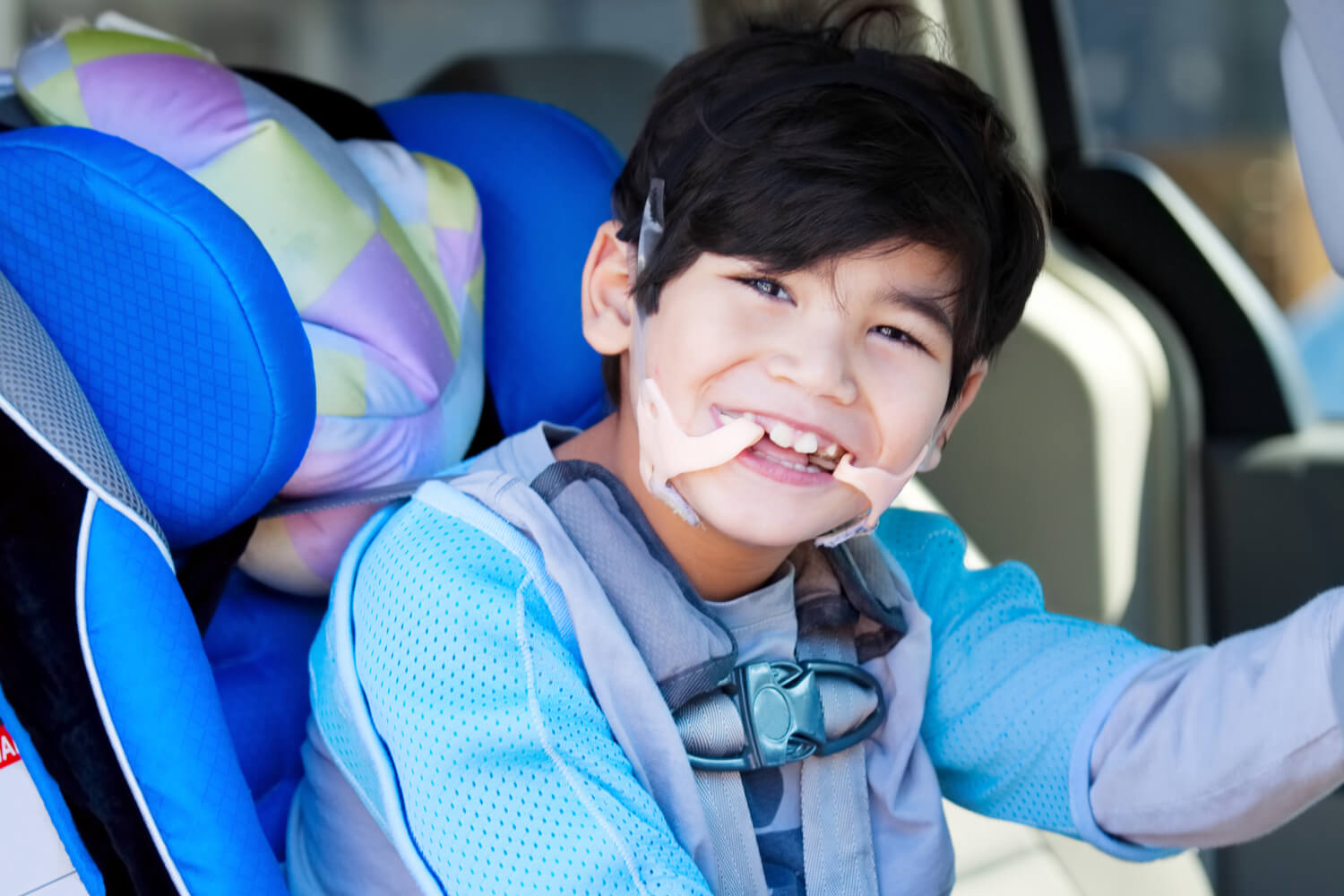 Children with additional requirements will have certain challenges while traveling via a car. However, health experts can help them to ensure that they travel safely. Here are certain safety tips for those children while traveling in a car.
The child restraints should be modified.
It is highly recommended to use child restraint accessories.
Special child restraints for a child with disabilities can be used as well.
[Read : 12 Useful Tips To Travel Smart With Your Baby]
Traveling With Children
There is no doubt that it is a challenging task to travel with children. However, if you follow the below-mentioned tips then the trip can be as exciting as ever:
Give praise or reward for good behavior.
Have a chat with your child or sing songs with him or her.
Play fun games.
Take breaks at regular intervals.
If the temperature is very high, then you should not leave your child unattended in the car.
Where to Get Help?
No one can be certain about what happens on the road. Therefore, you should always keep the number of ambulance service providers and hospitals on your phone in case there is an emergency. This will also ensure the safety of your kid.
Child safety in the car is not something to be ignored. In case something untoward happens, your child's safety arrangements will help minimize the impact and injuries. It is always better to be safe than sorry, especially when you are traveling long distances with your family by car.
Read Also: Safety Precautions For Kids In Cars by Dr. Chetan Ginigeri