The traditional way of massaging a baby with oil before a bath is still popular and has advantages as well. Traditionally, oils are still preferred by parents over massaging creams and lotions. Choosing a massaging oil for your baby must be in accordance with your baby's skin and sensitivity. Find out everything about Choosing The Right Massaging Oil For Your Baby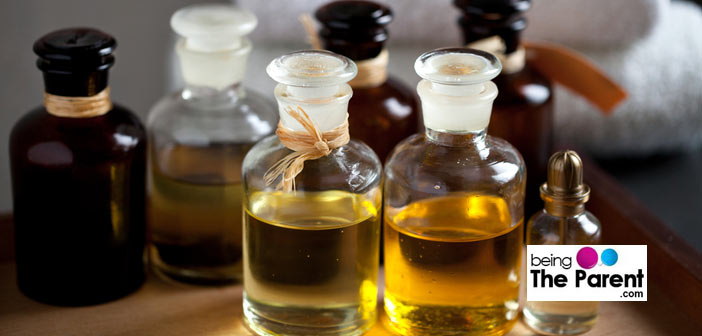 Some oils are easily absorbed by the baby's skin. However, some have a slippery, shiny layer that stays for some time. If the baby has dry or flaky skin, it is best to take your doctor's advice before choosing oil. Medical oils can be beneficial in this context. A baby is very likely to lick his fingers after massaging, so it is preferable to choose an edible oil.
---
Benefits Of Massaging A Baby
Which Oil Should Be Used For Baby Massage?
Massaging Oils For Sensitive Baby Skin
10 Tips On Buying A Baby Massage Oil
---
Benefits Of Massaging A Baby
Massaging a baby has been in practice in India since times immemorial. Apart from strengthening the bones of the baby, it also helps him relax. Mothers and babies often bond during massaging hours, and their love for each other multiplies manifold.

Choosing The Right Massaging Oil For Your Baby
Choosing The Right Massaging Oil For Your Baby is very important. This decision should be made considering your baby's skin. The most popular oil for baby massage (which is grandma's choice too) is mustard oil (sarson ka tel or सरसों का तेल), and is hugely popular in North India. With passing years, many other new age oils have replaced mustard oil like olive oil, branded baby oil, coconut oil etc. Let us discuss the benefits of some baby massage oils to help you choose right oil for him: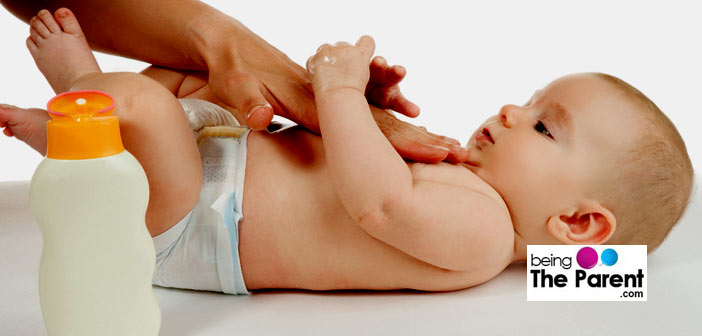 1. Mustard Oil(सरसों का तेल ):
Mustard oil heated with garlic or carom seeds or fenugreek is wonderful for massages during cold weather as it warms your baby's body. Garlic has got anti –bacterial qualities, thus it boosts the immune system of the body. Carom seeds is believed to relieve colic in babies. The oils is heated a bit, and when it is comfortably warm to touch, it is run through a sieve. The only reason for not considering this oil is its pungent smell; which many of us do not like. Find out the amazing benefits of mustard oil for massaging babies Here.
2. Olive Oil:
It is mostly used in western countries for massages. Indians have also increased its use as massage oil in the past years. It makes skin smooth, shinny, and healthy. It is a very effective manicure lotion. If you are worried about your baby's hair quality, olive oil is the right choice. However, refrain from using mustard oil if your baby has eczema as olive oil is high in oleic acid which can be harsh on your baby's skin. Olive oil is also expensive.Find out some amazing benefits of using Olive oil for baby massage here.
3. Coconut Oil:
It is considered to be good for baby massages, especially during summers as it has a cooling effect on body. South Indians prefer using coconut oil for baby massage. It has got antiseptic properties which prevents your baby's skin from infections
4. Almond Oil (Badam Tel or बादाम तेल):
Almond oil / Badam oil is rich in calcium, magnesium and vitamin E. It nourishes skin and enhances complexion. It deeply moisturizes skin and makes it glowing. Many parents prefer almond oil for massaging their babies. Find out the benefits of Almond oil massage for the baby, Here.
5. Branded Baby Oil:
If your baby has got delicate skin, you may choose branded baby oil for her. It is always better to take doctor's advice before choosing oil for sensitive skin
6. Pure Ghee (शुद्ध घी):
Some use pure ghee to massage their babies, it has its own unique benefits, but it is too greasy and may clog skin pores. It is also used during winters generally. Find out the amazing benefit of ghee for baby here.
7. Fresh Cream (मलाई):
Again, too much greasiness can cause your baby's skin pores to get clogged, can irritate the baby's skin and may even cause rashes
8. Raw Milk (कच्चा दूध):
Not considered a good choice because raw milk contains certain bacteria that can cause ashes. Your baby can ingest the raw milk on his fingers and even get diarrhea
Can I Use Besan (बेसन) To Massage My Baby?
Some people use cream (malai or मलाई), gram flour (besan or बेसन), ,mustard oil (सरसों का तेल) and turmeric pack for massaging their babies at least once a week. This is a coarse preparation and can be harsh on the baby's skin causing rashes. If you see your baby is okay with it you may use it though sparingly.

Massaging Oils For Sensitive Baby Skin
For sensitive skin or eczema, opt for vegetable oils that are higher in linoleic acid and are soft on the baby's skin. Grapeseed and sunflower oils are best suited for sensitive skin babies. Since the oleic or linoleic content is not listed on the labels, opt for oils that have high polyunsaturated fats. Vegetable oils like olive oil are high in oleic acid and can cause skin abrasions to the baby.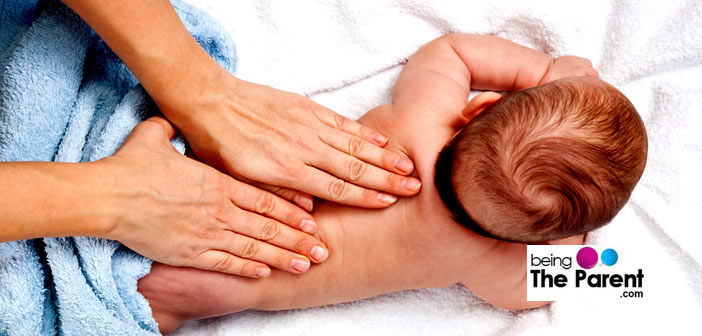 10 Tips On Buying A Baby Massaging Oils
Check out the ISI and AGMARK certifications, never opt for loose or Unbranded oils for massaging a baby
When you purchase any oil from market, read its expiry date carefully to avoid any hazards to the baby
Opt for specific baby massage oil small packs instead of large containers
Choose the oil as per seasons and your baby's skin type and needs, rather than following brands blindly
There is every chance that your baby will end up sucking the oil from his thumb and fingers – so choose wisely. Unbranded oils can cause stomach poisoning in your bay
Though very common, it is not suggested to put oil in your baby's ears, nose or navel
Always buy cold pressed, unrefined oil for massaging a baby
Never opt for unrefined peanut oil as it can cause allergic reactions on the baby's skin
Make sure the oil is not left as a residue on the baby's skin- this can cause rashes in hot and humid weather
For dry baby skin, choose perfume free mineral oils derived from petroleum. These are safe and help retain the moisture in the skin