Oil massage is a quintessential part of baby's daily routine in India. The generic benefits of oil massage are plenty – it helps retain the softness of the skin, make the bones stronger, relax the baby and strengthens the bond between the mom (assuming she is the one who gives oil massage) and the baby. Now while the debate is still on whether a baby should be given massages or not, we Indians definitely have enough in our kitty to support those loving and bonding times that we get while massaging our babies.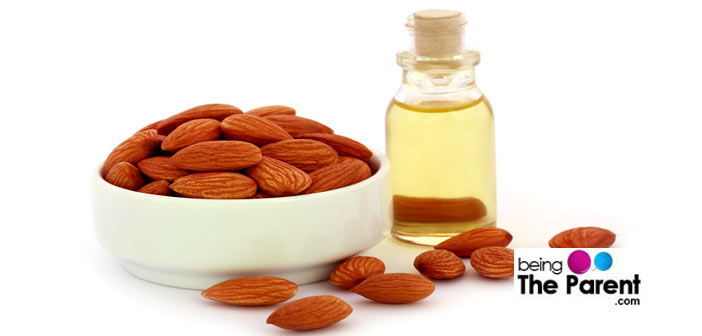 Is Almond Oil Safe For Babies?
There are many oils available in the market that can be used for massaging your baby. Read more about your options on choosing the right massaging oil for your baby here. That said, almond oil (Badam Tel or बादाम तेल) remains one of the most popular choices across India. Almond oil also comes in two variants, sweet and bitter, with the sweet scented almond oil scoring above the bitter one. It comes with a light, sweet scent and is full of goodness with Vitamins A B1, B2, B6 and E. It also has a high content of monounsaturated and polyunsaturated fats. All this richness makes almond oil a preferred choice for baby care. That is so because it is edible, so you do not have to wreck your brains off if the baby licks his fingers once, plus it has low viscosity – which makes it easier to spread and get absorbed in the skin. Here is why parents go for almond oil when it comes to a baby oil massage.
Benefits Of Using Almond Oil For Massaging Babies
Cradle cap: Many babies suffer from cradle cap and applying almond oil can help treat the greasy yellow or brown scales on your baby. The fatty acids in sweet almond oil are helpful in preventing inflammation and removing the dead cells
Soft skin: Almond oil is also a great moisturizer. It also protect the skin from some commonly seen problems associated with dryness – like eczema, rashes and soreness. Almond oil is a rich source of vitamin A, B2, B6 and E – all of which are great for skin
Relaxation: As mentioned before, oil massages can relax your baby's tired limbs and improve blood circulation in the body. Almond oil soothes and relives strained muscles, thus relaxing your baby. He will also sleep better
Better digestion: Massaging baby's tummy with almond oil will improve digestion and reduce the severity of indigestion
Easy to apply: Almond oil is thin and light, because of which it is easy to apply and spreads nicely
Fast absorption: Almond oil is also absorbed in the skin relatively faster
Aroma: Almond oil has a nice and pleasant smell, unlike other oils like mustard that has a pungent smell. It is appealing to the senses and your baby will probably enjoy
Edible: It is always safer to use edible oil for massaging babies so that it is alright even if the baby accidentally ingests it. Sweet almond oil
Emollient: The oleic acid and linoleic acid present in almond oil makes it a natural emollient that calms and nourishes baby's skin
Hair health: Enriched with vitamin D and magnesium, almond oil is also good baby's hair as it promotes hair growth and prevents hair fall
Bone development: Almond has good quantities of Vitamin D and Calcium, both of which are essential for good bone development. Almond oil also nourishes brain and nervous system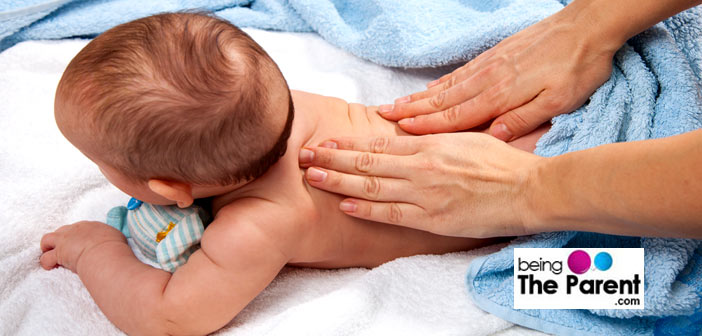 Cautions To be Exercised When Using Almond Oil For Massaging Baby
While almond oil is one of the best suited oil for Indian climate, follow the below cautions when using it:
Check for allergic reactions. It is always best to do a patch test first and wait for few days while monitoring the area. And if no reaction, then start using it more frequently
Check the bottle's expiry date before buying and using
Be very soft when massaging as your baby's skin is extremely sensitive Start from the arms and move to the legs, chest, tummy and back
Do not use excess oil as it can cause rashes. Use only enough quantity that the skin can absorb fully
Do not put oil inside eyes, ears, nose or naval as the baby can get infected if the oil gets inside these body parts
Always wipe your hands before picking up the baby as slipper hands can cause accidents
Happy Massaging!