Massages are always good for babies and majority of moms massage their little darling before they give them a bath. It is also the time when the mother-baby bond is strengthened. It is observed that massages calm down the babies and help them sleep better which has a positive impact on their growth and health. However what oil is best for your little darling becomes a question of discussion. Olive oil is one of the most common oils that have been used worldwide for baby massage. Given below are all the facts that you need to know about olive oil and how beneficial it is for baby massage.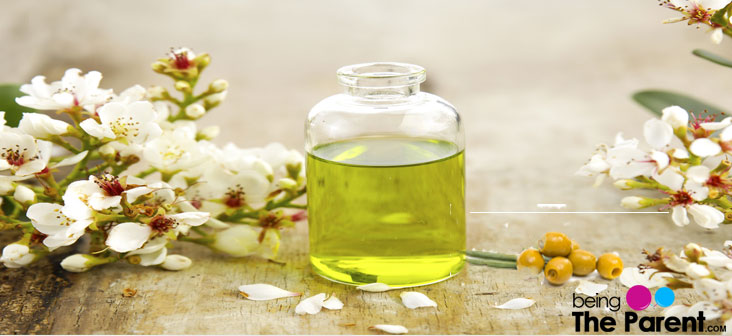 What Is Olive Oil?
Olive oil is prepared by processing whole olives that are fruits of tree crop commonly found in the Mediterranean Basin. It is prepared using mechanical process and the oil that does not pass through any kind of chemical treatment is called virgin olive oil. Extra virgin oil is oil that is extracted straight from the fruit which are totally free of any disease and plucked at the right time and processed immediately.
Given below are the some key benefits of olive oil when used as massage oil for babies:
Olive oil has been found to be helpful in making your little one's skin smooth, healthy and shiny. This oil acts as a wonderful moisturizer for your little one's skin
Olive oil has regenerative properties and is helpful in keeping the skin toned
Olive oil is loaded with fats that are healthy, phenolic antioxidant Vitamin E, oleic acids and squalene that are all extremely important in maintenance of skin tone and also vital in promoting muscle and bone health
Good news is that this oil can be used all through the year regardless of cold or hot weather
As mentioned earlier, massaging with olive oil helps to calm the baby and ensures he gets proper sleep and thus helps to improve his overall health
How To Massage Your Baby With Olive Oil?
For massaging your baby with olive oil, all you need to do is take equal amount of water and olive oil in a bowl and mix it well. Start massaging your little one with this mixture for around 15- 20 minutes. Give your baby a nice warm bath after this. Make sure that you wash your little one thoroughly after you give him a massage with olive oil to ensure that there are no residue rashes.
3 Amazing Benefits Of Olive Oil For Your Baby's Massage
Olive oil is a perfect remedy for cradle cap: Olive oil is found to be excellent in curing cradle cap in babies. Cradle cap is actually a kind dandruff prevalent in new born babies. This oil hydrates your baby's scalp and helps to get rid of that flaky layer of skin that is there on your little one's head.

For this first apply some olive oil on your little one's scalp
Massage this area with a soft brush or wash cloth and let it remain there for around twenty minutes
Suppose the crust is quite thick, let the oil remain overnight
Now wash your little darling's scalp well with Luke warm water and a mild shampoo
Using a soft comb, slowly remove the loosened crust from the scalp gently

Olive Oil also helps to nourish and strengthen your baby's hair and soften the frizzy and dry hair
Olive oil is found to be excellent for diaper rash: Olive oil has been proven to act as a wonderful emulsion averting rashes in babies that occur due to diapers.

Prepare the emulsion by blending two tbsps of olive oil along with one tbsp of water
Take this mixture and rub it between your palms and the massage gently onto the buttocks and genital area of your baby
The diaper rash normally disappears within a couple of days but if the rash persists then check with your doctor

Olive oil for cough in babies: It is recommended to use natural home remedies for cough in babies as there are no side effects. Breast milk is the best medicine for your baby when he is sick as it boosts the immunity of your baby. Also a natural rub of olive oil can help in soothing cough symptoms in babies. For this:

Make a natural rub by mixing 3-4 teaspoons of olive oil with 2 -3 drops each of eucalyptus, rosemary and peppermint oil
Rub this mixture on your baby's chest and back
Applying this oil rub before putting your baby to bed ensures that your baby sleeps well through the night without the cough bothering him
Precautions While Using Olive Oil To Massage Babies
Olive oil should not be used to massage your baby if he has extremely dry and chapped skin
If your little one is suffering from eczema, olive oil should be avoided
Never clean your baby's ear, naval or nose with olive oil to avoid any kind of infection
Your baby's skin is extremely sensitive and delicate and so it would be a good idea to ask your doctor before you start to massage your little one with olive oil so that unwanted side effects can be avoided
Olive oil can be allergic to some babies and can cause redness or rashes. So make sure your little one is not allergic to olive oil before massaging him with this oil
Ensure you buy the best quality extra virgin olive oil if you are planning to massage your little one with olive oil as your baby deserves nothing but the best