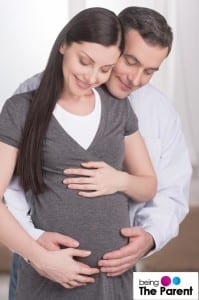 Pregnancy can be stressful for the first-time mothers as it brings along many changes in a woman's life, be it physical, emotional or psychological. What women need most in such situations is the love and support of their partner. Generally, men find the process of pregnancy, bewildering and confusing, so, instead of learning about it, they choose to remain uninvolved. The point to note here is that, during pregnancy, your wife will need all the help that you can give, especially in the third trimester. So, it is not only your responsibility to take care of her but also an opportunity for you to express your love for her. Infact, we strongly feel that men should also have an emotional pregnancy during this period by being involved. Here are some things that you can do for your wife during her pregnancy:
1. Help her in household chores: One of the smallest but most important things that you can do is to help around in the house when she is pregnant. Don't wait for her to ask you, instead step up and take charge before she gets fatigued. It can be the smallest of things like bringing her the medicines, washing dishes, doing the laundry (the least you can do is wash your clothes yourself), picking up the groceries, etc. Make sure she gets lots of rest as pregnancy can be tiring due to all the hormonal changes. If you already have a child(ren), you can help your wife by taking care of your kid(s) when she needs to rest. Ensure that she is not under unnecessary stress and gets enough time for rest, leading to a happy and healthy pregnancy.
2. Accompany her on visits to the doctor: Visiting a doctor can frighten your wife on occasions. Your wife will feel secure in your company, if you take out time to go for her prenatal checkups. This will also help you to be a part of your baby's growth. Pay attention to what the doctor says so that you can remind your wife of the do's and don'ts in case she forgets. Being familiar with the doctor and the hospital will also help you when it is time for the baby's birth.
3. Support her emotionally: A woman goes through all kinds of changes during pregnancy, from gaining weight to having mood swings, from feeling on top of the world one day to crying for no reason at all. All these changes often make women nervous and conscious. In this case, they need to be reassured of your love and support. You need to be there for her, be understanding and patient when she loses her temper and keep reassuring her that you love her and will be there for her at all times. But keep in mind that you do not just say these words but also express through your actions.
4. Be well-informed: There are a lot of small and big things that men don't know about pregnancy. It is recommended that you pick up a book on mother care and parenting or talk to your family and doctor about all the new things that might come your way when your wife is expecting a baby. You might get baffled with your wife's sudden change of habits and behavior, so, learn about all the changes that happen during pregnancy to avoid any confusion or nervousness.
Doing these simple things to show your care and concern for your wife will not only strengthen your relationship but also help you understand her better. Trust us, she will also be appreciative of your efforts.