Being a first-time parent is an overwhelming experience for most of us. Most of the time we are unsure of how to tackle a difficult situation. And then, of course, you often dread those fearful moments when you blink your eyes for a moment and you toddler may fall or spill or slip. Or, imagine, your busy toddler comes to the kitchen to help you and puts her hand on the hot pan. What would you do? First and foremost, do not panic. Emergencies can happen at any time, anywhere. As a parent, it is important that you stay calm and handle them tactfully.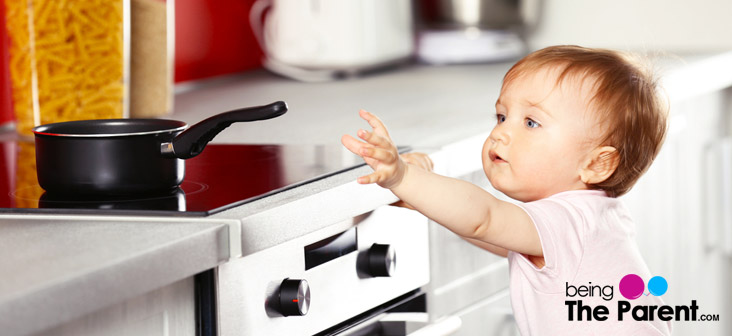 5 Common Toddler Emergencies And Ways To Handle Them
When you have a toddler at home, falls, bumps, burns, bites and cuts are all inevitable. But as a parent, it is necessary to know what to do when the little mischiefs done by these curious toddlers turn into an accident or an emergency situation. Here is a list of 5 common toddler emergencies and ways to deal with them.
Spilling of hot beverages: If your baby spills a hot beverage on herself or put his hand on the hot gas stove, first and foremost, remove the clothes and give a cold shower. If the affected part is a small area of hand or leg, put it under running cold water until the area is cool to touch. Do not apply ice or any other home remedies like butter or petroleum jelly. If there is a superficial blister, apply some over-the-counter ointment once the affected area cools down. If the burn is severe or is on the face or genital areas, rush him/her to the emergency room
Your toddler bites his/her tongue: Suppose your toddler falls down and bites his tongue. There is a possibility of huge bleeding in such cases as tongue has numerous blood vessels running across. Do not panic even if there is a substantial amount of bleeding. Instead, take a clean washcloth, soak in cold water and apply pressure on the cut. If your toddler cries, try to calm her down as crying can increase the bleeding. Do this for at least 10-15 minutes. If bleeding still continues, take her to your pediatrician. Also, avoid giving spicy or acidic food for a while which may irritate the wound and cause burning sensation. Cold milkshakes and ice cream will help soothe the wound and your child will love it too!
Another child bites your toddler: Imagine you took your child to the park to play and while you are busy in conversation with a friend, a playmate has as an argument and bites your child. What will you do? Panic? No! Stay calm and treat the wound according to its severity. Clean the wound with warm water and a mild soap. Human teeth contain a lot of bacteria and so the chance of infection is high. Once the area is cleaned and dried, apply any antibiotic ointment. If the wound is severe, take your child to the doctor who will most likely prescribe an oral antibiotic
You can't find your child: Another dreadful moment. While waiting in the queue at the billing counter, suddenly you realize your child is missing! Please do not panic and run to the police station. Instead, reach out for help to the store keepers. If you have a picture of your child with you, show it to them. Storekeepers are well trained and aware of the most common hiding places of children, for example – behind the shelves, under the piles of clothes, changing room, lift lobby or rest rooms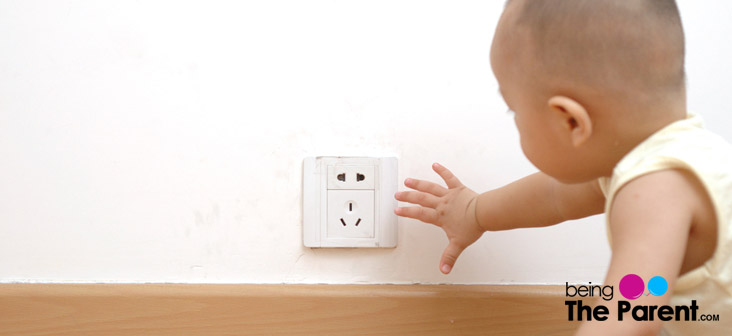 Electric shocks: Switches, sockets and electric wires are a toddler's favorite playmates. These things attract the little monsters like a magnet. Their tiny fingers can easily get into the open sockets and the fear of electric shocks in very high. So if your toddler gets an electric shock first and foremost thing DO NOT touch your child with wet or bare hands as you can also get electrocuted. Immediately switch off the power supply of all sources. Separate your child from the source of current with a wooden stick or a newspaper as they are bad conductors of electricity. Check your baby and his breathing. Immediately give him CPR and take him to your doctor
When To Rush To The Emergency Room?
Rush your child to the emergency room if:
He has swallowed any medicine
There is difficulty in breathing/shortness of breath/ wheezing
There is a major head trauma
There is a change in behavior
Begins vomiting
The heartbeat is rapid and not slowing down
There is a heavy bleeding which doesn't stop even after applying pressure
He passes out
Emergency Preparedness When You have A Toddler At Home
When you have a little one at home, it is important for you to stay ready for the 'big one'!
Keep your first-aid box ready at home
Always keep the doctor/hospital number handy or on a speed dial list
Have you made your house child-friendly? If not, do it right away
When you are out with your child, keep an eye on him
Ask for help, whenever and wherever possible
In case of a severe injury/accident, consult your child's pediatrician immediately
Preparing Your Child To Deal With An Emergency
Get your child prepared to deal an emergency. Even if your child does not understand exactly, it is still reassuring for you that your child is prepared to face any emergencies. Role playing specific scenarios like falling down from a height, cutting hand with a sharp object or spilling hot beverages, is the best way to teach your child about emergencies. Through this, you can also assess the knowledge level of your child and determine how much needs to be talked about.
Whatever said and done the key to dealing with an emergency is not to panic. The same gets translated for children too. Comfort her and assure her that even there is an emergency, she is safe and protected by her parents.