Pregnancy is a wonderful phase in life where you begin experiencing the joy of motherhood and a life growing inside you. It is also a period where one needs to be extremely vigilant about the diet and ensure you are having all the right nutrients in perfect proportions. There is no doubt about the fact lentils need to become an important part of your diet during this phase. One may be quite apprehensive whether they are absolutely safe for you during this period and if so in what proportions.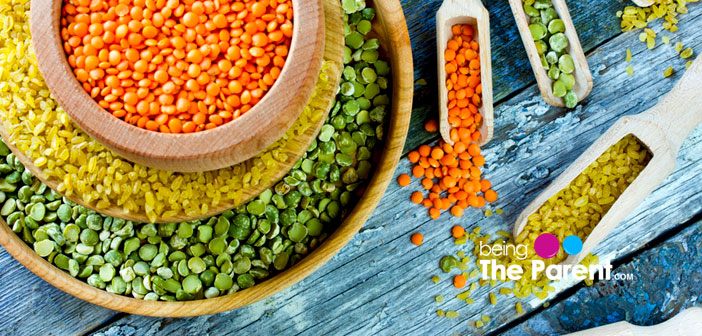 Read ahead, to get a good idea about how beneficial these lentils are during pregnancy.
10 Nutritional Benefits Eating Lentils During Pregnancy
How To Cook Lentils?
10 Nutritional Benefits Eating Lentils During Pregnancy
Lentils have excellent nutritional values and are rich in Vitamin B9, iron, protein, fiber and folic acid, all of which are vital for pregnant moms' right from day one. Color, taste and dimensions of lentils are varied according to the place of origin and they can be divided into lentil beans, small grains and large grains. Lentils develop in pods and are very easy to cook too apart from being pocket friendly.
Averts birth anomalies: Folic acid plays a vital role in ensuring the baby is developing and growing well inside your womb. Lentils are a rich source of folic acid that makes them ideal to consume during pregnancy in order to prevent birth anomalies like spina bifida or anencephaly in your baby developing within you. Just a single cup of lentils will give you almost 90% of the mother's folate requirements for the whole day
Rich in potassium: Lentils are loaded with potassium that is absolutely necessary to get your blood pressure under control and also ensures that blood is being circulated throughout your body without any hitches
Loaded with fiber: Lentils are packed with fiber and you can get upto 8gm of fiber from just half a cup of lentils. Fiber present in lentils, helps to fight any kind of disorders inside your intestinal tract. Lentils are also ideal for expecting moms who have any constipation issues as lentils are loaded with all the necessary fiber. And fiber helps to avert any constipation symptoms and is ideal for ascertaining normal bowel movements every day
Combats migraines and stress: Vitamin B 5 is extremely effective in averting migraines and stress during pregnancy. Since lentils have high contents of Vitamin B 5 in them, they are extremely helpful in averting stress and migraine that normally occurs during pregnancy period
Prevents anemia: Anemia or iron deficiency is extremely common in expectant mothers. Lentils have sufficient traces of iron too. Pregnant women require adequate quantities of iron to ensure a healthy delivery and pregnancy. Around half a cup of lentils provide you with 3.3 mg of iron, which helps immensely to combat any iron deficiency in expectant moms
Regulates cholesterol levels : Loaded with fiber as mentioned earlier, lentils are excellent in regulating levels of cholesterol in the blood thereby ensuring a safe and healthy pregnancy
Supports muscle growth of the fetus: Lentils are also packed with proteins which are an absolute must during each and every stage of your pregnancy. Proteins are ideal to support proper development and growth of the muscles of the baby
Excellent for heart health: Lentils rich in fiber, minerals, magnesium and folate aids to lower the risk of any kind of heart issues during pregnancy. The folate content present in lentils aids, to reduce homocysteine levels, which is one of the major culprits behind heart issues. Magnesium traces present are ideal to give a boost to the flow of oxygen, nutrients and blood throughout the body
Controls blood sugar levels: The soluble fiber in lentils locks in the carbohydrates automatically slowing the process of digestion, there by regulating levels of sugar in the blood. This proves extremely effective for women who are prone to gestational diabetes during pregnancy
Checks unwanted weight gain: Even though these wonderful lentils are loaded with all kinds of minerals, vitamins and folates, good news is their calorie content is extremely on the low side and fat content is practically nil. So having a cup of lentils will leave satisfy your hunger pangs without much gain in calories. This becomes a boon for women who are weight conscious and do not want to gain extra weight during pregnancy
Although the above mentioned positive aspects of lentils make it ideal for consumption through your entire pregnancy period, it would be best if you could consult your doctor before beginning to eat them and have them only in moderate quantities. Read on for some precautions to be adhered to while eating them during this period.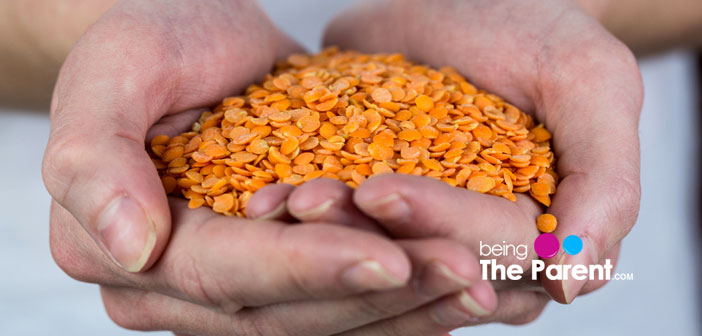 How To Cook Lentils?
Lentils come in varied varieties, depending on the place they are derived from, and come in different colors, not just the usual green ones that one usually sees. Lentils come as small grains, beans and the larger ones.
Some lentils may be soaked in water, but most of them can be cooked like pastas in stock
Add the required quantity of water and once it boils, add the lentils
Crushed garlic, coriander and other herbs can add lots of flavor to lentils, so you may use them
Do not overcook lentils as they will loose all the required nutrients
Some lentils like soya beans contain high traces of oxalate compounds that may trigger kidney stones
Consumption of lentils in excess may cause severe gas formations which become very uncomfortable during pregnancy
Enjoy your pregnancy to the fullest, and do not worry if there are times when you are not able to eat healthy food to the 'T'. Do share some interesting recipes of cooking lentils.