As your little boy turns 2, it is now time for him to explore the world while he learns new skills. While shopping for his 2nd birthday toys, keep in mind your child will now be more mobile and you need toys to keep him engaged and grab his attention. If you are confused as to what will be an apt birthday gift for him, here is a quick list of 15 birthday gift ideas which can guide you to find the right present for your little munchkin!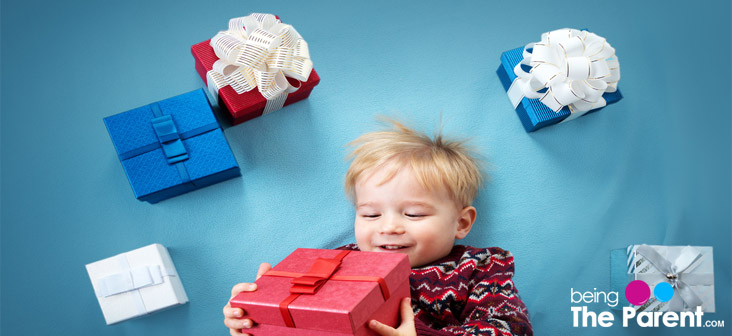 15 Second Birthday Gift Ideas For Boys
Shopping for 2-year-old boys can be a little tricky. You need to be a little creative while buying a birthday gift for your little boy. Here are 15-second birthday gift ideas for your terrific 2-year-old boy.
Pull along toys – Now that your child is more mobile, he would love to drag something along as he walks. A pull along toy could be a great gift for him. These toys come in various shapes like duck, frog, turtle, train, etc; pick the one that will appeal most to your child

Racer cars – Boys and cars are inseparable, well almost in most cases! If your little one loves to play with cars, then a toy car is the best gift for him. Whether he loves a bus or an auto, a battery operated or a push car, there are plenty of options to choose from.

Radio and remote controlled toys – Remote controlled toys are loved by boys of all ages. If your budget permits, go for a remote controlled car, even better – a remote controlled robot! The twinkle in his eyes will be invaluable!

Action figures – Now that your kid's vocabulary is improving every day, an 'action figure' toy would be a meaningful gift for him. 'Talking Tom' is a big hit among toddlers. It is interactive and engaging, definitely will grab attention of the child, well at least for some time!


Source:https://in.pinterest.com/

Collectible figurines – Does your child love Doraemon and gang or Chhota Bheem and his friends? Or is he a Spiderman lover? Buy him these cute little collectible figurines which will definitely make him happy and proud! It will also help create a sense of belonging

Toy guns – Boys love to play with toy guns. For your energy charged toddler, a toy gun will be an apt gift. Gift him a gun and see his face light up. Just ensure they are safe enough for a 2-year-old to play with

Pretend play tool kit – At this age, your child is learning to pretend and play and so role play toys like a tool kit set is an ideal gift. Your child will love learning how to hammer a nail or drill a hole. And who knows, it may be just the beginning of a budding engineer!

Musical toys – A two-year-old is in his early stage of developing his musical skills. Any musical toys like a guitar, drum or a piano will be much loved. Encourage him to play while you sing and tap feet with the tune

Fruits and vegetables – Let your child get introduced to fruits and vegetables through these toys. Let him identify each of them and bring it to you when you call out the name of the fruit or the vegetable. You can also pretend to play with these toys with your little one. An ideal gift which will turn to be a good learning prop

Rocking horse – Give your aspiring 'cowboy' hours of fun! Why not present him with a rocking horse on his second birthday? Just ensure you are around when he rides the horse so that he doesn't get hurt

Puppet set – Let your child get creative and imaginative. Introduce him to storytelling through finger puppet sets. Make playtime fun time for him

Play tent – A play tent is so much of fun for your child and his friends to play together. If you would want to surprise your child, this is a great gift idea for you!

Baby pool – Now that your baby is growing up, he will begin enjoying his bath time. Why not make his bath time, even more, fun with a baby pool? These are inflatable pools and can be used for indoor and outdoor play. What more? Add some cute bath toys for some more fun time!

Stacking blocks – Stacking blocks are great gifts for toddlers. It helps to improve hand and eye coordination of the child. At the same time, it helps improve the observation power. Chunky and colorful blocks help the child to learn how to match colors, shapes, and sizes; also teach them the concept of big and small

Art supplies – Let your toddler get into his creative best! Gift him a coloring book, crayons, finger paints, and other art supplies. Let the budding artist explore the world of colors!
The gift options for second year birthday is endless. Look around and you will definitely find something meaningful for your little wonder. However, remember, toddlers at this age are just exploring and may or may not be interested in a toy. What matters most is spending some great time together and making some happy moments that you will cherish forever! Cheers to another great year!!