Mothers like to massage their babies with baby oils. It's a practice that is passed from generation to generation. The elders in your family might have insisted on the importance of starting massaging your baby with oils once you are back home from the hospital with your little bundle of joy. However, as oils are massaged into the skin of the baby, it is important to know which oils to massage with because a baby's skin is very sensitive. But, have you ever wondered how oil massaging helps your baby? Which baby oils are more suitable for your baby's skin? What are the things that should be taken care of while massaging your little one? Let's find all that out in this article.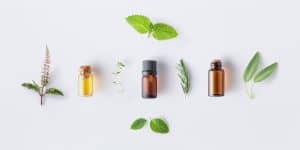 List of Best Baby Massage Oil in India for 2021
Baby Massage Oil During Summers
1. Coconut Oil
Coconut oil is perhaps the best oil you can use for your baby during summer because of its cooling effect. Coconut oil has several therapeutic properties. For example, it is anti-bacterial as well as anti-fungal in nature. It is very light in texture and, therefore, is easily and quickly absorbed into the body. Here are some merits:
Preventing and treating cradle cap
Massaging with coconut oil helps with baby eczema as it can deeply moisturize the dry skin
Massaging with coconut oil helps to prevent and get rid of diaper rash
2. Sesame Oil
If you want your baby to have strong bones, then there is no replacement for sesame oil. Always look to get the oil that has been extracted from the black sesame seeds. Likewise, always opt for organic sesame oil for massaging your baby.  In Ayurveda, sesame oil is of great value. It is known as the queen of oils. Here are some merits:
Helps with the flexibility of the joints
It will help to prevent Diaper rash
While massaging with this oil, the oil-soluble toxins in the skin will get attached to the oil and will wash away during the bath. This will help to shield the baby's skin from pollutions.
Baby Massage Oil During Winters
3. Mustard Oil
Mustard oil is surely one of the best oils you can apply to your baby's skin during winter. Using this oil with some other carrier oils will enhance its effectiveness. In the northern part of India, many people heat mustard oil with basil leaves, fenugreek seeds, carom seeds, ajwain seeds, and garlic and apply that oil to their baby once the oil has cooled down. Here are some merits:
Mustard oil is very effective in retaining the body heat of the baby. Therefore, it helps to keep the baby's body warm during winter.
Mustard oil has antifungal and antibacterial properties
Helps to prevent and fight skin infection
Enhances the baby's hair growth
Good for strengthening the bone of the baby.
Note: Mustard oil is thick inconsistency, and therefore there is a chance of clogging the pores of the baby's skin. Therefore, always remember not to use lots of this oil for massaging your baby. Also, follow the oil massage with a nice warm bath. Also, never use this on hypersensitive skin because it can aggravate and bring about skin issues like rashes, redness, hives, etc.
4. Olive Oil
Olive oil is one of the most popular oils among mothers in India. You can use it in all seasons. Meanwhile, keep in mind that if your baby has rashes or any other skin issues, then it is better to avoid olive oil. But, if there are no skin complications in your baby, then olive oil is perhaps the best oil you can apply to your baby's skin. You can even mix it with a little lukewarm water in a bowl before massaging.  Opt for extra virgin olive oil for massaging babies. Here are some merits:
Enhances baby's skin tone, makes skin fairer
Helps to eliminate diaper rash
Helps to get rid of cradle cap
5. Almond Oil
Almond oil is one such oil that can be used at any month of the year. This oil is a common ingredient in many massage oils. Almond oil is rich in Vitamin E, which is brilliant for your baby's health. In the market, you will get some almond oils that have a nice fragrance. It would be better for your baby to avoid such oils. So, look to use pure almond oils because it also smells wonderful and also good for your baby's health.  Here are some merits:
Easy to use as it spreads easily
Excellent for winter care
Helps to treat cradle cap
Due to the presence of linoleic and oleic acid, almond oil deeply moisturizes the baby's skin, thereby, prevents dryness.
Prevents various skin issues like dry skin, rashes, soreness, eczema, etc. in babies
It's a natural sunscreen
Note:  If there is nut allergy running in the family, test this oil in a little patch of skin for signs of allergy before applying it all over the body.
Baby Massage Oils for Sensitive Skin?
Vegetable oils that are rich in linoleic acid and have a good content of polyunsaturated oils are wonderful for your baby's skin. Some of those vegetable oils that are good for your baby's sensitive skin include:
6. Sunflower Oil
Sunflower oil is one of the most commonly used edible oils, and it is also good for your baby's skin too. It is very much rich in vitamin E and also has some fatty acids that will help you to nourish the skin of your baby. Here are some merits:
Moisturises baby's skin
Enhances hair growth
Good for the overall health of the skin
Note: If your baby's skin is extra sensitive or prone to rashes, then you can look to avoid applying this oil because it can aggravate the problem.
7. Chamomile oil
Chamomile oil is wonderful for your baby's sensitive skin. If your baby has rashes or any other skin condition, then it can help to reduce them as well. Chamomile oil will also help your baby to get a good sleep if he or she has colic.
It has antiseptic property
It has anti-inflammatory property
Helps to treat rashes and breakouts in the baby's body
8. Tea tree Oil
Tea tree oil is obtained by streaming and distilling the twigs and leaves of Tea tree. This natural oil can be used by mixing up with any other base carrier oil into your baby's skin to give him or her relaxed feeling and also to treat various skin allergies. Here are some merits:
Tea tree oil is high in antiseptic properties.
Stimulates blood circulation
Boosts immunity
It has an excellent antimicrobial property
Note: Never let your baby ingest this oil as it can bring about several issues.
9. Castor Oil
Massaging with castor oil before taking him or her for a bath can make wonder to your baby's skin.  This oil also works brilliantly for dry hair and nails of your baby. While applying castor oil, make sure that you avoid areas like the lips and eyes of your baby. Here are some merits:
An excellent moisturizer
Promotes hair growth
Relieves muscle pains
Helps to eliminate diaper rash
Note: Never use this oil in the broken skin and also, never use it near eyes, lips, and genitals.
10. Calendula Oil
You can add this mild smelling oil to your baby's massage oil list. This oil is extracted from marigold flowers. This oil could be used after the bath of your baby. It will produce a soothing effect on your baby's skin. It has a mild but wonderful fragrance that will not be very harsh for the nose of your baby. Here are some merits:
Good to treat diaper rash
Helps to alleviate eczema
It has antiseptic and antimicrobial properties.
About Baby Massage Oil
What Are The Advantages Of Massaging Baby With Oil?
Here are the advantages of massaging baby with oil
It promotes mother-child bonding
Promotes muscle strength and bone strength
Promotes metabolism
Promotes weight gain
A good oil massage will help to alleviate tummy issues which are quite common among newborns
Enhances the quality sleep of the baby
Promotes motor skills
Improves blood circulation
Detoxifies the skin of the baby
Tips To Remember While Massaging Your Baby With Oil
Never attempt a massage on a cranky or a sleepy baby.
Babies usually fall asleep after an oil massage and bath. So make sure the time you choose for oil massaging will harmonize with your baby's sleep cycle.
Before starting to massage your baby with a particular oil, rub it in some part of his or her skin and wait to see that if it develops any irritation. Remember, even a highly beneficial oil can cause irritation in some babies.
The oil used to massage your baby should not be too hot or too cold. Use warm oil for more benefits.
Never apply too much pressure; go on with gentle, rhythmic strokes.
Never use any oil near your baby's nose, navel, eyes, or ears.
Wipe your hands and baby's body with a soft cloth to remove extra oil before taking your baby in arms for bathing to avoid the possibility of slippery.
Your hand should be dry and warm (rub your hands each other before stroking baby to make sure it is warm)
Use oils formulated for babies. Adult's oils are not safe for the delicate skin of the baby
Use food-grade oil so that there is no need to worry if the little one suck in a little.
Make sure there are more days towards the expiration date.
Don't buy oil in bulk, as it can go rancid
Conclusion
Massaging your baby with various types of oils is one of the oldest practices. It creates a wonderful bond between the mother and the baby. Make sure that you are selecting pure oils and not the ones with chemicals because your baby's skin is very sensitive. Also, keep in mind that before you choose any oil for your baby, go and consult with your doctor at least once. In this way, you will be able to take the safety measures for your baby even in a better way.