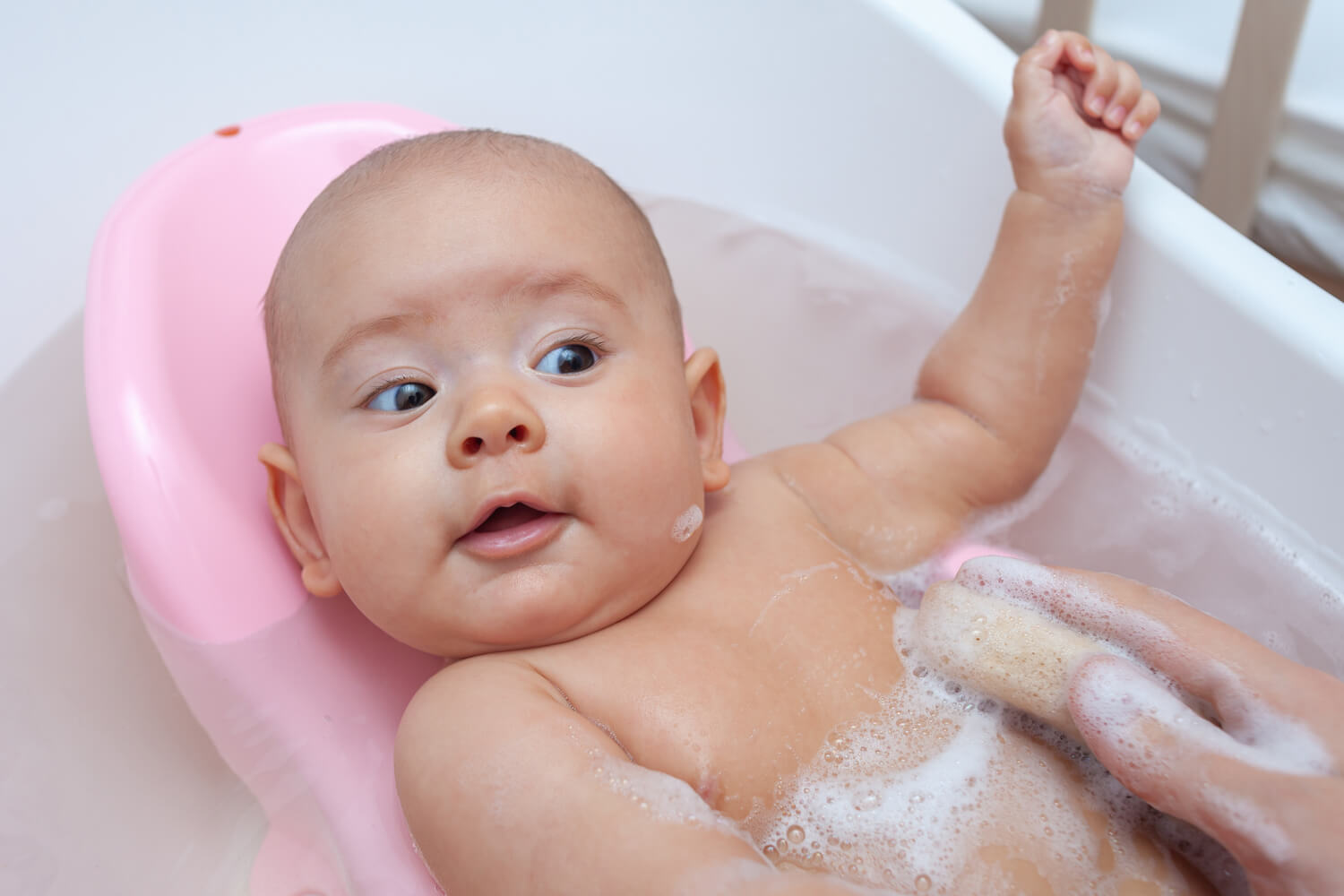 Baby skin feels like the softest petal of a just-born flower. It is so tender, delicate, and deserves deep care and nourishment. Baby skin needs a good amount of hydration too. Hydration helps the skin stay toned and healthy. As a mother, you wouldn't want to use any soap that has harsh chemicals and strong fragrances on your baby. These chemicals can often cause the skin to get dull and lose its sheen, sometimes turning the skin dark too. In this article, we list the top 10 best baby soaps in India for fair skin.
Soaps with chemicals are detergents aren't safe, especially for your little one. Using such soaps can cause irreparable damage to your little one's sensitive skin. It is important to look out for the best ingredients that can give complete nourishment to your baby's skin. There are many baby bathing bars in India with fine quality and satisfactory results. After extensive research, our team pick and chose the ten best and safest soaps unique to Indian babies. Read ahead to know our picks.
In This Article
Top 10 Best Baby Soaps in India For Fair Skin
As a mother of a little baby, you will be on the constant lookout for safe babies that not only nourish your baby's skin but also retain its glow, complexion, and tenderness. For your benefit, we list our top picks of the best baby soaps that you can safely use for your little one.
1. Mee Mee Nourishing soap with Almond and Milk Extract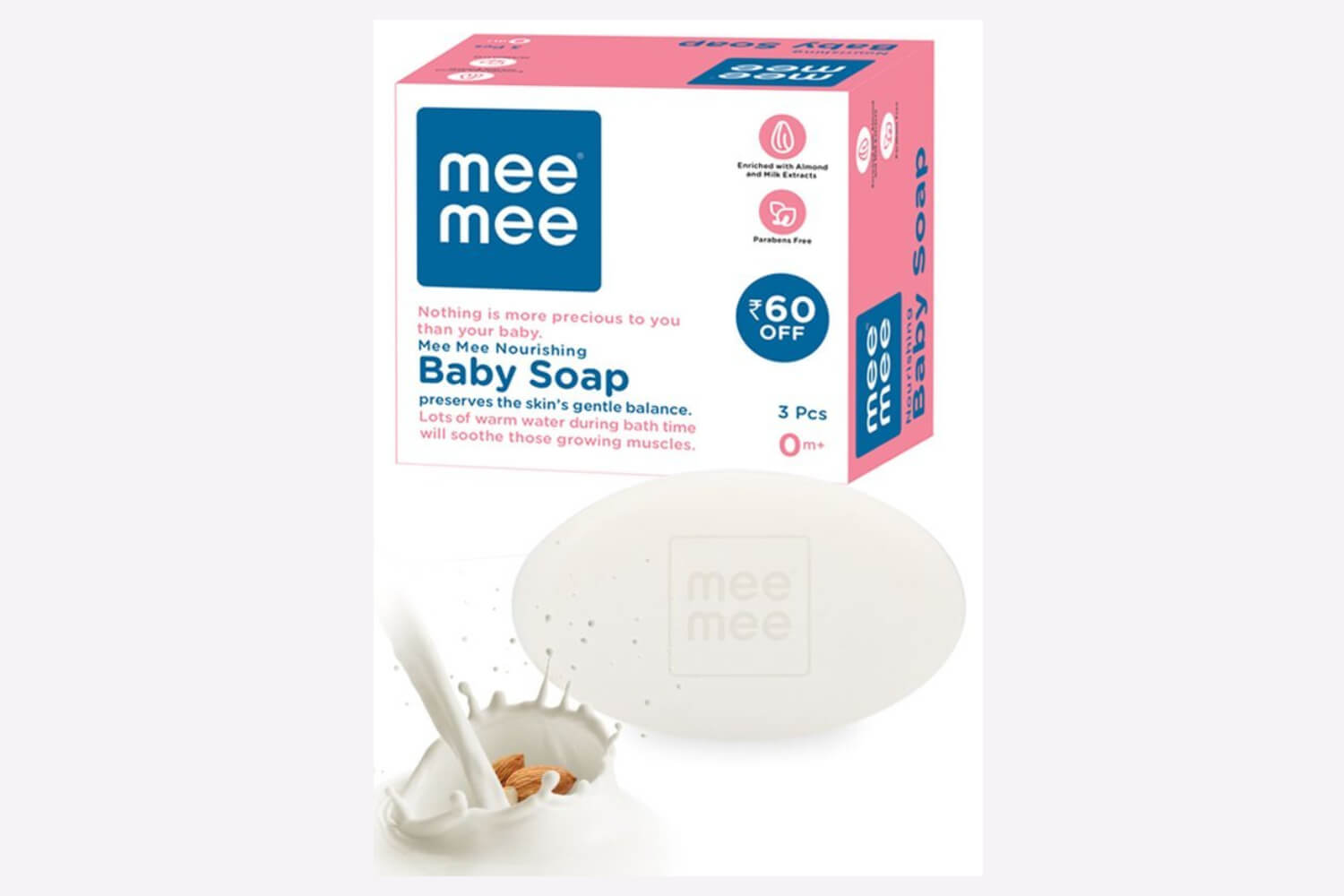 Mee Mee nourishing soap with almond and milk extract will be the right choice for your baby. It contains almond oil, aloe vera, and milk extracts. Almond oil is loaded with antioxidants and vitamin E which nourish and improve the skin complexion. Aloe Vera heals the skin and helps retain healthy skin cells by keeping the dryness and dullness away. Milk is the best moisturizer for your baby's skin. It helps in restoring moisture and keeps the skin of your baby soft and plump. The natural ingredients in this soap are proven to be hypoallergenic (does not cause any allergic reaction) for a baby's sensitive skin.
2. Dermadew Baby Soap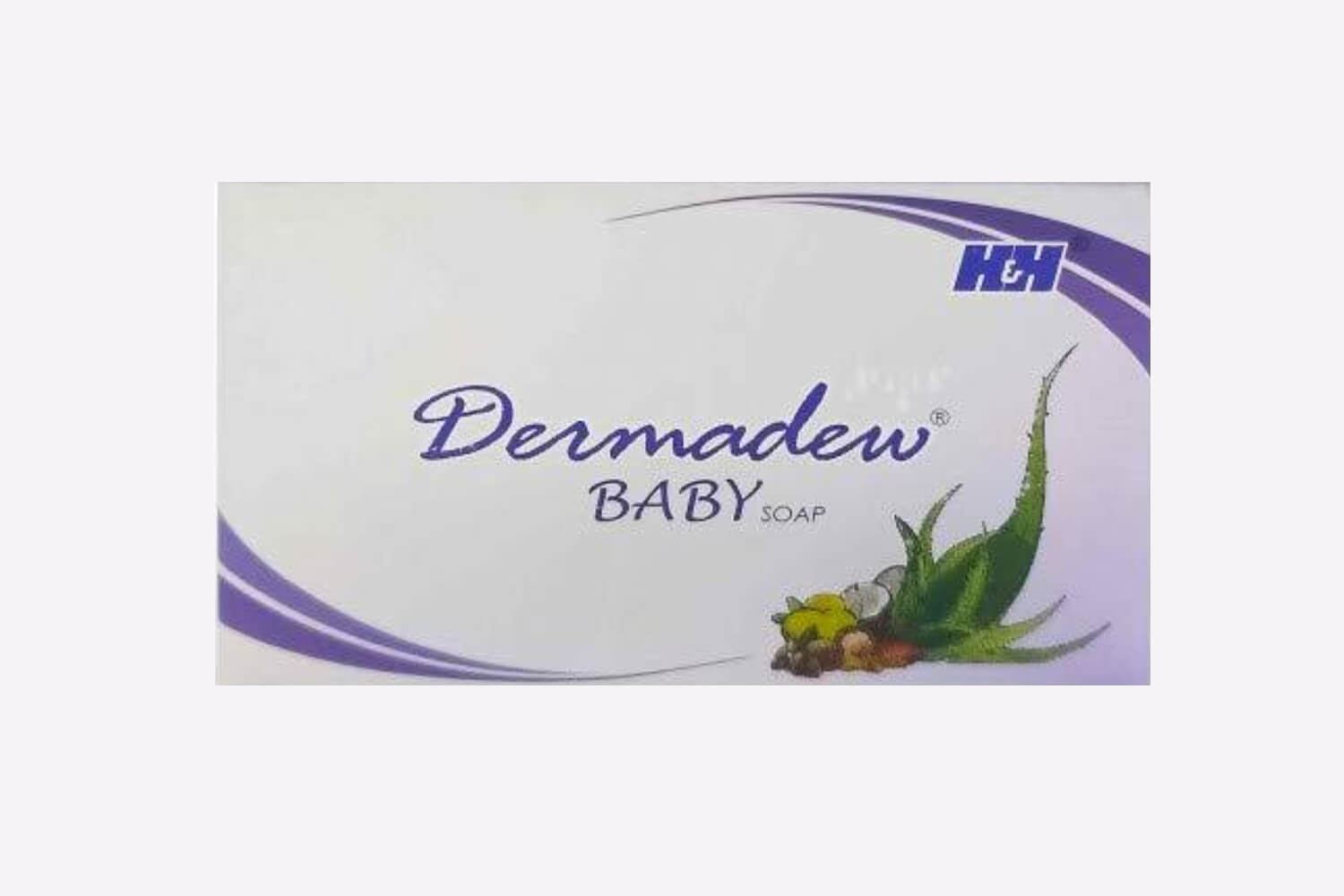 Another preferable and suggested baby soap for the sensitive skin of babies is derma dew baby soap. Ingredients of this soap include, kokum butter, olive oil extracts, aloe vera extract, turmeric oil, almond oil extract, milk protein, and vegetable oils. The goodness of this combination is proven best for your baby's skin. It nourishes by keeping dryness and dullness at bay. Turmeric is a proven antiseptic and helps keep skin diseases away. The necessary antioxidants and vitamins that come from natural oils can help keep your baby's skin healthy and toned. You can use derma dew baby soap for fairness as it contains the all-natural turmeric oil and milk protein that improves skin complexion.
3. Rustic Art Organic Baby Soap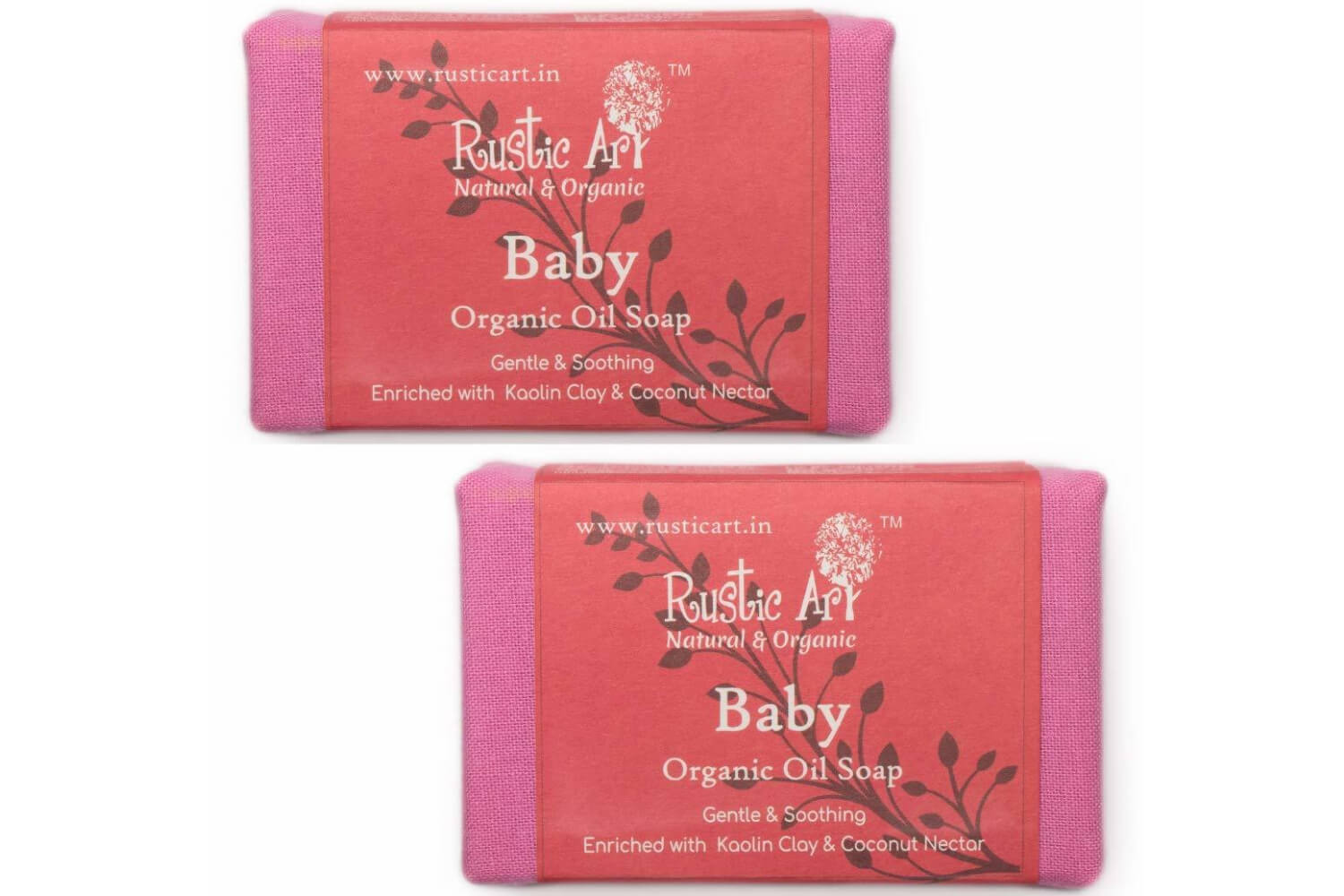 Rustic art organic baby soap is a chemical-free and best baby soap for fairness and healthy skin. This organic baby bathing bar contains coconut nectar, coconut oil, and aloe vera extracts. Coconut nectar is rich in amino acids which help in soothing the skin and keeping bacteria away. Coconut oil deeply nourishes the skin by retaining the necessary moisture. It has healing antiviral, antifungal, and antibacterial properties that help in avoiding many types of skin diseases. Aloe vera maintains the elasticity of the skin by keeping it soft and supple. This soap is completely organic and is free from all synthetic additives and chemicals.
4. Johnson's Baby Bar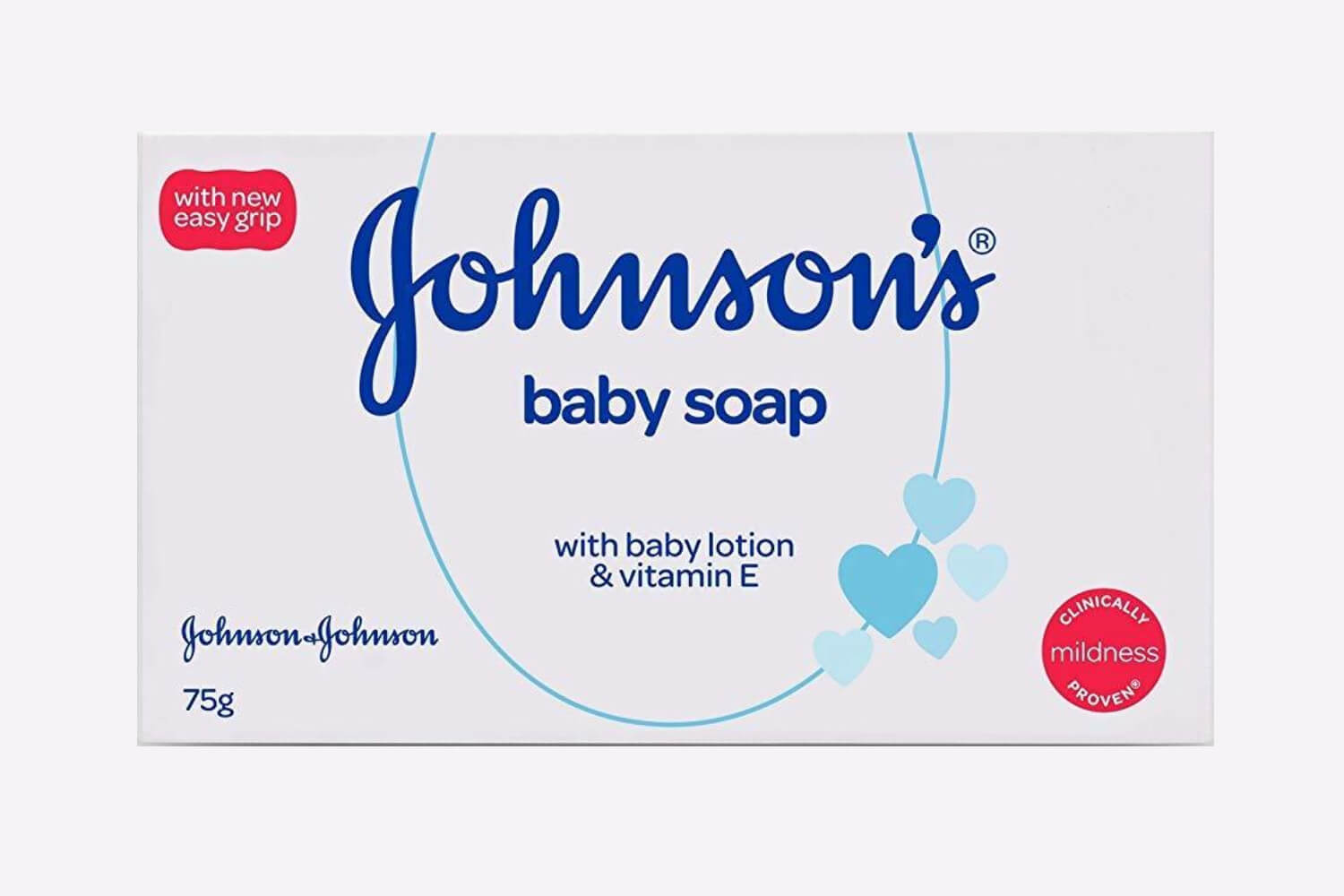 Johnson's is one of the most popular brands in the manufacture of baby products. Their baby bar is one of the best bathing soaps for fairness and healthy skin. It includes careful manufacturing and is completely free of parabens and SLS. Johnson's baby bar includes vitamin E and baby lotion. The baby lotion keeps the skin soft and avoids the dryness that comes after bathing. The creamy texture of the soap helps in nourishing the skin. Since it is free from all the chemicals, it does not irritate and is very mild on the baby's skin.
[Read: Is It Safe To Use Baby Soap For Bathing My Baby?]
5. Himalaya Moisturizing Baby Bar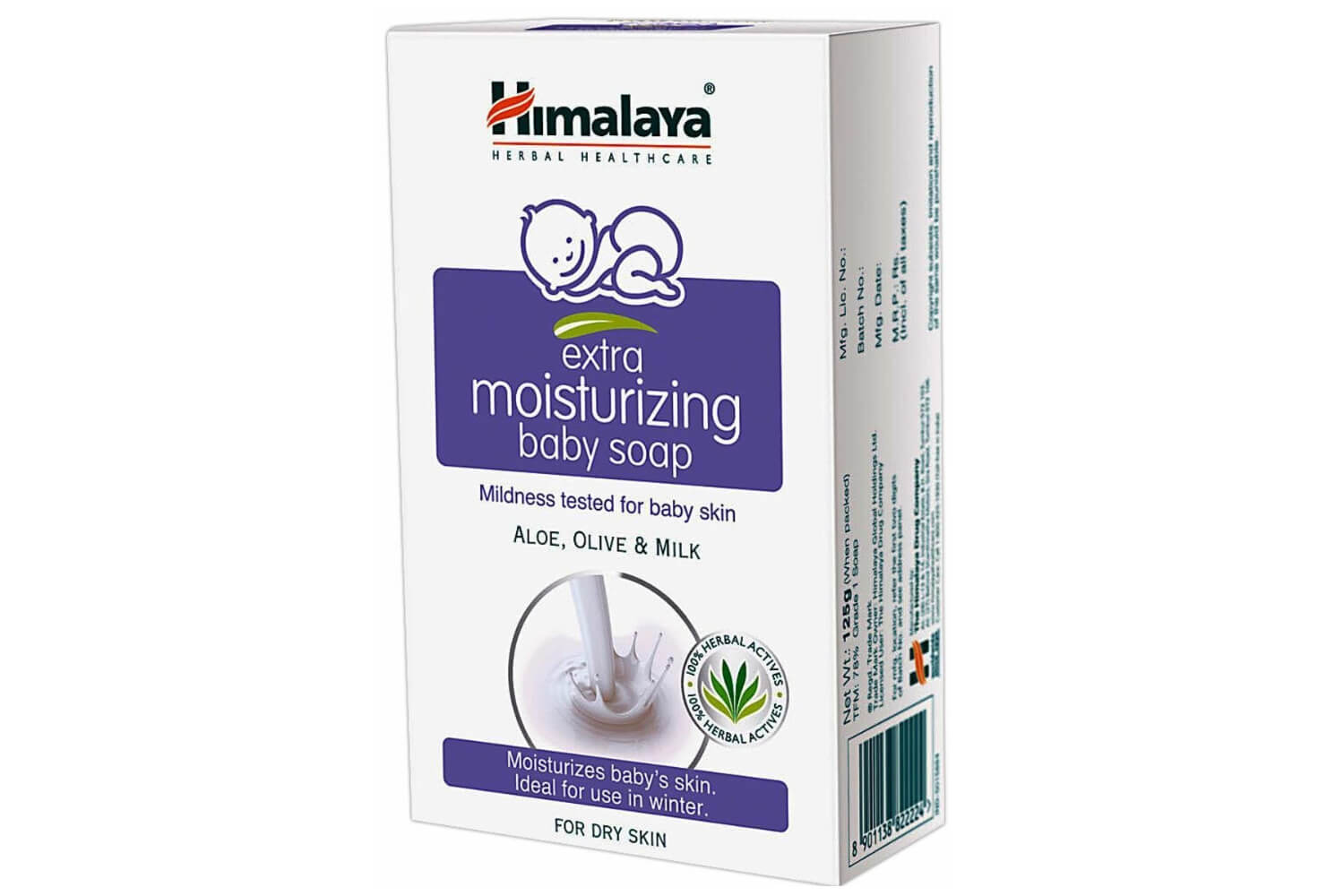 With the goodness of Ayurveda, the Himalaya Moisturizing baby bar is one of the best-recommended baby soaps for the sensitive skin of your baby. It is manufactured with mild herbs and also contains almond oil, olive oil, milk, and aloe vera. When you think about which baby soap is best for baby skin whitening and nourishment, Himalaya is one of our best choices. As we already know, olive oil is rich in good fats and antioxidants. It helps in maintaining hydration and rejuvenates the skin cells. Milk is the best moisturizer and aloe vera heals the skin.
6. Johnson's Baby Soap Milk Protein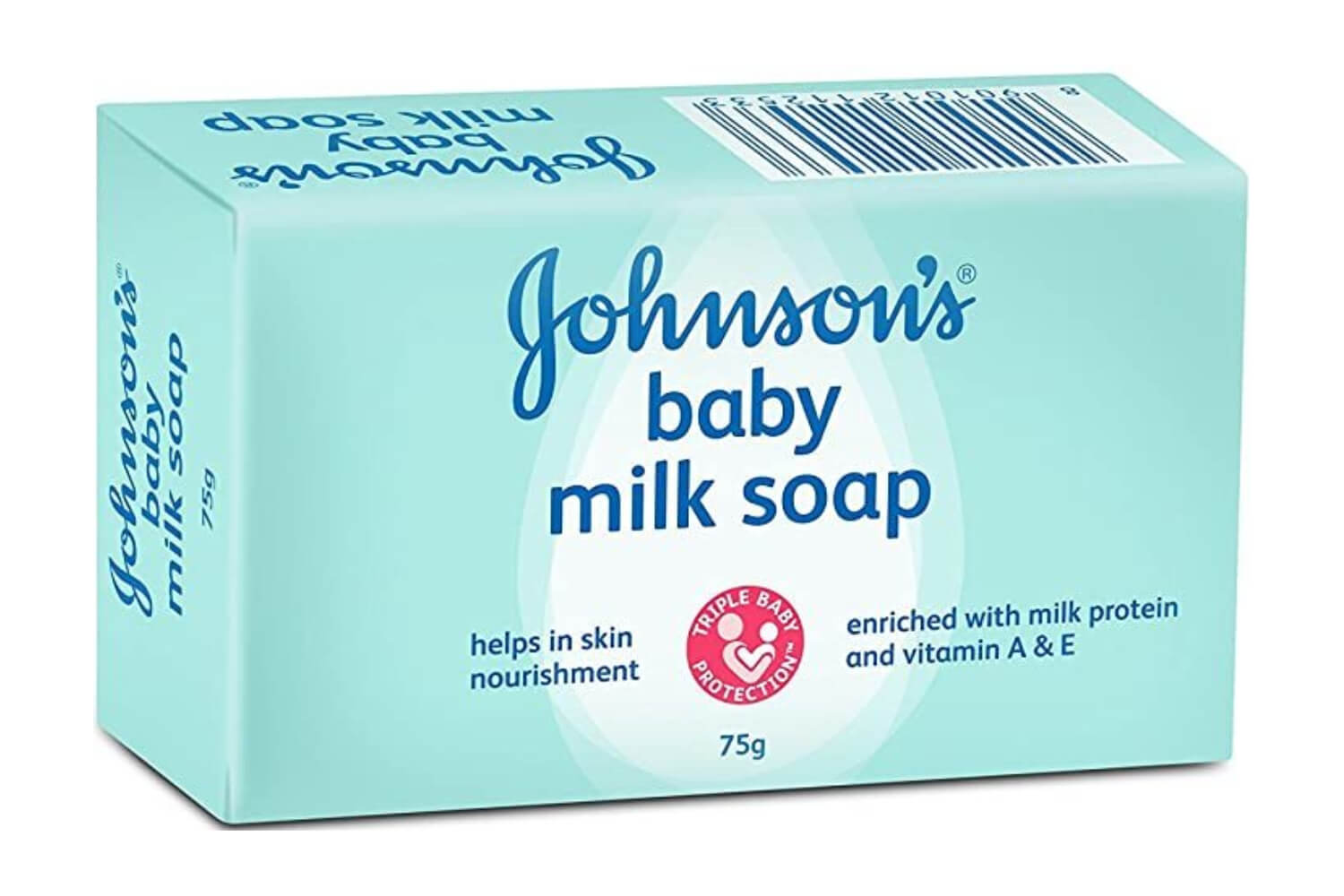 Johnson's baby soap with milk protein is rich in moisturizing body lotion. Milk protein and vitamin E are the main ingredients of this soap. The combination of milk protein and vitamin E ensures your baby's skin stays soft and supple. Since this is made of milk protein and vitamin E, and rich in moisturizing lotion, this can be used as a good baby whitening cream and soap. Johnson's baby soap with milk protein is free of parabens and other harsh chemicals that prove harmful to babies.
7. Sebamed Baby Cleansing Bar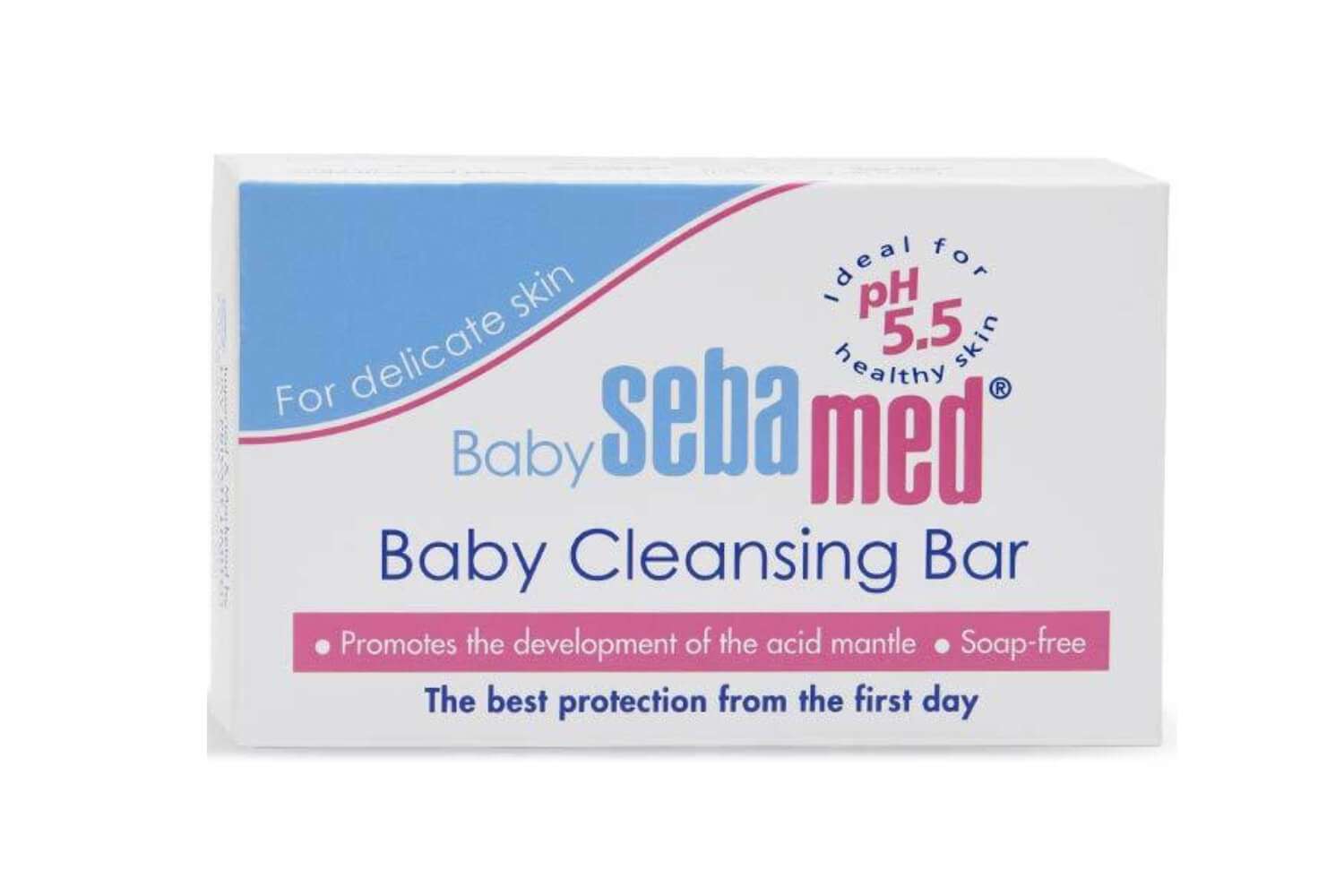 SebaMed baby cleansing bar is one of the excellent baby soaps that maintain the right pH level for your baby's skin. It is rich in amino acids that help in soothing your baby's skin. A plant-based ingredient called panthenol present in this soap helps in retaining good moisture in the skin. SebaMed baby cleansing bar is alkali-free and helps in maintaining the right pH that is needed for the skin of a baby. Sebamed soap for fairness can be the right choice as it can help with good hydration. It cleanses the pores and keeps the baby dirt-free. Hydrated skin always looks toned and has a healthy complexion. This can be used as the best baby soap for colour improvement.
[Read : pH Balance in Baby Soaps]
8. Pigeon Transparent Baby Soap Hypoallergenic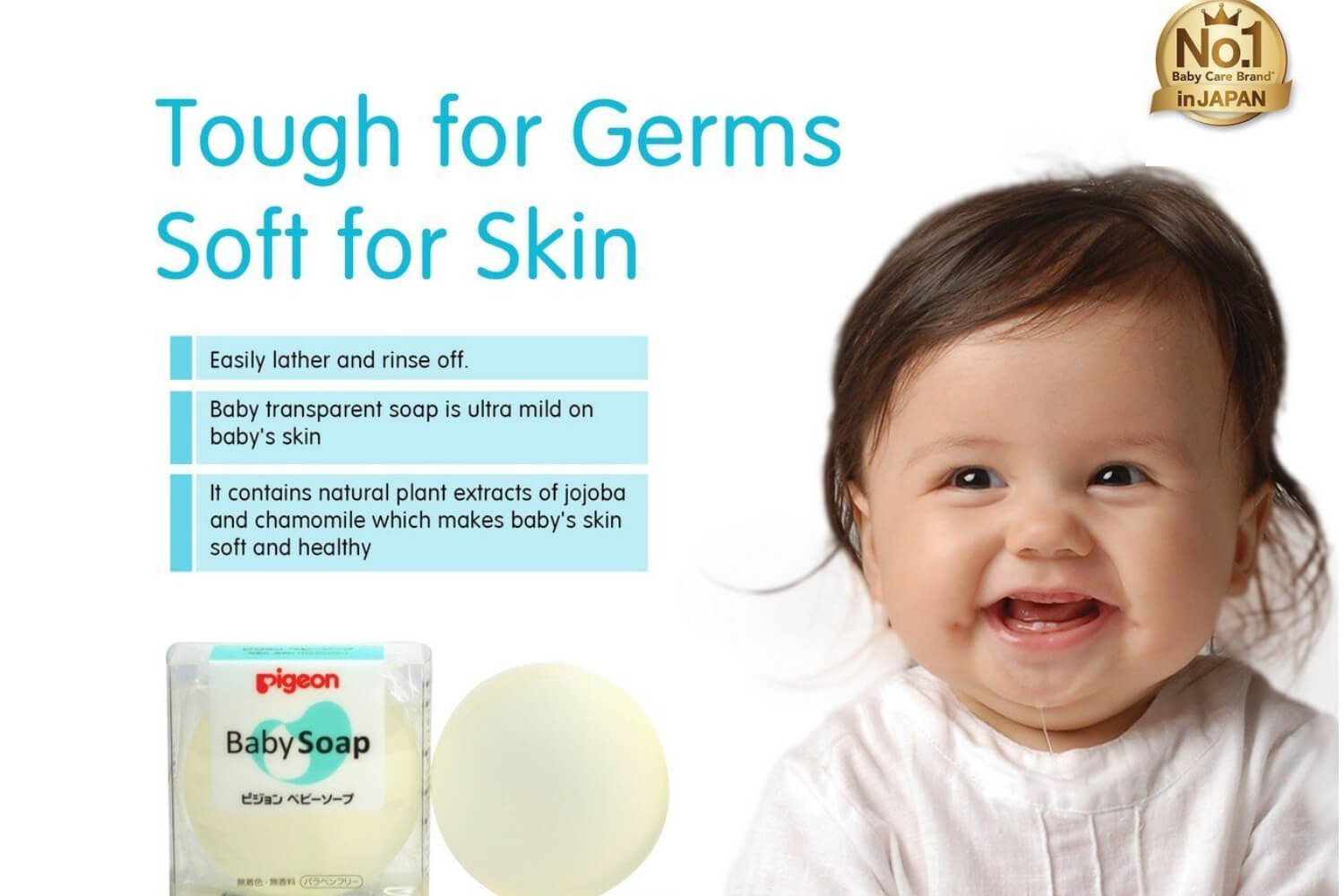 Pigeon transparent baby soap is a hypoallergenic soap. This soap does not contain any harmful allergens that can harm the skin of a baby. It has a mild lavender smell and can give good lather. Jojoba oil and chamomile are the main ingredients of this soap. This combination can help maintain the softness of your baby's skin by keeping it away from dryness. Chamomile maintains hydration and jojoba oil nourishes the skin.
9. Chicco Baby Moments Soap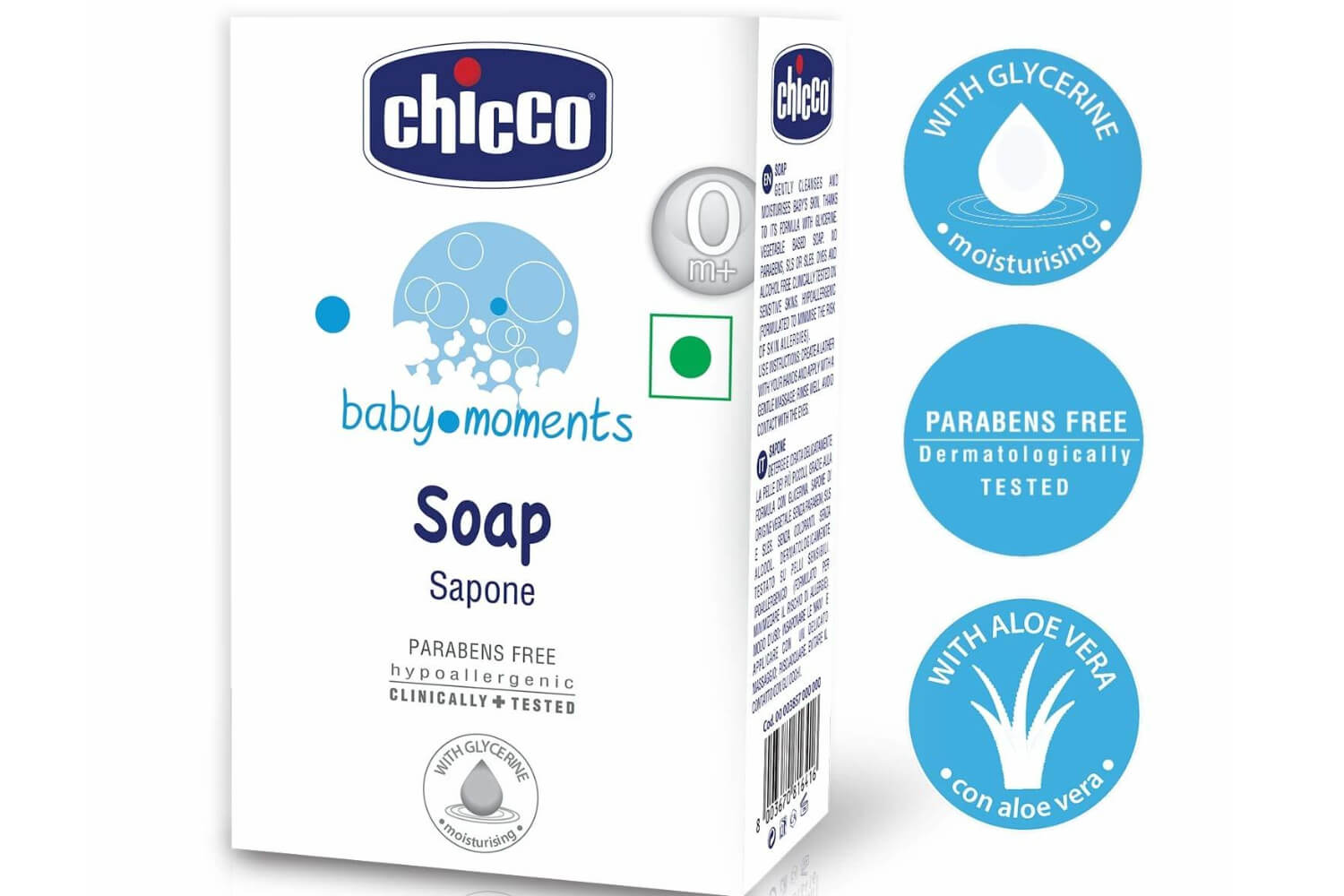 Chicco baby moments soap acts as a wonderful moisturizer for your baby's skin. The presence of glycerine makes it special. Glycerine maintains the elasticity of the skin. Other ingredients like olive oil and aloe vera do not let the skin go dry after bathing. Chicco baby soap is completely safe to use and is free from all the parabens and SLS chemicals. It is hypoallergenic and does not harm the tender skin of your baby.
10. Baby Dove Rich Moisture Soap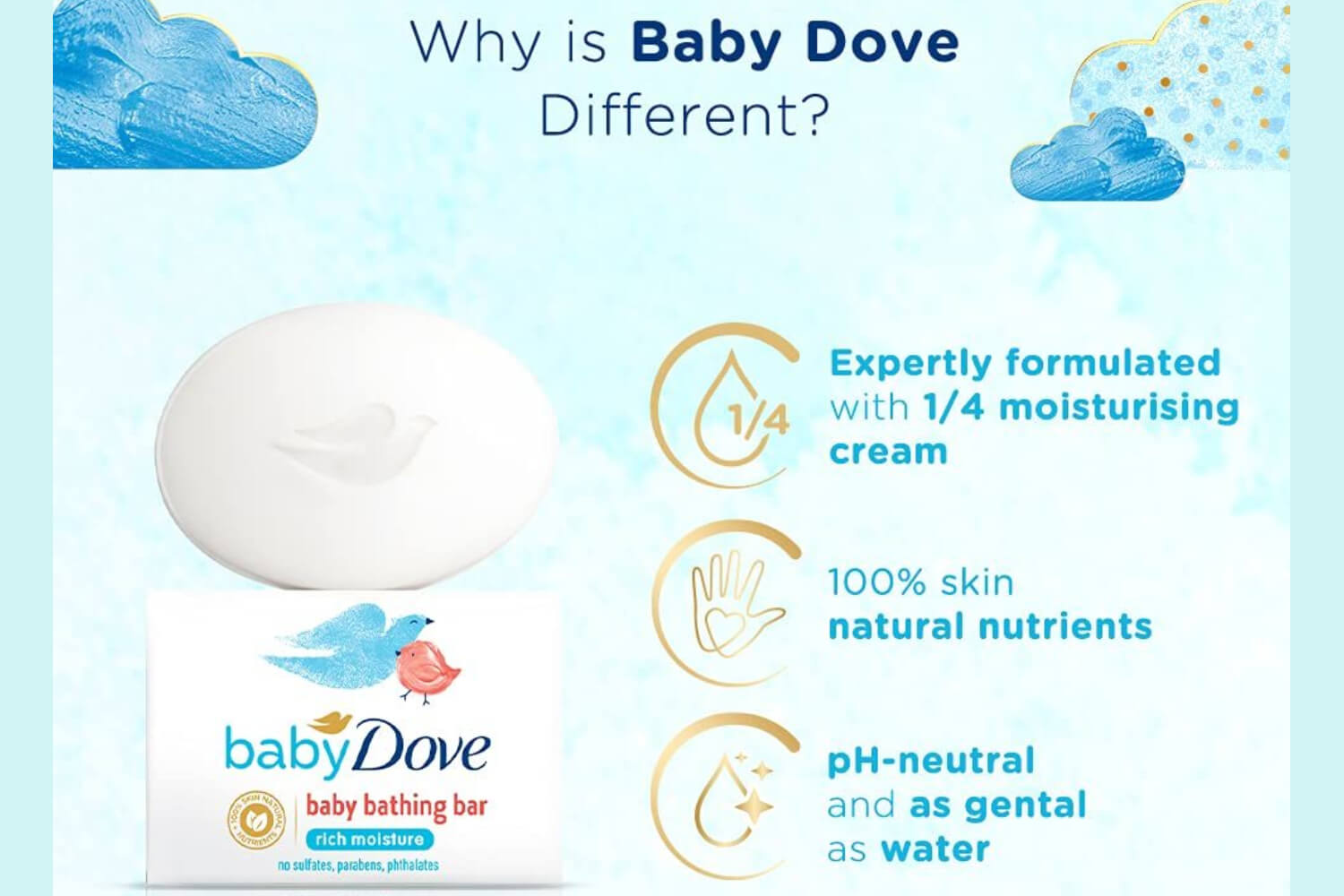 Dove soap is known for its best moisturizing properties. It contains 1/4th moisturizing cream and is free from parabens and harmful chemicals. The presence of moisturizing cream with certain vegetable-based oils helps in keeping the skin soft and supple. The sodium cocoyl isethionate present in this soap is a mild ingredient that helps in giving creamy lather.
[Read :  Keep Your Baby's Skin Moisturized With These Tips]
How to Choose a Baby Soap?
While choosing a bathing bar for your baby, choose the ones that have natural ingredients like
Coconut oil
Aloe vera extracts
Olive oil
Almond oil
Milk protein
Coconut nectar
The above ingredients are completely natural and help in maintaining the natural fat barrier of your baby's skin in a healthy way. Make sure to choose a soap that is paraben, SLS, and strong fragrance-free as these can harm the skin of your baby. Tidebar soap for fairness is the safe-made hypoallergenic soap that offers the best moisturization to the skin of your baby. It also contains anti-inflammatory properties and is completely safe to use on babies from day 1.
So, which soap is best for babies in India? There are numerous brands that design soaps and bars keeping the tender skin of your little bundle of joy in their minds. A block of soap is just not the one that cleanses or removes the dirt. It should nourish the baby in such a way that they are happy during and after their bath. Their skin should feel soft and supple. We have listed some among them that offer the best for babies.
FAQ's
1. Do Babies Need Soap?
Babies till one year do not need any soap as their skin will be very tender. For cleaning the dirt off, you can always use any mild soaps that are made safe and dermatologically tested.
2. At What Age Can Babies Use Regular Soap?
You can use soaps for babies regularly after they turn a year old.
3. What Are the Best Baby Soaps in India?
There are so many companies that manufacture baby soaps with mild to very mild ingredients. Some of them are
Mee Mee nourishing soap with almond and milk extract
Derma dew baby soap
Rustic art organic baby soap
Johnson's baby bar
Himalaya moisturizing baby bar
Johnson's baby soap milk protein
Sebamed baby cleansing bar
Pigeon transparent baby soap hypoallergenic
Chicco baby moments soap
Baby dove rich moisture soap
Read Also: Top 8 Best Shampoos For Your Baby