Stretch marks are one of the common fears that every woman faces during pregnancy. With an off-color to them, they are mainly visible on the abdomen, and may not be pleasing to look at for many women. Some women proudly say that these marks are a remembrance of what their bodies could create. Stretch marks are nothing to be ashamed off, and these lines slowly vanish with time. Find out Top 10 home remedies for treating stretch marks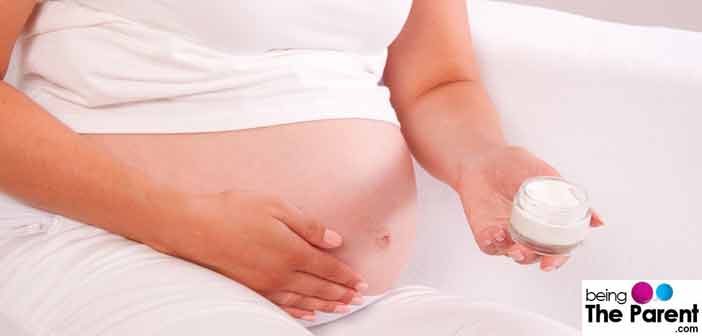 ---
Why Do Stretch Marks Appear During Pregnancy?
What Are The Chances Of Me Getting Stretch Marks During Pregnancy?
When Do Stretch Marks Appear?
How Can Pregnancy Stretch Marks Fade Away?
Top 10 Home Remedies To Make Pregnancy Stretch Marks Go Away
Moisturize your skin
Preventing Stretch Marks During Pregnancy
---
Why Do Stretch Marks Appear During Pregnancy?
Stretch marks are as much a part of pregnancy as diapers and breastfeeding. As pregnancy proceeds to later stages, the belly expands to accommodate the growing baby. This rapid stretching of the skin around the abdomen causes stretch marks to appear. Just under the skin, the elastic fibers are unable to cope with the expansion of the body, that happens faster than the skin. Many pregnant women also get them on thighs, buttocks, lower back, hips and even on breasts as well, for the very same reason. There are supporting layers of tissues under our skin which gets affected due to rapid stretching of the skin and cause stretch marks.

What Are The Chances Of Me Getting Stretch Marks During Pregnancy?
Most of the women develop stretch marks during pregnancy, but there are some who do not get them at all. Gaining weight throughout the pregnancy can also be one of the reasons for it – and if your weight gain is in fast spurts, the marks will be more pronounced. Keeping the weight gain gradual and gaining only how much is necessary can work in favor. First stretch marks may appear as reddish or purple lines and may change into shades of brown or cream in later stages, depending on the skin color. Fair women tend to get pinkish stretch marks while darker women get them in lighter shades. Genetic factors also play an important role in predicting whether a woman will get them during pregnancy or not. If your mother had stretch marks, the chances of your developing them increases. Also, if you have twin or multiple pregnancies, the probability of getting stretch marks is more.

When Do Stretch Marks Appear?
For 90% of the pregnant women, stretch marks appear in the sixth or seventh month of pregnancy – the time when maximum mothers put on considerable weight.

How Can Pregnancy Stretch Marks Fade Away?
There is no proven research which can conclude that stretch marks completely go away. But yes, they get lighter gradually after pregnancy and will become dull after some time. If it still does not satisfy you, and if you want to be a hot-bod mom, there are some easy remedies that you can use at the comfort of your home.
The below mentioned home remedies to treat stretch marks during and after pregnancy at home may be very helpful to lessen its affect on skin.

Top 10 Home Remedies To Make Pregnancy Stretch Marks Go Away
Top 10 home remedies for treating stretch marks:
1. Moisturize your skin
Oils are excellent for keeping your skin supple and soft. Oils have healing properties and are also rich in antioxidants, that help in fading the stretch marks.
Olive oil: Olive oil is excellent for our skin. Massage affected areas using Olive oil on a regular basis and soon you will observe stretch marks reducing
Castor oil: Another way to treat stretch marks is to apply castor oil on skin. Cover the area using plastic bag or wrap. Now take a hot water bag or heating pad and keep it on the skin where you have applied oil. Do this for 30-40 minutes and wash it. Oil gets absorbed into the skin due to heat, which gives effective results
Coconut oil: It is a wonderful moisturizer for skin. During pregnancy if you massage your abdomen gently with coconut oil, you can minimize the development of stretch marks. Repeat the application twice or thrice in a day
Lavender Oil: Lavender oil has also been found beneficial in treating stretch marks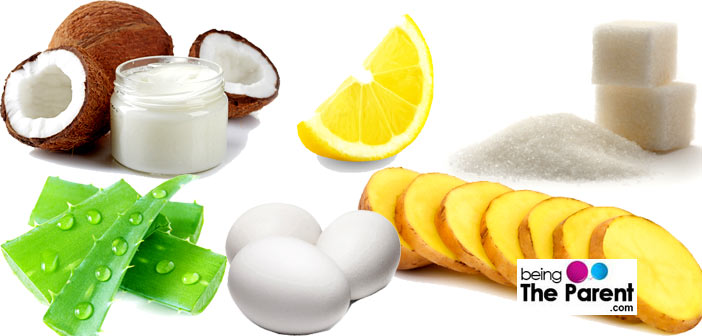 2. Aloe Vera
Aloe pulp is something that can be commonly used for various kinds of skin problems, scars or marks. It has amazing healing and soothing properties, which make it an excellent remedy for stretch marks. Apply aloe pulp regularly on stretch marks and wash it off with lukewarm water. For best results, apply aloe Vera daily and watch the stretch marks fade away gradually. Find out everything about consuming aloe Vera during pregnancy here.
3. Water
It is very necessary to stay hydrated to keep your skin healthy. It also helps the skin to maintain its elasticity, thereby, reducing the chances of skin tearing. Drinking ample water everyday will keep the skin hydrated and help in detoxification of skin
4. Shea butter
It improves the skin's elasticity and reduces dryness. Apply it over the affected area and you may notice stretch marks becoming lighter soon
5. Potato juice
Potato juice has been known to help in restoration and regrowth of skin cells. Thick slices of potato can be cut and softly rubbed on stretch marks. Let it dry and then wash the area with lukewarm water. Applying potato juice on stretch marks regularly is known to give satisfactory results
6. Lemon juice
If lemon juice suits your skin, try it on stretch marks and watch the difference in just a few months. The acidic properties of lemons helps in fading the stretch marks. It can also be mixed with some cucumber juice to get even better results
7. Homemade stretch mark removal cream
Take ½ cup of cocoa butter or Shea butter, 2bsp grated beeswax and 1 tbsp Vitamin E oil and mix them all to make a paste. Store it and apply it daily on marks. This is the best natural cream
8. Egg Whites Mask
Egg whites rejuvenate the skin as they are full of proteins and amino acids. Apply a thick layer of egg whites (after whipping them together) on the stretch marks regularly and you will notice the difference after some time. Make sure the skin is clean and wash the pack with cold water after it dries off
9. Sugar
Use a tablespoon of raw sugar with some quantity of almond oil and a few drops of lemon juice. Apply this mixture by rubbing it on the stretch marks and wait for about ten minutes. This will lighten them in a matter of a few months
10. Alfalfa
This herb has earned itself the credit for being a great skin toner and is rich in vitamins E and K. If available to you, you could use this to treat stretch marks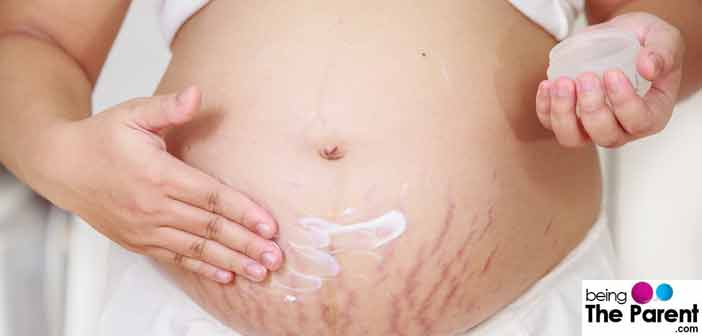 Preventing Stretch Marks During Pregnancy
Stretch marks can be dealt with effectively just when they start to appear. Thus, keep some points in mind while you are pregnant that helps to get minimum stretch marks:
Yoga, exercises: Practice yoga on regular basis and do some light exercises. It helps to maintain appropriate weight during pregnancy, which can cause less stretch mark
Moisturizing: Keep applying oil on the areas like hips, thighs, abdomen and breast to moisturize the skin so that the elasticity of the skin can be improved
Keep yourself hydrated: Drink enough water so that your skin remains well hydrated – hydrated skin feels and stays supple, and also restores the lost elasticity of the skin
Have a good amount of proteins: Proteins in the diet can nourishes your skin. Therefore,  include beans, fish, egg whites, yogurt, nuts and seeds in your diet
Massage: Massaging your body using aroma throughout the pregnancy may also help you to have fewer marks
Vaseline: Rubbing petroleum jelly cream on the skin during pregnancy also helps to minimize the effect of stretch marks.
Eat healthy: Eating healthy is most the important remedy for getting rid of any type of skin or hair related problems. To promote growth of skin tissues, have foods high in vitamin C and E, and avoid saturated fats at all costs
Hope the above mentioned Top 10 home remedies for treating stretch marks is helpful. If your lifestyle permits, you could opt for medicated methods after consulting a dermatologist. Cosmetic procedures may also sound lucrative, but you should look at every aspect to your satisfaction before going under the knife.