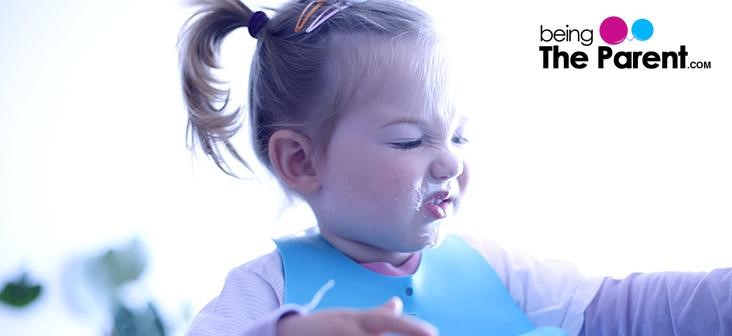 Is your toddler giving you a tough time whenever a meal is served? How you wish that these dramas and nightmares end! And you stop hearing terms like 'yuk', 'why have you cooked this?' etc. How nice would it be if your fussy toddler at least starts trying new dishes and foods? As a parent, we are always worried about our child's food intake and nutrition. This is because we worry about their growth. But who says it's an easy task; especially in case your child is selective about the foods he or she eats.
But the question is: how to get your picky toddler to eat? Here are some tips to make life easier for you.
How To Get Your Picky Toddler To Eat?
First of all, do not force your child to eat. Understand his or her appetite and don't panic.
Remember that new foods are not going to be easily accepted. Be patient and keep giving it after a few days.
Follow a particular routine.
Don't make the meal-time as a battle time. Remove the stress and make it fun. Play a game or experiment with food to make it look interesting to a little child.
Prepare a well-balanced meal. If your child doesn't like veggies, don't give veggies as a whole. Try veggie soups, cutlets, pasta, etc.
Don't try to shove food down their throat. Encourage them to pick up their food themselves and eat. An important tip here is to try finger foods. Give something easy for them to pick and gobble. Example, carrot, cucumber sticks, fish fingers, French toast fingers, etc.
Reduce snacking habits. However, you could allow small yet healthy portions in between meals like fruits, salad, dry fruits like raisins, almonds etc.
Having too much liquid or juices too will not make them feel hungry at lunch or dinner time. So limit the intake, especially just before the meal time.
Do you also worry on how you can make your kiddo try some new dish you made? Here are some tactics that you could use to tempt or entice your fussy child.
How Do I Make My Toddler To Try New Foods?
Try different variety of food.
Let the child explore the food by touching, smelling or picking it up.
Then encourage your toddler to taste it. If you do not succeed in one go, don't start yelling or punishing your little one.
Try, Try, till you succeed is the mantra. It's a known fact that it might take up between 10-12 attempts before your toddler accepts a new food. So be patient.
Change the name, shape or form of that food to make it sound interesting. Think from the point of view of your child. If she doesn't like spinach, for example, use spinach in pasta and say that you coloured the pasta green for her. You will be surprised if she eats up the whole thing! Bribe your little one. Confusing? Serve the new dish with something your child loves. Mix it up in a way that she doesn't say a no.
Presentation is the key. Don't you like going to a fancy restaurant for fine dining because not only that food tastes delicious but it looks amazing too? Similarly, steamed broccoli or carrots will look boring to your kiddo too. Try stacking crunchy veggies on a platter or her favourite mug. Or make a smiley face on the sandwich. It surely will catch her fancy.
Call her friends over for lunch or a play date and then serve a new dish. Who says a no when her priority is to play or impress her friends? Isn't it?
Play a game while eating or bring in some entertainment. Use cookie cutters, cute various shaped muffin moulds, or make the bread of a smaller size and call it a baby-bread.
You could also involve your toddler in doing some preliminary preparations for food. This will make her feel important. Explain how a farmer grows a vegetable or grain. Make her mix the yogurt, put in the herbs, or put the mats on the table.
Last but not the least – children do what their parents do. So, serve the dish in your plates first and eat and say things like – 'Wow! It's so yummy!' 'Yum! This is so delicious and healthy too! Will you like to try it?' Don't be surprised when she says a 'yes'.

Some Top Foods For Picky Toddlers
Though these tips will come handy, but here are some best bets or delicious picks for your picky little eater.
Fresh fruit juices and whole fruits rather than packaged juices
French Toast Fingers: Cut the French toast as fingers or strips, which your kiddo can dip in a mayo sauce or tomato ketchup.
Snacks such as boiled eggs with some chips
Toss an interesting and colourful fruit salad with dices of apples, melons, berries etc.
Serve an oatmeal in her favourite glass.
Try making a granola bar with oats, honey, dry fruits, brown sugar etc. Tell your child that it's a new energy bar or chocolate in town.
Popcorn with veggie or chicken soup
Bagels or waffles made with whole wheat and healthy ingredients
Whole wheat muffins – You could add apples, banana or nuts in it to add to the nutrition.
Bake your own healthy breads; like a banana bread, cheese bread, etc.
Stir-fried veggies with your child's favourite dip or sauce
Peanut butter sandwiches or veggie sandwiches made in a decorative way, for example with a smiley face, small circles, triangles and other shapes
Fruit puddings and fruit yogurts
Hot chocolate and milk shakes or smoothies
Pancakes with maple or chocolate syrup
So now you know that panicking is not an option. Try some of these tricks and make your little princess or prince love their food.